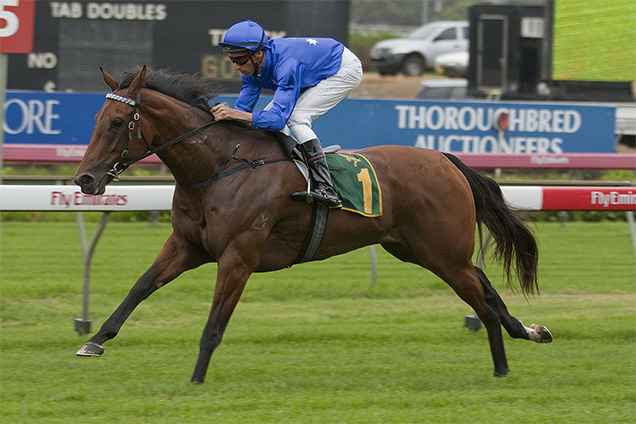 Joyous Legend (Snitzel) became the third seven-figure lot sold through Inglis Digital, in the past three months, after realising $1,025,000 on Thursday.
Offered by Bon Ho's Legend Racing in a bespoke auction, the lightly raced Group Two placed three-year-old daughter of More Joyous (More Than Ready) was bought by Anthony Mithen's Rosemont Stud and a decision on her future will be made in the coming days.
"There's no hard and fast decision made there, our intelligence says she still has racing life in her but our team will go over her when she gets here and we'll look at the racing schedule in the autumn etc and just see what we think is best, to race her on or to find a stallion for her straight away,'' Anthony Mithen said.
"It's all happened very quickly, the filly only popped up online a few days ago but that's the nature of these online sales, you need to be quick on your feet and adapt when the time calls.
"Obviously in these Covid times we were unable to get to physically inspect the filly but we took advice from the Inglis team and took advice from Andrew Williams and we're absolutely thrilled to have secured her.''
Joyous Legend joins Funstar (Adelaide) ($2.7m) and Every Rose (Choisir) ($1.3m) as recent seven-figure lots sold through the Inglis Digital platform.
"Inglis is the experts at dealing with online sales, we've seen that again the past few months with some big results,'' Ho said.
"It was only Saturday just gone that I first spoke to Jonathan [D'Arcy] about the idea of doing this and now, five days later, the mare has sold for more than $1 million so it's been very quick, very efficient and very well done.
"It's a very good price, I'm so very happy with the price. The expectation was in the range of $700,000-$800,000 so this price is quite a fair bit above my expectation.
"Inglis has done a very good job in the promotion of the filly and throughout the whole process. Jonathan has been in continuous contact with me during the process, keeping me abreast of everything. You've got a very happy customer.''
Inglis' General Manager of Bloodstock Operations and International Development Jonathan D'Arcy was understandably delighted with the result.
"From the moment we announced her sale, there was a huge amount of interest in her and understandably so given the multitude of options available to a filly with her profile,'' D'Arcy said.
"It is very satisfying to see the confidence that the market has in our Digital platform and the trade that it is generating is nothing short of incredible.
"We are very grateful to Mr Ho for the opportunity to sell a filly with such credentials and of course wish Nigel, Anthony, Ryan and the team at Rosemont every success with her."