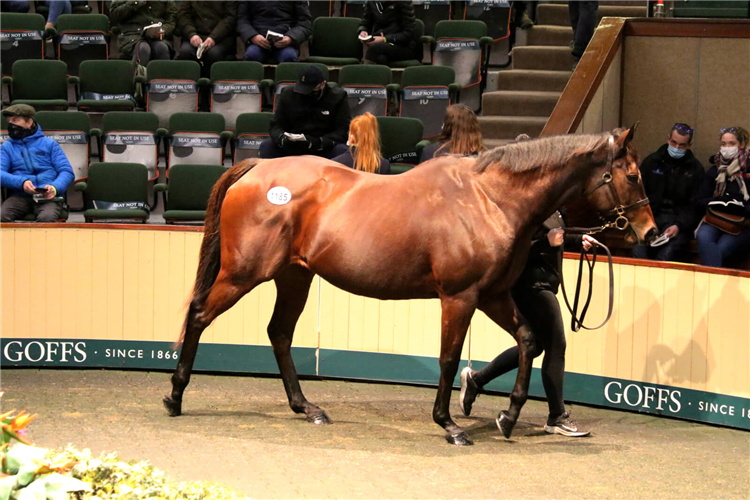 The Goffs November Breeding Stock Sale on Friday was topped by Plying (Hard Spun), dam of this season's Group One winner Alcohol Free (No Nay Never), who was bought by Yulong Investments for €825,000.
The 11-year-old daughter of Hard Spun (Danzig), offered as Lot 1185, was bought by Elaine Shaw and Martin Cooney for just €21,000 at the 2018 November Breeding Stock Sale days after her No Nay Never (Scat Daddy) filly foal, who has gone on to win three Group One races to date, sold for €40,000 to Jeff Smith's Littleton Stud.
Three years later, Plying returned to Kildare Paddocks as the crown jewel in a glittering collection of gems.

In foal to leading sire Lope De Vega (Shamardal), she was purchased by Zhang Yusheng's Yulong Investments.

"We thought it was a fantastic opportunity to buy the dam of what we think is a champion filly, to be honest. She is such a tough, top-class filly and she is staying in training next year I believe so hopefully there will be more to come from her," said Michael Donohoe of BBA Ireland, who was acting on behalf of Yulong.
"The mare is not just a flash in the pan, Alcohol Free isn't her only Stakes winner and she had a very nice covering by a horse that is close to Mr Zhang's heart in Lope De Vega and we believe she is carrying a filly so hopefully that filly will join Mr Zhang's broodmare band in time."

Plying was one of 38 mares to achieve a six-figure price tag on Friday and five of them were bought by Michael Donohoe of BBA Ireland on behalf of Yulong Investments. Many of the mares have been bought to support another Goffs' graduate, Yulong's Group One winner Lucky Vega (Lope De Vega), who will stand his first northern hemisphere breeding season at the Irish National Stud in 2022 after covering his first book of mares in Victoria this spring.

"We wanted to buy two or three nice mares this week to send to Lucky Vega and support him. Mr Zhang is going to really strongly support him at the foal and yearling sales but he wanted to get a couple of nice mares to help start him off in Ireland," Donohoe explained.

Amongst the purchases was Lot 1159 from the Aga Khan Studs' strong draft of mares boasting top class pedigrees. Eytarna (Dubai Destination) was offered in foal to Teofilo (Galileo), carrying a full relation to Group Two winner and multiple Group One placed mare Eziyra and was knocked down to Donohoe for €330,000.

"She is a proven performer from a great family and Lope De Vega has already worked in it, so she'll be an ideal mare for Lucky Vega. So Unique (Lot 1153 from Ballylinch Stud, €265,000) is also for Lucky Vega," Donohoe added.
The offerings from the Derrinstown Stud draft at the Goffs November Breeding Stock Sale were keenly sought after and breeders with an eye on the new recruits to the Irish stallion ranks were particularly keen to add the Derrinstown mares to their broodmare bands.
David and Diane Nagle of Barronstown Stud bought the most expensive mare from the Derrinstown draft; Lot 1238 from the outstanding family of Allegretta (Lombard). Riqa is a Listed placed daughter of Dubawi. (Dubai Destination) who is already the dam of the triple French Group Three winner Tantheem (Teofilo) and was sold in foal to Kingman (Invincible Spirit) for €550,000.

Lot 1085 from Derrinstown was Garmoosha (Kingmambo), the dam of Raabihah (Sea The Stars), a Group Two winner and Group One placed. She was bought by MV Magnier for €440,000.

"She is a lovely mare and is already a proven producer. She could go to St Mark's Basilica or Wootton Bassett," Magnier commented.

Aaraas (Haafhd) was another proven producer from the Derrinstown draft to spark fireworks in the sales ring. Her best offspring to date is the Group Two winner Madhmoon (Dawn Approach). Offered as Lot 1077 she too is destined to visit St Mark's Basilica (Siyouni) in the spring.

"She is a lovely mare and I have bought her for an overseas client, said John McCormack of his €330,000 purchase. "We are looking at who to breed her to because we are not looking to ship her right away so we were looking at all the prospects locally and we think the best one of the new stallions to go to stud is St Mark's Basilica. He is a beautifully-bred horse, great looking and very accomplished. She is an accomplished mare and she has done it, we think that it is a good marriage."

McCormack also struck late in the evening for Lot 1246 from the Aga Khan Studs' draft. The three-year-old Gleneagles (Galileo) filly is out of Eytarna (Dubai Destination) and could remain in training after McCormack purchased her for €350,000.

"She has been bought to go to America and she could race on, Pat Downes, who I have known for a long time, was very complimentary about her and said there was still racing in her." McCormack said.

The strength of the market demand added a significant premium to prices on a buoyant day of trading.

"I stretched a bit more than I wanted but that's the way the day has been, If you want something then you have to be prepared to go between 30% - 40% more than where your comfort zone is because that is the market," he added.