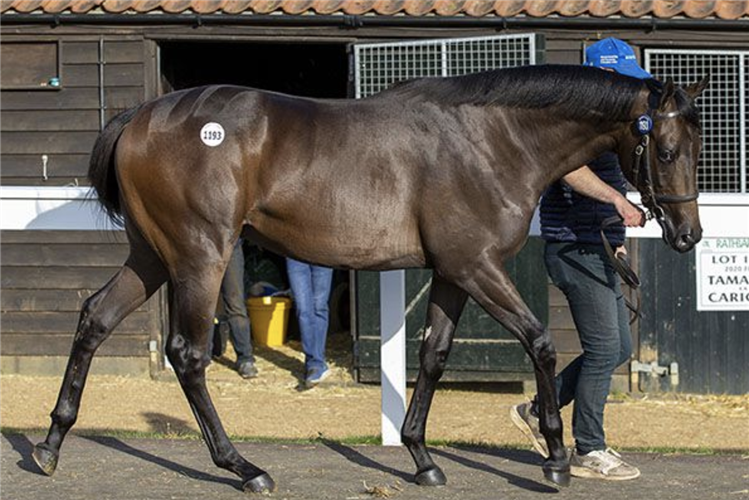 Trade at Book 2 of the Tattersalls October Yearling Sale continued in record-breaking fashion with turnover of 16,565,000 guineas on the final day on Wednesday, pushing the sale turnover past 50 million guineas for the first time in the sale's history whilst the average and median also recorded new highs. The clearance rate for the sale was a remarkable 88 per cent.
At the conclusion of trade, 650 lots had sold for 54,512,000 guineas, up 13 per cent on the 2020 aggregate, at an average of 83,865 guineas (up 10 per cent) and a median of 62,000 guineas (up 24 per cent).
Another Pinhook Triumph for Ballyvolane
A colt by LA Stud shuttler Time Test (Dubawi) out of Aurelia (Rainbow Quest) became the latest successful pinhook for John Foley's Ballyvolane Stud when knocked down for 400,000 guineas to Alastair Donald of SackvilleDonald, following a prolonged bidding duel with trainer Richard Hughes. Ballyvolane Stud has enjoyed significant pinhook success at Book 2 in recent years, selling colts by Lope De Vega (Shamardal) and No Nay Never (Scat Daddy) for 325,000 guineas in 2018 and 2019 respectively.

The top-priced foal by his sire in 2020 when purchased for 56,000 guineas at the Tattersalls December Foal Sale, the Time Test colt became the stallion's highest-priced horse sold in the ring to date. He is a half-brother to Harlequeen (Canford Cliffs), who finished third in both the English and Irish Oaks, and comes from the family of Grade One winner Forte Dei Marmi (Selkir).

A delighted John Foley commented:

"He has been very popular this week, he had 20 vets. He is an amazing horse, he has never missed a beat all week. Since we have had him he has been amazing. He is a special horse, the best we have ever had. His attitude, his presence, he is a 'wow' horse.

"He was a lovely, quality, straightforward foal and very well produced by the National Stud – there is a reason he was the dearest Time Test foal. There are some that are nice foals who come back as nice yearlings, but he has done better than we thought. He has developed and he has improved the whole way through."

Foley had signed for the colt as 'Otilia' last December and revealed: "Otilia is myself and three friends, it is the first one we have pinhooked together. We wanted to take a punt on the stallion, we knew that this lad as foal would cost a few quid and, if he did not work out, we thought with three of us involved the pain wouldn't be too much. It was a fair throw for him as a foal, we were taking a punt on him as a stallion, but sons of Dubawi have done well.

"Time Test has had a great year, he looks very good. His stats are good and I will definitely be using him next year! He will be very popular with breeders."

Foley continued: "It is amazing to get a result like this as we all work hard – this is a very tough business and there are more hard days than good days. We have great help at home, Donnacha Higgins helps me at home and gives me a hand with the yearlings, and John, my Dad, who is 77, mucks out six or seven boxes every day. We have great staff here too, and everyone is doing their best – it makes a huge difference when you have staff who want it to do well, and when it works out it is great."
Etreham Wootton Bassett Filly Makes 350,000 Guineas
Three lots sold for 350,000 guineas on Wednesday and one outhouse was a daughter of Coolmore Australia shuttler Wootton Bassett (Iffraaj) who sold to Matt Coleman of Stroud Coleman Bloodstock. Her consignors Haras D'Etreham brought two yearlings to the sale by the sire, who stood at Etreham until bought by Coolmore Stud in 2020.
Matt Coleman revealed: "I've bought her for Anthony Stroud, who couldn't be here today, for an unnamed client. She's just a great-moving filly and we thought she was pretty much the filly of the sale. We bought the filly Audarya by Wootton Bassett, who has been lucky for us, and obviously he's become a fantastic sire so we're delighted to get her."

A May foal, the filly is a sister to the Group Three runner-up Dave.

Wootton Bassett himself has enjoyed a stellar season on the racecourse led by the French Group One winning fillies Incarville and Zellieas well as the British and Irish Group Two winners Royal Patronage and Atomic Jones.
Hong Kong Jockey Club Buy Ribchester Colt for 350,000 guineas
The Hong Kong Jockey Club's Mick Kinane again featured amongst the names at the top of the buyers sheet after going to 350,000 guineas for a colt by Haunui Farm shuttler Ribchester (Iffraaj), consigned by Barton Stud. The Hong Kong Jockey Club purchased five yearlings at Book 1 of the Tattersalls October Yearling Sale for 1,500,000 guineas and have added another three in Book 2 for a total spend of 2,025,000 guineas. The April-born colt is a half-brother to this year's Group Three placed colt Andreas Vesalius (Caravaggio).

"He is a gorgeous horse, but that is a gorgeous price too!" smiled Mick Kinane. "He was a standout for us, I saw him walking in the other day. This is the first by Ribchester that we have bought so we hope he is lucky, but he is a beautiful horse. The half-brother Andreas Vesalius is now in Hong Kong, I don't think he has run yet."

The April-born colt was consigned by Barton Stud and bred by the Bostwicks of Biddestone Stud out of the Raven's Pass (Elusive Quality) mare Vitello, herself a winner and fourth at Listed level at two. A delighted Tim Bostwick commented:

"I am shocked! But he is a cracking colt. We bought the mare here empty and this is her third foal, her second foal has got blacktype and has been purchased to go to Hong Kong which has attracted these guys. I am thrilled, what more can I say?

"Once again I have to pay credit to Tom Blain at Barton Stud, all of our mares board with Tom and they just do such a fantastic job. My wife Gill is not here, she is poo-picking paddocks at home. She has probably collapsed now and is enjoying a glass of something bubbly!"
Gosden Secures Regally Bred Daughter of Zoffany
A regally bred daughter of Zoffany (Dansili) was the subject of a lengthy head-to-head bidding duel early in the evening, with the winning bid of 350,000 guineas struck by Thady Gosden who was standing in the stairwell with his father John.
The successful duo saw off the attentions of underbidder Simon Crisford to secure the Kilcarn Park consigned filly, who boasts one of best pages in the stud book. Her dam Curtsy is a Galileo (Sadler's Wells) half-sister to Contradict (Raven's Pass), the dam of joint European Champion three-year-old Mishriff (Make Believe).
Further back this is the family of Invincible Spirit (Green Desert).
Thady Gosden commented: "She is a brilliant moving filly, she has some class about her. She is an exceptional type and it is a happening pedigree that we know well. It would be nice if she is the same as Mishriff on the track! Mishriff runs on Saturday in the Champion Stakes, and the ground seems to be holding up at the moment.
"She is for a new client, and hopefully she will do well for them. This filly has a very nice pedigree, so will have some residual value too."
The daughter of Zoffany was the only yearling brought to Book 2 this week by consignor Kilcarn Park, who purchased her dam for 95,000 guineas at the 2018 Tattersalls December Mares Sale. Kilcarn Park's principal Patrick Cosgrove commented:
"Delighted, over the moon! We bought the mare here in 2018 in-foal to Almanzor, and we sold that foal as a yearling here last year for 95,000 guineas. We decided to come here to sell again this year, and I am happy. The mare is in-foal to Make Believe and she has a colt foal by Bated Breath. It has been great watching Mishriff this summer."