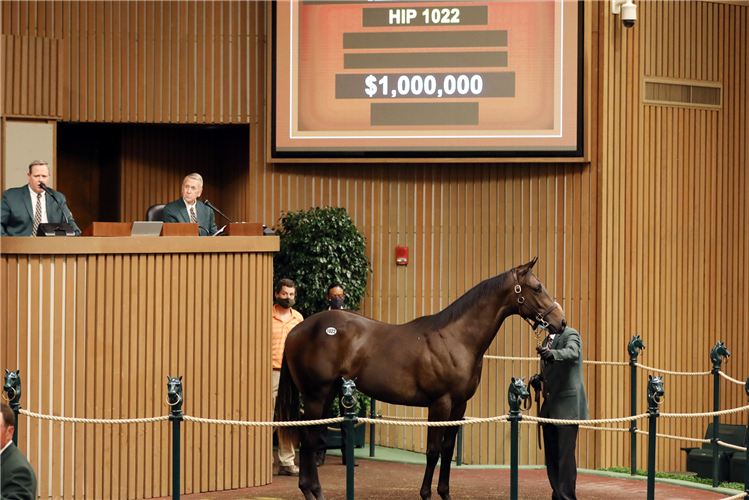 Keeneland sold 201 yearlings on Thursday for US$48,801,000, for an average of US $242,791 and a median of US$200,000. During Session 4 at the 2020 renewal, 209 lots sold for US$36,014,000 at an average of US$172,316 and median of US$130,000.
Cumulatively, 620 horses sold through the ring during the first week of the sale brought a total of US$200,419,000, for an average of US$323,256 and a median of US$250,000.
"Excellent," Keeneland Vice President of Sales Tony Lacy said. "The session started strong and finished strong. There were flat spots in the middle when it got a little quiet, but that might be because people were at the barns looking at Book 3 horses.
"It was a little bit of an anomaly from that standpoint, but the median and average are up. This week has been extremely strong and extremely deep. It has been a powerhouse Week 1.
"Going forward, I am optimistic," Lacy added.
"There are a lot of people, especially pinhookers, who have not had their hands up yet. When you have buyers getting pushed into the second week that says a lot about the strength of the market. We are encouraged.
"We think it will incentivize breeders to invest in horses offered at the November Breeding Stock Sale. It is the optimism that the industry needs."
The September Sale was structured so a critical mass of yearlings would be presented to buyers during four consecutive days that covered Books 1 and 2 before the auction took a one-day hiatus.
"I think a lot of people love the format." Keeneland Director of Sales Operations Cormac Breathnach said.
"It's speaking for itself in terms of the results. The format has been a part of that, and it has been rewarding. It has kept the buyers in town and kept them engaged.
"People are really aggressive about trying to fill orders. And there's a wave of buyers that are yet to come in or that are just getting started, so we feel really good about the seven sessions to come."
West Bloodstock, agent for Repole Stable and St. Elias, was the session's leading buyer, spending US$2,765,000 for seven yearlings. During Week 1 of the September Sale, the group acquired 24 horses for $11,325,000.
Leading the consignors on Thursday was Taylor Made Sales Agency, agent, which sold 25 yearlings for US$5,648,000.