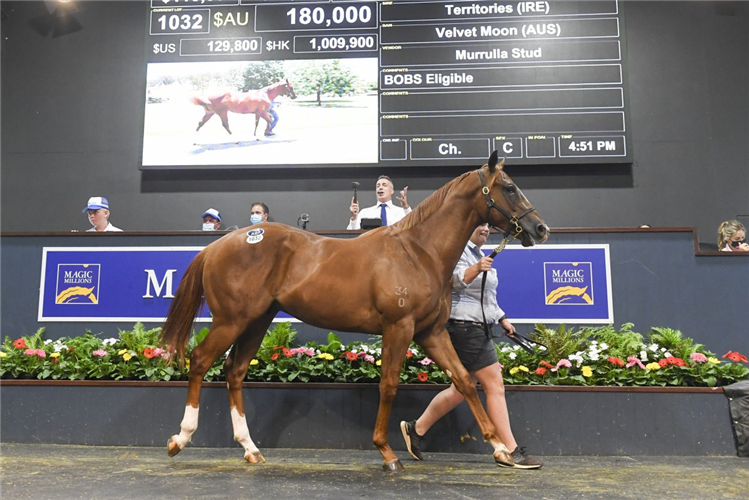 The momentum of a record breaking Book 1 catalogue continued at the Magic Millions Gold Coast Yearling Sale as Book 2 commenced on Sunday.
Colts by Newgate Farm's Winning Rupert (Written Tycoon) and Darley's Territories (Invincible Spirit) shared top billing on Sunday when they both sold for $180,000.

Leading local trainer Michael Costa bought the first of the top lots, Lot: 994 the Winning Rupert colt from the draft of KBL Thoroughbreds.

The colt is the fourth living foal out of the unrated mare Songbird (Easing Along).

"He was as good a looking colt as any of those in Books One or Two," Costa said. "I guess his pedigree just held him back – but on type he lacked nothing.

"He has everything I look for in a yearling – he's big and athletic, has a great brain and looks sharp.

"I had the half sister who showed plenty early and I'm very happy to buy this colt in partnership with the Archer Park team."

The second last lot offered was the Territories colt out of Velvet Moon (Bernardini) who was offered by Murrulla Stud as Lot: 1032 and was also sold for $180,000.
Bought by Merrick Staunton, the colt is the third foal out of the winning Bernardini (A P Indy) mare Velvet Moon.

"He was very well presented by the team from Murrulla Stud," Staunton said. "For me he was the stand out horse on the first day of the Book 2 sale."

"A really nice type of colt who looks ideal to go through our system," he added.

During the afternoon's session 70 lots, down from 83 in 2021, sold for $4,529,500. The average rose 8.6 per cent to $64,707 while the median was up 22 per cent from $45,000 to $55,000. The clearance rate sat at 80 per cent, comparable to the 2021 figure.

"The day started off a bit sluggish, but we got some great momentum as the afternoon progressed," Magic Millions managing director Barry Bowditch said.

"The vendors who have nice stock in the sale are getting them on the market and being rewarded.

"And buyers who have done their homework will be well rewarded with great value buys," Bowditch added. "Book Two continually produces high class racehorses both in Australia and abroad."