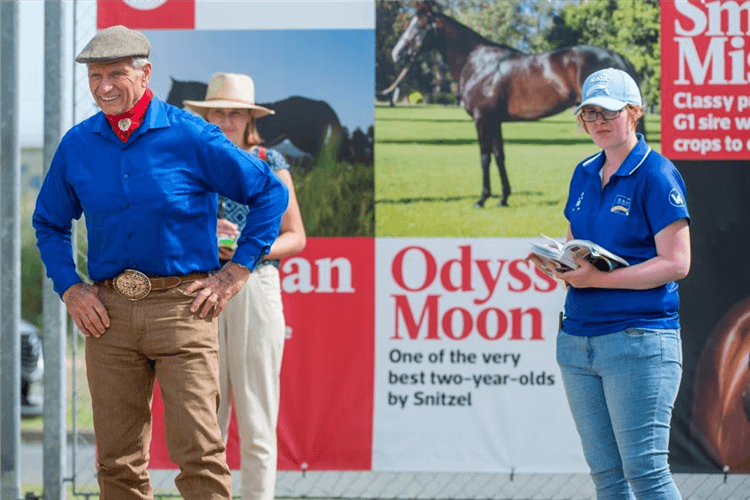 The Magic Millions Gold Coast Yearling Sale is the mainstay for most bloodstock agents in the industry and will have been for many years. But there will be one person on the sales complex when the first lot walks through the ring on Wednesday who will be experiencing the auction for the first time.
Budding Bloodstock agent Keely Mckitterick, 22, fresh off the first intake of the Explorer Cadetship Program, is assisting legendary American horseman Monty Roberts, who predominantly buys for businessman James Kennedy, at this year's sale and says that she is relishing the new challenge.
"My main role is an admin assistant but because I know a lot about the pedigrees I am here as a pedigree adviser to just tell Monty and Caroline [Jennings] about the pedigrees and how they fit in with the physicals," said Mckitterick.
"I've never been to the sale before, but I love it. I am a Queenslander so I am a bit biased but to me it is the best sale in Australia."
The Cadet Explorer programme, which was launched in 2018, is designed to help young people, who may not have any connection to the industry, get a foot in the door and Mckitterick certainly fitted the brief.
Brought up in Zilzie in Queensland, Mckitterick had no family ties to racing or bloodstock and only became fixated with racing when she was fortunate enough to stumble across it on TV.
"Unfortunately for me I was born into a family that was devoid of any racing history or horse experience, so my love of racing and horses was self made since the age of seven," Mckitterick.
"I fell in love with it from watching it on TV and just from then on I just used to watch it and learn how the year worked and all the different carnivals and how the calendar worked. It very quickly became my life and I knew that I didn't want to do anything other than work in the racing industry.
"I wanted to be a trainer and my first contact with horses came when I moved to Rockhampton on a spelling farm with a very small trainer and I found out the hands on side of things wasn't really for me and I became more interested in the pedigree side of things."
A brief stint at university it quickly became clear to the 22-year-old her future lay studying pedigrees rather than the murmurings of scholarly texts that lay within the shelves of the university library.
"I then went back to University and dabbled in that for a bit and again realised it wasn't for me," she said. "I wasn't sure how I was going to get into the industry for where I was and then I saw the Cadetship and thought I would give it a shot and take the chance."
The Explorer Cadetship Program is a 12-month stable and stud horsemanship program in the thoroughbred industry. It kicks off with a 12-week residential learning component of practical and theoretical training, followed by two paid work-experience placements at a leading racing stable and stud farm.
Mckitterick was thrown straight into the heart of the industry gaining first hand exposure, including shadowing leading bloodstock agents Seamus Mills and Julian Blaxland at the Inglis Classic Yearling Sale.
"After spending Seamus Mills and Julian Blaxland at the Inglis Classic Sales and getting to see how two leading bloodstock agents do what they do and I decided that was the path I really wanted to follow," she said.
"After that I was sent to Arrowfield for my first placement and got more exposure to the yearling prep side of things. Obviously, at the beginning I felt a bit out of place because I hadn't had that much experience previously. Looking back on it now it gave me a lot to think about and if I did it again I would be a lot more prepared."
Following her stint with Arrowfield she gained an internship with Inglis during the Ready2Run Sale which lead to her landing the job with Roberts.
"I went to do an internship at Inglis and I was there for the Ready2Run Sale and did a lot of research projects for Inglis and I didn't really have anything lined up and then got a call about the role with Monty Roberts. It has been great, it really is what I want to do and I would like to do more of it and so we will see what happens."
Lindy Maurice, who set up the scheme in 2018, says the Explorer Program has afforded Mckitterick an outlet and platform to make her dream to become a reality.
"It's one thing to have a dream in life but it's another to have the opportunity to realise it and the Explorer Program gives young people that," said Maurice.
"Twelve months ago Keely was a walking encyclopaedia on racing but had no outlet for her knowledge and the Explorer Program gave her the basis to form a career and to have the confidence to now be inspecting yearlings with arguably the most famous horseman in the world. She epitomises what this program is about and we couldn't be more proud of how far she has come in 12 months.
"Put simply, without this program Keely would have been lost to the industry. "
Mckitterick says she owes so much to the program, but admits the hard work is not over.
"My main aim would be to be a Bloodstock agent outright and just but to be respected in the field that I have chosen," she said.
"The Cadetship is a brilliant scheme and I think there needs to be more of these sorts of programmes because it can seem daunting to get into the industry if you haven't grown up in it and so a scheme like this can give a platform to edge your way in.
"It afforded me to go to amazing places and I will always be forever grateful for that."