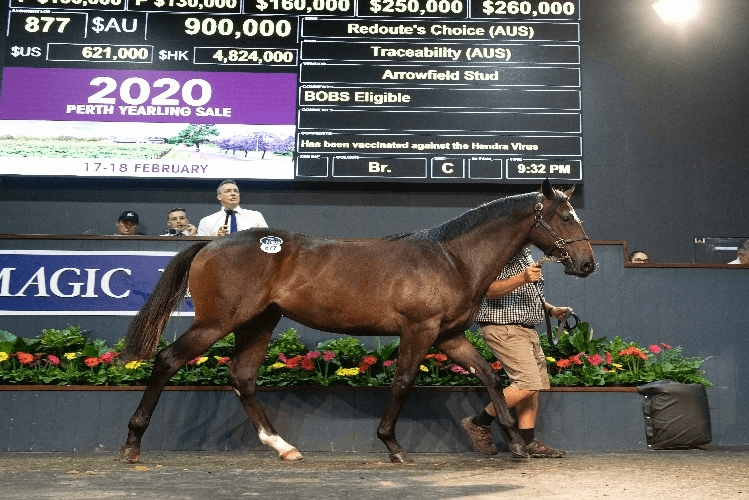 Barry Bowditch, managing director of the Magic Millions, was celebrating last night after the curtain fell on yet another record-breaking week at the Magic Millions Gold Coast Yearling Sale, in a final session that saw a colt by Redoute's Choice (Danehill) make $900,000.
At the close of trade Magic Millions reported the average rose from $170,000 to $180,000 on the 2019 edition of the sale, while the aggregate soared from $170.8 million to $177.4 million. The median also rose from $170,000 to $180,000 and the sale finished with a clearance rate of 87.42 per cent.
Bowditch was over the moon with the week's results across the board.
"It was an amazing sale really. I've mentioned depth a lot this week, but the depth, diversity and strength at all levels of the market, the middle market especially, to retain an almost 88 per cent clearance. It's just a fantastic result.
"For the first time ever to have a quarter of a million average at this sale, given the sale has 888 lots in it, it's an awesome result.
"Obviously there's a lot of faith in the horses we have here in the complex. Vendors have supported us with as strong a catalogue as we have ever had and they have been very well rewarded for doing so."
Bowditch said the buyers had been impressed with the catalogue Magic Millions had assembled and that was reflected by the action in the sales ring during the week.
"Leading into the sale, a lot of the buyers were very positive about the catalogue," said Bowditch. "Around the complex, heading in, everything was positive from the buyers' perspective.
"Vendors, since the sale has been going on, have been very positive, they have been able to find buyers for their horses.
"They have got massive overs on plenty and all in all they have walked away with great results.
"They are very well deserved results when you consider they are dealing with a huge drought down south and to get these horses here in the condition they did is an amazing effort by them."
I Am Invincible (Invincible Spirit) finished the week as the leading sire by aggregate and average (with three or more lots sold), with 42 yearlings by the Yarraman Park-based sire selling for $20,245,000 at an average of $482,024.
On the first season sire front, Newgate Farm's Capitalist (Written Tycoon) lead the way in terms of aggregate, selling 33 yearlings for $7,850,000, while Coolmore Stud's shuttler American Pharoah (Pioneerof The Nile) lead the way by average selling 20 yearlings at an average of $350,000 for a total of $7 million. 
"From a sire perspective, I don't think there was one dominant horse out there," Bowditch continued. "It was a very even group. I think most of the big stud men would walk away thinking their stallions have had a great sale."
Bowditch put the buoyancy of the market down to the prize-money on offer in Australia, believing it attracted buyers from all around the world and gave them the confidence to invest in Australian bloodstock.
"The prize-money on offer here in Australia is at the forefront of anywhere in the world. The world has noticed what is going on in Australia," said Bowditch.
"That is evident by having the Americans running one and two in our two-year-old race here today. This is going to happen more often.
"The international market is converging on Australia and the domestic players are stepping up as well, giving they are racing each and every Saturday down south for a lot of money.
"Prize-money is up in Queensland too and we've got over 60 $1 million races in Australia at the moment. There are a lot of reasons for buyers to step in and spend money, because there is a lot of reward for doing so."
At the close of trade on Saturday night, Hawkes Racing finished the sale as leading buyer purchasing 17 yearlings for an aggregate $7,465,000 at an average of $439,118.
While it was a record-breaking week, Bowditch still admitted there was room for improvement.
"With Magic Millions, the blueprint is very good, the structure is there, it's just fine tuning things and making them bigger and better every year," he said
"Whether it be our events that we have around our sale, it's ensuring we continue to work with our vendors to get as solid a catalogue as we possible can - without those horses, you don't have the buyers. That's the key to it. As long as we keep the faith of our vendors, which I think a sale like this does that, we can continue to go from strength to strength."
There was also $1.1 million raised for bushfires reliefs, including the $500 pledged by vendors on every horse they sold: "The industry digs deep in times of need and it's humbling to see the amount of money that has been raised this week. It's been a big week for Magic Millions and that's one of the most pleasing parts of it."
Leading vendor Arthur Mitchell was also quick to commend Magic Millions on outstanding weeks' trade.
"This sale has been outstanding across the board - it's been a great sale," said Mitchell.
"There were four or five big buyers missing, but it's amazing how quickly the cracks fill. Coolmore stepped up a bit and so did Hawkes, as well as Marie Yoshida.
"Magics got everyone that they could of got, I don't think anyone could whinge. If you had a nice horse it sold well - there shouldn't be many complaints from vendors."
Aquis Farm added another colt to their portfolio late on in the evening, when they went to $900,000 for a colt by Redoute's Choice (Danehill).
The operation's CEO Shane McGrath joined the bidding at $775,000 and was up against someone on the phone, with gavel eventually falling in McGraths favour.
"We thought he was one of the picks of the sale obviously and he by an elite sire who is also a sire of sires and there's not too many more opportunities to purchase a colt with his credentials," said McGrath.
"He is out of a Charge Forward mare who is out of a Last Tycoon mare, so he has got a huge family with a stallion's pedigree.
"We haven't decided who is going to train him yet. We will take him home and put him through our system.
"Mr Fung was delighted with how things went for us today and obviously Mrs Fung winning the Magic Millions (with Away Game) really topped the day off.
"We love racing horses with partners and he is one that we will put some into once we get home and assess where we are at with him."
On the sale as a whole, McGrath commented: "When we were going through the catalogue I always thought (Friday) was the strongest day and I felt personally that it played out that way, but when they are making that sort of money you just need one other person to take you on and they can race through to $1.5 million.
"I thought on today's market, even though it is a massive price to pay for any animal, I thought he was fair value on the market."
Catalogued as Lot 877 https://catalogue.magicmillions.com.au/lot/20GPR/840?lotNumber=877 and offered by Arrowfield Stud, the colt is out of unraced Charge Forward (Red Ransom) mare Traceability - the dam of Traces (Snitzel) and Group 3-placed Spring Loaded (Redoute's Choice).
Traceability herself is a half-sister to Group 1 winner Master Of Design (Redoute's Choice) and South African Grade 1 winner Suntagonal (Octagonal), while she also counts the dam of Wyong Magic Millions 2YO Stakes (RL, 1100m) winner Assail (Charge Forward) as one of her 12 foals.
The colt's third dam is Group 3 winner Princess Tracy (Ahonoora), the dam of Grade 1 winner Tracy's Element (Last Tycoon), who in turn produced prolific Group 1 winner Typhoon Tracy (Red Ransom). Princess Tracy also produced Group 1 winner Danasinga (Danehill) and Grade 2 winner Topasannah (Commache Run) and Group 3-winning pair Cullen (Danehill) and Towkay (Last Tycoon).
Meanwhile, Guy Mulcaster bought into a family he knows well when he snapped up a colt by I Am Invincible out of Listed-winning mare Tai Tai Tess (Magic Albert) for $825,000 at the Magic Millions Gold Coast Yearling last night.
Mulcaster and Waller paired up at year's edition of the Queensland sale to buy the colt's brother, now named Volterra, for $1.6 million. Volterra finished second to Hinchbeast (Hinchinbrook) on his first start in the Agency Real Estate Maiden 2YO Plate (1100m) at Rosehill in November.
Tai Tai Tess is a familiar name on the Gold Coast and has proved a valuable mare for her owners, with this colt being the fourth of her progeny to be offered for public auction, which takes her aggregate to $3,460,000.
Tai Tai Tess won five times, including at Listed level, while she was also Group 3-placed. She is out of Tycoon Tess (Last Tycoon), who is herself a daughter of dual Group 1 winner Arborea (Imperial Prince).
Arborea produced eight winners including Grade 2 winner Delta Form (Marscay), while she is the granddam of Group 2 winner Szumul (Showing Up), Grade 3 winner High Seas Beauty (High Chaparral) and Group 2 winner Drumbeats.
Arthur Mitchell of Yarraman Park heaped praise on the mare, who had yet again delivered a brilliant result for the farm.
"The mare has been very good to us," said Mitchell. "She's been remarkable. She's got a filly by I Am Invincible on the ground. She just constantly delivers - this colt was very nice, so he was deserving of that price tag."
Yarraman Park sold all of their 28 yearlings for an aggregate of $13,760,000 at an average of $491,429, while their resident sire I Am Invincible had 42 yearlings sell at an average of $482,024 for a total gross of $20,245,000.
"We had a 100 per cent clearance and I couldn't be happier - it's been a brillant sale," said Mitchell.
Progeny of the first crop of Coolmore Stud's triple crown winner American Pharoah have been selling well all week and that continued on the last day of the sale, when a colt by the sire sold Spendthrift for $675,000.
Catalogued as Lot 882 https://catalogue.magicmillions.com.au/lot/20GPR/882 and offered by Attunga Stud, the colt is out of Group 2-winning mare Tsarista (Dane Shadow), who is herself a half-sister to fellow Group 2 winner Ninth Legion (Fastnet Rock).
Further back this is the family of Group 3 winner Our Libra Lady (Khairpour) and Listed winner Kidlat (Snippets), while New Zealand 2,000 Guineas (Gr 1, 1600m) winner Tell A Tale (Tale Of The Cat) also features on the page.
This was the second yearling by the first-season sire Spendthrift bought during the week, having paid Bhima Thoroughbreds $375,000 for a filly by the Coolmore sire on Wednesday.
"We are very happy. American Pharoah is obviously a horse that has come here with a big level of excitement on," said Garry Cuddy of Spendthrift Australia. "We're leaving with two, a colt and a filly, obviously we like them. It's exciting to sit here and wait for this guy and take him home. That's the best result."
"His mum was some racehorse. Obviously, it's a family that is littered with black type, If he can live up to that, we've got a horse that is an option for both hemispheres, which is obviously the aim."
Spendthrift purchased eight yearlings for an aggregate of $3,660,000 and Cuddy was very happy with the weeks' work.
"We have finished with eight, six fillies and two colts, and we are happy to be walking away with the ones that we have got," he said. "Some lovely pedigreed fillies and some very athletic colts.
"We've enjoyed this week. There has been some good spirited bidding and some good competition and I think that we are lucky enough to get the support of the boss to be a little bit stronger on a few horses to make sure we do get them, which is great."
Meanwhile, Brian Nutt of Attunga Stud was happy with the way the colt sold and was also quick to congratulate Magic Millions on a successful week.
"He was very busy all week and there were plenty of hits on his x-rays - I wasn't expecting that sort of money, but we're always hopeful," said Nutt. "His reserve was well underneath that. I thought Spendthrift were interested, because they came back so many times to look at him. I think the Hawkes' were interested too - but they are going to get the horse to train I believe.
"I think the thing about these American Pharoah's is their attitudes, they just seem to have very good attitudes - I think he has a very good chance of making it in this country, simply because they all seem to have such brilliant attitudes.
"It's been a massive sale, there was concern coming into the sale that there were some key players missing. But congratulations on assembling such a great good buying bench, it's been amazing."
Attunga sold nine yearlings for average of $335,000, finishing the week with an aggregate of $3,015,000.