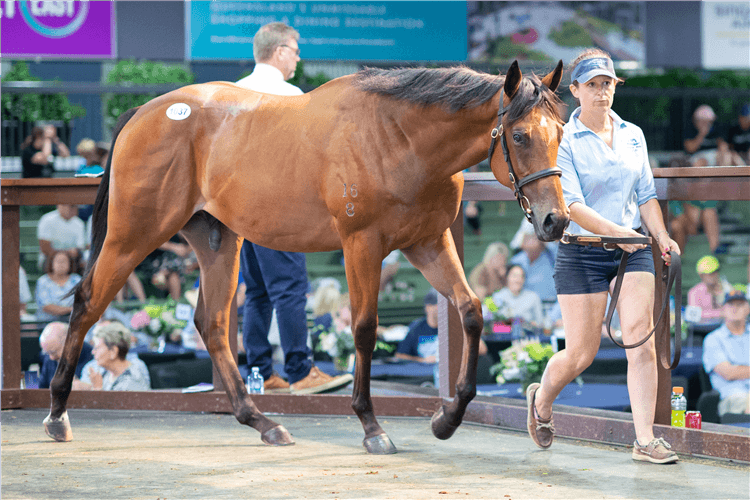 Paul King's Orbis Bloodstock believes the Iffraaj (Zafonic) colt he purchased for $370,000 at Book 2 of the Magic Millions Gold Coast Yearling Sale on Sunday will develop into a perfect horse for Hong Kong in the future, but in the short term will join the Kris Lees stable.
King added the colt to his three purchases he snapped up at Book 1 last week and said he was a little surprised he had to dig deep to secure the colt from the Willow Park Stud draft.
"I was a little bit surprised we had to go that high," said King. "I had him budgeted at around $200,000, but he was one I said we had to take home, so we were happy to go that bit higher to get him.
"He'll go to Kris Lees. I'll probably leave him here in Queensland, in the better weather at the moment. Obviously there's a drought in Sydney at the moment, and I'll just leave him on the better ground, we'll take our time."
King said he had a good look through the offering available at Book 2 and rated the colt as the best in the catalogue.
"Obviously we had a good look at all the horses in the sale and come to Book 2 we thought he was the pick of him," said King.
"He's an athletic enough type of horse. We are probably going to take a bit more time with him. I'm not going to rush him as a two-year-old, give him time to develop more as three-year-old. That breed seem to get better with a bit of age. A nice horse who could be a nice Hong Kong horse down the line."
King said he was happy with the four purchases he bought during Books 1 and 2, with the most expensive of the quartet a Hinchinbrook (Fastnet Rock) colt for $460,000, but said he was now looking ahead to Inglis sales.
"Shopping has been alright," King said. "We picked up some nice horses on the way through this sale. There are plenty of sales coming up and so we have had to limit ourselves to what we want to take now. We've got Easter and Premier and Classic Sale coming up as well. We are happy with the purchases we made."
Catalogued as Lot 1037, the New Zealand-bred colt is out of four-time winning mare Belle De Jeu (Not A Single Doubt), who is herself a half-sister to Tzaress (Stravinsky) - the dam of dual Group 3 winner Gold Symphony (Reward For Effort).
Glenn Burrows of Willow Park said the result was fantastic for long standing clients.
"A tremendous colt and a tremendous result for my kiwi clients whom have been supporting me for the 20 years that I've been at Willow Park.
"He's just a beautiful athletic boy with such a kind demeanour. From early on he was one of the favourites with all of the staff and he deserved to be today's top seller."
Burrows explained the colt had been selected for Book 1, but that he believed he would fare better in Book 2.
"Magic Millions actually selected him in Book 1 with a couple of others in today's draft but I thought they'd be more of a standout today and it certainly showed with the competition on him and the rest in the draft. It's simply the big fish small pond strategy," said Burrows.
"He'd had 13 repository hits which is a lot for a Book 2 and the interest was so strong it was hard to say where he'd end up. He'd been the most popular horse by number of inspections in the draft for the previous 4 straight days and that included the Book 1 section.
"When a yearling is that popular I think it's important to let the buyers know early on that they are on the market and you must bid now or miss out.
"Myself and the owners discussed the reserve and I said he'll make two or three times this figure but I want to just put $80,000 on him and let them fight it out in the ring.
"It was a great thrill to not only have the sale topper but we've also topped the averages and we had a decent sized draft with our 9 in today too."
During Book 1 Willow Park sold all five of their yearlings for an aggregate of $1,210,000 at an average of $242,000, while during Book 2 they sold all nine of the offerings for a gross of $840,500 at an average of $93,389.
Burrows said he was pleased with the results and paid tribute to his team's efforts.
"All up we've achieved 100 per cent clearance including our Book 1 draft so I'm just over the moon," said Burrows. "I detest having horses not sold and my team have done a wonderful job to attain the perfect clearance and I'm so grateful for their efforts."
After spending $7,465,000 on 17 yearlings during Book 1 of the Magic Millions Gold Coast Yearling Sale last week, Team Hawkes continued their spending spree in Book 2 of the Queensland auction buying three yearlings for an aggregate of $540,000, headlined by a for a son of Exosphere (Lonhro) who they purchased for $280,000.
"He was just a really, really nice colt. I was with my father [John] the first time we saw him and we just both thought he was a quality colt, so I wrote: 'JRH loves him' across the top of my catalogue."
Catalogued as 961 and offered by Torryburn Stud, the colt is out of the winning Wanted (Fastnet Rock) mare Real Desire.
Real Desire is herself out of Forest Finch (Waajib) - a half-sister Group 3 winner Captain Bax (Snippets) and Listed-winning mare Snippets' Lass (Snippets), who is famed for producing Group 1-winning champion sire Snitzel (Redoute's Choice) and Group 3 winner and elite-producing late stallion Hinchinbrook (Fastnet Rock).
At last year's edition of Book 1 the training-trio purchased 6 yearlings for a total outlay of $1,490,000 and Wayne Hawkes said that off the back of the good season, which included Exceedence (Exceed And Excel) winning the Coolmore Stud Stakes (registered as Ascot Vale Stakes) (Gr 1, 1200m), they had more orders.
Team Hawkes bought some high-priced colts at this year's auction, headed by a son of Exceed And Excel (Danehill), who they purchased from Cressfield for $1.8 million.
We you have to come and buy the ones you want," Hawkes explained. "Everyone would love to do, but we had a great year last year with horses like Exceedance and Brutal, we've just been very, very lucky because we have the clients. If you don't have the clients you're not going to be here buying the horses. You're only as good as your clients let you be, so we're very thankful we have a great bunch of very loyal clients."
Not known for targeting the Magic Millions 2YO Classic (RL, 1200m), Hawkes said they planned to aim their weeks' purchases at the lucrative juvenile race next year.
"We were talking about it in the car on the way here today and we definitely have three or four we are going to target at the race next year," said Hawkes. "We have never really targeted the race in the past but we are going to do that this year."
Early on in the afternoon, Tony Santic of Makybe Diva Racing went to $230,000 for a son of Aquis Farm's Divine Prophet (Choisir) from the KBL Thoroughbreds draft.
Catalogued as Lot 931 and offered by KBL Thoroughbreds, the filly is out of six-time winning Danzero (Danehill) mare Miatoko, making the filly a half-sister to Wyong Magic Millions 2YO Classic (RL, 1100m) placegetter Spaceboy (Deep Field).
Meanwhile, Miatoko is out of Crestfallen (Rivotious), who is the grandam Group 3 winner Testashadow (Testa Rossa). Further back this is the family of Group 2 winner Dusty Star (General Nediym) and Group 1-winning sprinter and top-class sire Zoustar (Northern Meteor).
Joe Murray, stud manager at Makybe Racing and Breeding, said the Aquis Farm Bonus scheme, which is designed to reward buyers by paying back the purchase price of a yearling by Aquis first season sires Divine Prophet or Kiss And Make Up (More Than Ready) bought at the 2020 Magic Millions Gold Coast Yearling Sale if the yearling wins a Saturday metropolitan race prior to the 2021 Magic Millions Race Day, was a positive.
"We love that family and the incentive scheme is always a good thing to try and win your money back," said Murray.
"When she walked out, the one thing I noticed about her was her big deep nostrils.
"She was a beautiful nice, neat tidy filly, There were a few little blemishes, but we saw more that was right with her than what was wrong with her.
"I didn't think we'd have to go that far to get her, but Tony is like a dog with a bone when he sees something he likes.
"We have shown a few people some video of the Pride Of Dubai that Nick Olive is training. We saw that, and thought, even if she doesn't get up and about early, there is plenty of chance to get some back type on that page to come."
Murray was also pleased with their sale, commenting: "We've had a good sale, we've sold nine from nine, so we are happy to bring her back with us.
"We've been really happy. We averaged $289,000 for the nine horses we sold. We have sold everything, had a great sale, and when we do that, we need to support the market again ourselves.
"She was the nicest thing we've seen of all of this book."
Kandice Pritchard of KBL Thoroughbreds was delighted with the way the filly sold and praised Aquis for their introduction of the bonus scheme.
"She's worth that. She's a quality filly, she's a lovely strong type," Pritchard said.
"The Aquis bonus is a really nice opportunity to snag a really nice filly and with the bouns' why wouldn't you? She was definitely a Book 1 quality filly. She was gonna get the result in either book, but she was probably a standout in this book. The sale has been strong - for us it has been a bit up and down, but I think they've made what they're worth."
Suman Hedge said that when he saw the Shalaa (Invincible Spirit) colt he purchased for $275,000 was such an impressive physical that he would not have been out of place in Book 1 of the Magic Millions Sale.
Hedge, who will own the colt as part of the Hannah Wall and David Redvers' Redwall Racing Syndicate and it will head into training with Tony McEvoy - who also featured on the buyer sheet for the yearling alongside Sandhurst Bloodstock.
"We are doing this horse with Redwall and Tony McEvoy, so the horse will go there," said Hedge.
"We saw him when we were doing our inspections of the main book and we loved him. We felt that he should have been in the main book on his physique and the way he presented. We like the stallion and we think he is a great representation of them.
"The sire is a very fast horse in Europe. We felt that this guy, by the look of him, that he is quite neat and ready to go. A few of them (Shalaas) look like they will take a bit more time but with him we will give him every opportunity to be a two-year-old. Hopefully we can get him up and about and in this race next year."
Hedge said the sale had been difficult to gauge and said he had to adopt an aggressive buying strategy.
"This sale from the start has been incredibly difficult to put values on horses," said Hedge. "You still have got to have that premise as to how far you are willing to go, but if they are popular and there's people on them, then you have got to be fairly aggressive.
"He was a horse that we rated from the beginning.
"That is why we put the team together because we all loved him and we knew that we'd be paying a lot and more if we were going against each other. We put our heads together and thankfully we were able to get him."
Catalogued as Lot 1034 the colt is out of two time-winning Backless (Cape Blanco), who is in turn out of Group 2 winner Alagant Satin (Al Akbar).
At the close of Book 2, the session grossed $10 million, which was slightly up on last year but with a smaller offering. The average lifted from $63,832 last year to $78,667 this year, while the median was also up from $52,500 to $57,500 and the clearance rate lifted from 72 per cent to 76 per cent.
Bowditch said he thought the quality of the yearlings in offer in Book 2 was as good as ever and that was reflected in the results.
"There was a huge craving for quality horses today, I thought the vendors supported the sale with particularly good types this year," said Bowditch. "The team have obviously selected the catalogue on type and to have an increase of over $15,000 on average is an outstanding result in this market," he said.
"To have the amount of horses making above $100,000 and $200,000 with a top price of $370,000 says if you present the right horses in these markets, there is a huge craving for buyers to bid on them."