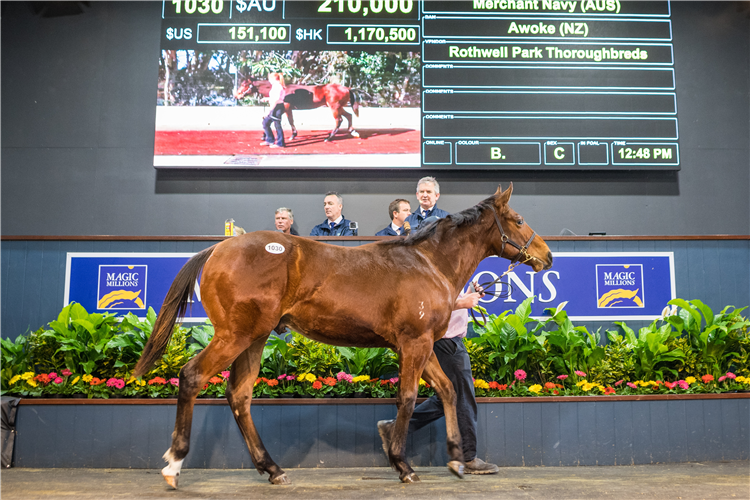 A colt from the first crop of dual Group 1 winner Merchant Navy (Fastnet Rock) topped the final session of the weanling section of the Magic Millions National Sale on Friday when Valiant Stud's Fergal Connolly went to $210,000 to secure the youngster - the highest price paid for progeny of a first-season at the auction.
It was no surprise to see Connolly make a play for the progeny of the son of Fastnet Rock (Danehill), with the young stud master having spent an early part of his career at Segenhoe Stud - the farm where Merchant Navy was born and raised and Connelly said the stallion would always hold a special place in his heart.
"Merchant Navy will always hold a dear spot in my heart, we bred him and foaled him down at Segenhoe Stud on behalf of Chris Barham and his wife Jane - they are lovely people," said Connelly.
"It is so good to actually work with Merchant Navy again being so close to the family having worked at Segenhoe for years. Having him foal there and watching his racing career, I've been very close to the whole process.
"They are very good solid conformed types," Connolly said of the Merchant Navy stock. "This colt moved very well and I thought he'd appeal to so many people with his family being very up to date and modern. He's a standout colt for me with the way he moved.
"This colt just walked so supremely. He is a great mover and great muscle definition. I have to commend the vendors for the way they are presenting their weanlings - they really are fantastic looking horses and I am only delighted to bring him back here in January."
Catalogued as Lot 1030 and offered by Rothwell Park Throroughbreds, the colt is the first foal out of three time-winning Rip Van Winkle (Galileo) mare Awoke, who is herself a half-sister to VRC Lexus Stakes (registered as Hotham Handicap) (Gr 3, 2500m) winner Cismontane (High Chaparral).
The colt's third dam is winning Sir Tristram (Sir Ivor) mare Eustaci, who produced 11 winners headed by Group 1-winning trio Sirstaci (Silver Dream), Nimue (Star Way) and Smiling Like (Star Way), while she is also the dam of Group 3 scorer Eurostar (Star Way).
Rothwell Park enjoyed a fruitful few days on the Gold Coast, selling 20 weanlings for a total of $1,586,500 at an average of $79,325.
Later on in the afternoon, Connelly snapped up a filly by Merchant Navy's sire Fastnet Rock, paying Aquis Farm $160,000 for the youngster.
Catalogued as Lot 1024, the filly is the fourth foal out of the unraced Street Cry (Machiavellian) mare Antillanca, who is herself the daughter of dual Group 2 winner Portillo (Red Ransom), who finished third in the Golden Slipper Stakes (Gr 1, 1200m) in 2008.
Portillo produced four winners, including Group 3 winner Ghisoni (Lonhro), while she is also a half-sister to The Galaxy (Gr 1, 1100m) winner Snowland (Snippets) and Listed winner and Snippetson (Snippets).
Connelly said fillies of her calibre don't come on the market often and so was keen to leave the complex with the youngster.
"I loved her on the farm when I saw her on the farm a couple of weeks ago," said Connelly. "She is a lovely filly just moved so well, which is what you want from those Fastnet Rock fillies. You can't get fillies like that everyday of the week, so we had to have her.
"I would think she will come back here and all the trainers will be on a filly like that. She looks super trainable and that line, unfortunately that line won't be with us much longer, so have to snap them up when we can."
Of the price, Connelly said: "I thought for a good filly like that you have to pay the premium. She certainly commanded it though and she deserved that price, she was great value buying. To breed to Fastnet Rock alone is very expensive and to get that end product already and she is going to develop into - I think it is good value."
Aquis Farm finished the sale as the leading vendor by aggregate, selling all 46 weanlings they offered for an aggregate of $1,618,000 at an average of $35,174, while Newgate Farm were the leading vendor by average (with three or more sold), selling all five youngsters they put in the ring for $502,000 at an average of $100,400.