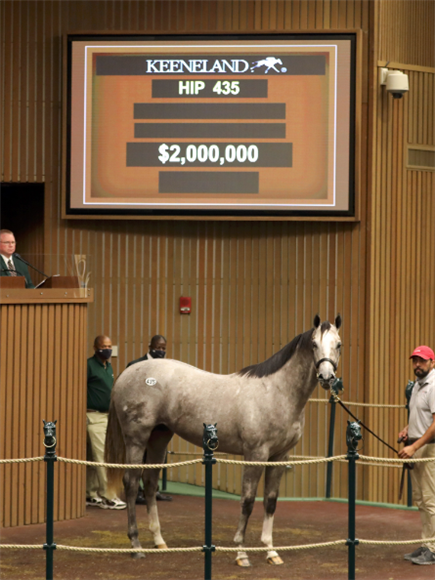 A partnership of Eclipse Thoroughbred Partners, Robert LaPenta, Gainesway and Winchell Thoroughbreds paid US$2 million for a colt by Gainesway Farm's Tapit (Pulpit) out of Grade 1 winner Tara's Tango (Unbridled's Song) to top Tuesday's second session of the Keeneland September Yearling Sale, which was marked by competitive bidding and the sale of nine yearlings for US$1 million or more.
Catalogued as Lot 435 and offered by Eaton Sales on behalf of Barbara Banke's Stonestreet operation, the colt is the second foal out of his dam who is herself a half-sister to nine other winners including fellow Grade 1 winner Visionaire (Grand Slam) as well as the stakes winning pair Scarlet Strike (Smart Strike) and Madison's Luna (Tapit).
Monday's session closed with four million-dollar horses sold within the last 11 hip numbers.
"It was a frantic end to the session, and we appreciate Barbara Banke for her support of Keeneland and congratulate her on having another top-priced horse," Keeneland Director of Sales Operations Geoffrey Russell said, referring to the breeder of the session topper.
"Under the current circumstances, we are very pleased with the session. We are back to that great intensity of bidding, the going back and forth. The atmosphere and electricity returned, so that is wonderful.
"For 30 minutes at the end of the sale we felt like there was no COVID," Keeneland President-Elect and Interim Head of Sales Shannon Arvin said.
Aron Wellman of Eclipse Thoroughbred Partners signed the ticket for the colt.
"Partnerships are so prevalent in today's market," Wellman said. "It is wild to think how far partnerships have come. We had a fabulous relationship with Cot Campbell of Dogwood Stable going back to when Eclipse first started. To think how the partnership model has evolved and that now we as a partnership company are partnering with moguls in the industry. It speaks volumes.
"Barbara Banke has been gracious about staying in as a partner," he continued. "She adores this colt. Hopefully between all of us we have plenty of good mojo. All I care about is that you are interviewing our partnership after (the colt) wins a Grade 1."
Larry Best's OXO Equine bought a filly by Spendthrift Farm's Into Mischief (Harlan's Holiday) for US$1.9 million. Consigned by Taylor Made Sales Agency, agent, Lot 438 is out of the stakes-winning Medaglia d'Oro (El Prado)mare Taylor S, a half-sister to Grade 1 winner and sire Liam's Map (Unbridle'd Song) and Grade 3 winner and sire Not This Time (Giant's Causeway).
"Book 1 has been unbelievably strong," said Best, who paid US$1 million for an Into Mischief colt on Sunday. "It blew away my expectations. Keeneland should be very happy."
A bit of love for the Into Mischief filly out of Taylor S (hip 438) as she draws a final bid of $1.9 million! #KeeSept @TaylorMadeSales pic.twitter.com/aSm5F6gLKG

— Keeneland Sales (@keenelandsales) September 14, 2020
Three of Monday's seven-figure horses are by Into Mischief, sire of recent Kentucky Derby (G1, 9f) winner Authentic. Into Mischief was the leading sire by gross on Monday, with 11 yearlings selling for US$8.25 million. He is also the leading sire by gross for Book 1, represented by 20 yearlings that brought US$13,085,000.
Another three of day's top-priced horses are by former Darley shuttler Medaglia d'Oro.
Shadwell Estate Company paid US$1.6 million for a filly by Medaglia d'Oro who is a half-sister to Sergei Prokofiev (Scat Daddy) who, it was announced on Monday, will stand at Whitsbury Manor Stud in 2021. Winner of the Cornwallis Stakes (Gr 3, 5f), Sergei Prokofiev was bought for US$1.1 million by MV Magnier at the 2017 edition of this sale and Rick Nichols of Shadwell Farm in Lexington, signed the ticket.
"She is a beautiful filly – the kind you have to have," Nichols said. "Sheikh Hamdan told me this morning to try to concentrate on getting some really nice fillies. We send all of our good fillies to England, and he keeps promising to send them back (but he doesn't). Our broodmare band is starting to get a little old, and we need to rejuvenate it a little bit. I am pretty sure she will stay (in the US) because the (offspring of) Medaglia d'Oro seem to do better here."
Anderson Farms, agent, consigned the filly as Lot 319.
"I'm very emotional right now," David Anderson said.
"I bred the mother and I bred this filly and she's probably the most athletic filly I've ever had on the farm. We came here fairly confident that everyone would feel the same way I do, and I know that Mr. Nichols bought her for Shadwell. I want to thank Mr (Joe) Allen for being the underbidder on the filly. There were many wonderful people that I respect that came by to see the filly and bid on her. It means a lot to a little guy from Canada."
Robbie Medina, agent, spent US$1.4 million for a Medaglia d'Oro filly, Lot 442, who is a half-sister to Grade 1 winner Salty (Quality Road).
Baccari Bloodstock, agent, consigned the filly, whose dam is the stakes-placed Dixie Union (Dixieland Band) mare Theycallmeladyluck.
There were four million-dollar yearlings in the span of just a few minutes at #KeeSept, including this filly by Medaglia d'Oro who is a half-sister to G1 winner Salty! pic.twitter.com/aXL7X1HQGy

— Keeneland Sales (@keenelandsales) September 14, 2020
A colt by Curlin (Smart Strike) and a filly by Coolmore Australia shuttler American Pharoah (Pioneerof The Nile) sold for US$1.2 million each.
Mike Rutherford purchased the American Pharoah filly, who was consigned by Betz Thoroughbreds, agent as Lot 291. She is of Grade 1-placed Modification (Vindication) and Rutherford said his current racing stable consists of six offspring of American Pharoah.
"She is beautiful, gorgeous. Best filly I have seen," Rutherford said about his latest acquisition. "Let's hope she can run."
Fireworks at @keenelandsales as the AMERICAN PHAROAH half sister to exciting Gr.2 Amsterdam S. winner Yaupon (UNCLE MO) brings the hammer down at $1.2m, selling to Mike Rutherford. The filly was bred by Betz, J. Betz, CoCo Equine, Magers, Burns. #CoolmoreSires #HomeOfChampions https://t.co/mgn5NVHHSH

— Coolmore America (@coolmoreamerica) September 14, 2020
Taylor Made was the session's leading consignor, recording sales of US$6.92 million for 14 horses.
For Monday's final session of the two-day premier Book 1, Keeneland sold 100 yearlings for US$44,535,000, for an average of US$445,350 and a median of US$360,000. Cumulatively, 209 horses have grossed US$85,215,000, for an average of US$407,727 and a median of US$330,000. Fourteen yearlings sold for US$1 million or more through the first two sessions and were purchased by 13 different domestic and international buyers.
With Book 1 held over 3 days in 2019, comparison statistics are not valid.