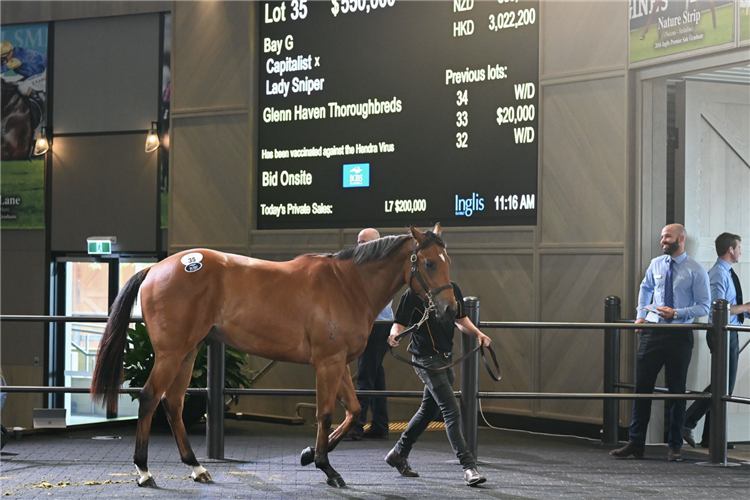 Owner Bon Ho enjoyed a lucrative day on Saturday when Classique Legend (Not A Single Doubt) landed the $15,000,000 Everest (1200m) and on Tuesday the Hong Kong-based owner was busy spending some of his winnings at the Inglis Ready 2 Race Sale when purchasing a gelding by Newgate Farm's first season sire Capitalist (Written Tycoon) for $550,000.
Capitalist enjoyed his first winner on Saturday when the Peter and Paul Snowden-trained Captivant broke his maiden in the Victory Vein Plate (1000m) at Randwick and Legend Racing's Bon Ho expressed his admiration for the young stallion and believed he possessed all the attributes to make waves among Australia's stallion ranks.
"He breezed up very well and he came highly recommended by Matt Vella of Glenn Haven Lodge," said Ho.
'I have a few Capitalists myself already and they are all promising types. I think this stallion is going to be very successful so I was very happy to be able to add another one to my stable.
"As the sale suggests, this horse is ready to race. He will stay in Australia and be trained by Matt Vella. I have a lot of respect for Matt as a horseman, he's very capable and I look forward to this horse showing us all how good we think he is."
The gelding - who clocked a time of 10.17 seconds in his breeze - was purchased by Mitchell Bloodstock from the Newgate Farm draft for $170,000 at the Inglis Classic Yearling Sale earlier this year and James Mitchell - one half of the father / son duo that makes up Mitchell Bloodstock - told Racing & Sports Bloodstock he was over the moon with the sale.
"He had obviously been popular throughout the inspections," said Mitchell. "Having Capitalist sire his first winner on Saturday was perfect timing and it couldn't have been any better. We thought he would make in the $300,000-$400,000 range, we couldn't have imagined he would have made $550,000."
Mitchell said, while the youngster was physically very impressive as a yearling, he possessed a tricky disposition, so they took the decision to geld him and he said that proved to be an inspired idea.
"As a yearling, from a physical standpoint we really thought he was faultless," Mitchell explained. "He had lovely strength and a lot of quality, but he did have a bit of an attitude, so we did end up gelding him to make the process a bit smoother. That worked a treat, he has been an absolute saint throughout the whole process, so that was a stroke of genius in hindsight. He was a good solid colt who looked fast to us and he is out a good running mare."
Offered by Glenn Haven Thoroughbreds and catalogued as Lot 35, the gelding is the first foal out of Gosford Guineas (Listed, 1600m) winner Lady Sniper (Snippetson), while further back this is the same family as Listed-winning duo Easy Landing (Mister C) and Misty Dawn (Mister C).
Matt Vella of Glenn Haven Thoroughbreds was offering horses at the sale for the first time and he said he had suggested the horse to Bon Ho.
"A few guys here saw the horse and liked him and they approached Mr Ho," said Vella. "He texted me to ask me if I liked him, given he was in my draft and I told him I did. He's a very nice horse to be taking home.
"I'm thrilled to be able to train this horse and I'm very grateful to Mr Ho for the support he's given me. He's bought himself a nice horse. It just shows you can find nice horses at these sales."
Vella had such a high opinion of the gelding he had suggested they send him straight into training and target the Breeders' Plate (Gr 3, 1000m).
"I thought he'd bring between $400,000 - $500,000 but the fact he's made even more than that doesn't surprise me," said Vella. "As I said in every interview I did pre-sale, I urged the owners to take the horse out of the sale and give him to Peter Snowden or someone like that and run him in the Breeders Plate but true to their word, they kept him in and it's great they've got this result.
Vella has already mapped out a vague plan for the gelding and said he would be setting the gelding on a path towards the Inglis Millennium (RL, 1100m).
"He's on an Inglis Millennium prep," explained Vella. "That's the race to target. Golden Slipper, that might be getting ahead of ourselves but all the good horses I've broken in, including Slipper winners, were all like this bloke, very forward and very strong.
"He's been in the paddock since the breeze ups, he's ready to go into work, eight weeks off a trial and then go from there. Everything will be aimed toward the Millennium."
Vella said he expects the horse to be an early two-year-old: "He definitely strokes me as a horse that could be a very, very good two-year-old. A lot of the good judges here backed that up when they looked at him.
"He's very forward, very educated and every good horse I've broken in has been two-year-olds like Dame Giselle, I never really had to do anything, they did it themselves and this horse is the same as that. He very well could be one of the better two-year-olds you'll see."
Glenn Haven Thoroughbreds sold six lots for an aggregate of $992,000 at an average of $165,333.