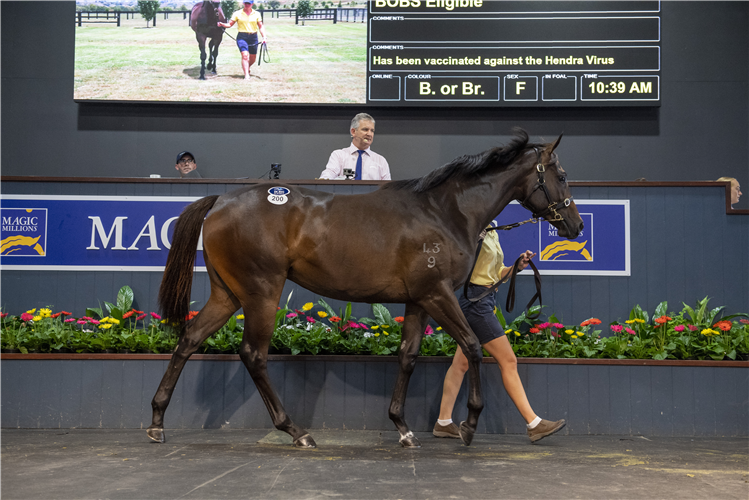 Seamus Mills was under no illusion that he would face tough competition when buying a filly by Yarraman Park-based sire I Am Invincible (Invincible Spirit) at the Magic Millions Gold Coast Yearling Sale, but he achieved his goals on Wednesday when taking home two fillies by the sire for an aggregate of $1,250,000.
The most expensive of the pair was the first foal out of Group 3 winner Flying Jess (Hinchinbrook), who also landed the Magic Millions 3YO Guineas (RL, 1400m) who he secured for $750,000 from the draft of Yarraman Park.
Flying Jess was purchased by Boomer Bloodstock for $540,000 at the Magic Millions National Broodmare Sale in 2018 and she comes from the same family as stakes winner Come Fly With Me (More Than Ready) and Queen Elizabeth Stakes (Gr 1, 2000m) winner Dinky Flyer (Balmerio).
The filly was catalogued as Lot 324.
Mills told Racing & Sports Bloodstock there was very little between the fillies by the stallion on the complex and was keen to find out which ones took the rigorous sales experience the best.
"We sized up all the Vinnie fillies here and we had her and the other Vinnie filly we bought today out of Custard and we thought they were on top - everyone has their opinion and that was ours," said Mills. "There are plenty of nice Vinnie's here and we were happy to get this pair.
"There is very little between any of these Vinnie fillies here at the sale, they have all got good pages and they are all good sorts, you can throw a blanket over them as far as the horses standing in front of you.
"Therefore for me, the only way you can separate them is by getting in their heads a bit and by the time I buy them I have inspected them around six or seven times, I just want to look at the ones that are handling the sale well.
"This filly was still putting in her effort in the last inspection, which was about ten minutes before she walked in the ring. She is just one of those fillies who really stood out in the way she handled herself."
Second on Mills' list in terms of daughters of I Am Invincible was the Segenhoe-consigned daughter of Listed-winning Lonhro (Octagonal) mare Custard, who he bought for $500,000.
Mills said that for now she was bought as a racing prospect, but that he believes I Am Invincible will prove to be a top-class broodmare sire in time.
"She is a long term filly and I don't think you will get much better than I Am Invincible as a broodmare sire in my opinion," said Mills.
"Standing still she wasn't the best Vinnie here, but there was no horse here who handled the sale as well as her and looked as tough as her.
"Everyone has the things that they like and I really liked that she tried to please you. Everytime she was asked to walk she put in the effort, which is exactly what I like to see."
Offered as Lot 200, the filly is a half-sister to Group 3 scorer Serene Majesty (Fastnet Rock) and stakes scorer Curdled (All Too Hard), as well stakes-placed pair Brulee (Hinchinbrook) and Panna Cotta (Fastnet Rock).
Custard is herself a half-sister to stakes winner Russian Caravan (Dehere) - the dam of Listed scorer Te Rux (Stratum) and the dam of Group 2 winner Fravashi (Falbrav) and Group 3 winner Pure Joy (Fusaichi Pegasus).
I Am Invincible is leading the way at the Magic Millions sale so far with 21 yearlings having sold for an aggregate of $11,195,000, while he also leads the way by average (with three or more lots sold) and that is sat at $533,095.
Mills also left the sales on Wednesday with a colt by Coolmore Stud's Triple Crown-winning shuttler American Pharoah (Pioneerof The Nile), securing the colt from the Coolmore Stud draft for $625,000.
Catalogued as Lot 268, the colt is out of Group 3 winner Ennis Hill (Fastnet Rock) and this family has played very much a prominent role in the juvenile ranks this season, through the exploits of her Inglis Nursery (RL, 1000m)-winning brother Acrobat.
Ennis Hill and Acrobat are both out of Group 2 winner Hips Don't Lie (Stravinsky), also making them siblings to Listed winner Lake Geneva (Fastnet Rock).
Mills said he was keen to secure the colt, not only because he is a big believer in the abilities of American Pharoah as a stallion, but also because the colt hails from one of his favourite families in the stud book.
"I am a big fan of the stallion," said Mills. "I know a lot of these first-season sires have got off to a flyer and he may have got a little bit lost in that regard. I loved his first crop, but I didn't expect them to be early.
"But this colt is from one of my favourite families in the stud book. Obviously, Acrobat is the latest star from it and it is just an outstanding family. This is the type of family that will keep you in the day long term."