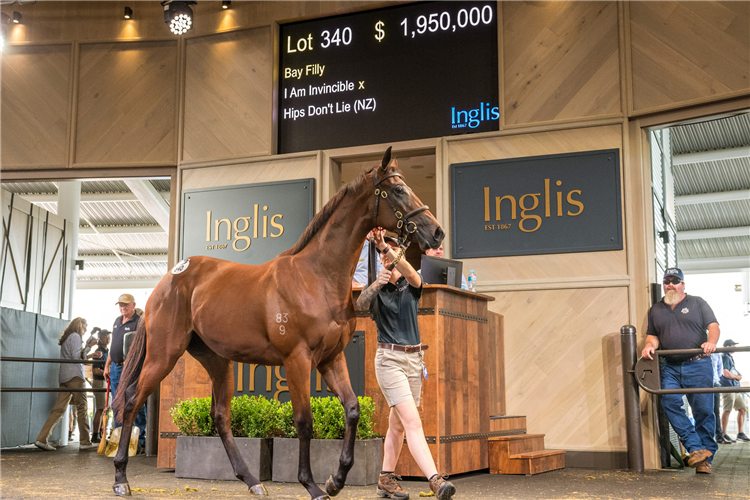 Hips Don't Lie (Stravinsky) handed James Bester and Coolmore Stud yet another outstanding result when her eighth foal - a filly I Am Invincible (Invincible Spirit) - was purchased by Seamus Mills for $1,950,000 at the Inglis Australian Easter Yearling Sale on Wednesday.
The Coolmore Stud-consigned youngster was one of eight yearlings by I Am Invincible to break the seven-figure barrier over the two days at the sale, with six of them being fillies and he finished off the sale with a leading aggregate of $25,235,000.
Catalogued as Lot 340, the filly is out of Group 2-winning Stravinsky (Nureyev) mare Hips Don't Lie, making him a brother to Group 3 scorer Ennis Hill as well as Listed winner Lake Geneva, while the family has been subject to a valuable update this season, with the mare's seventh foal Acrobat (Fastnet Rock) winning the Inglis Nursery (RL, 1000m) in emphatic fashion last December.
Hips Don't Lie herself is a half-sister to stakes-placed O'Reilly (Last Tycoon) mare Acquired - the dam of Group 2 winner Splintex (Snitzel) and Listed scorer Invictus Salute (Exceed And Excel), as well as the dam of Group 3 winner No More Tears (Darci Brahma).
The mare has proved herself the gift that keeps on giving for Coolmore with this filly the fourth of the mare's yearlings to break the seven-figure barrier, while her five yearlings to sell at public auction have made an aggregate of $5,950,000.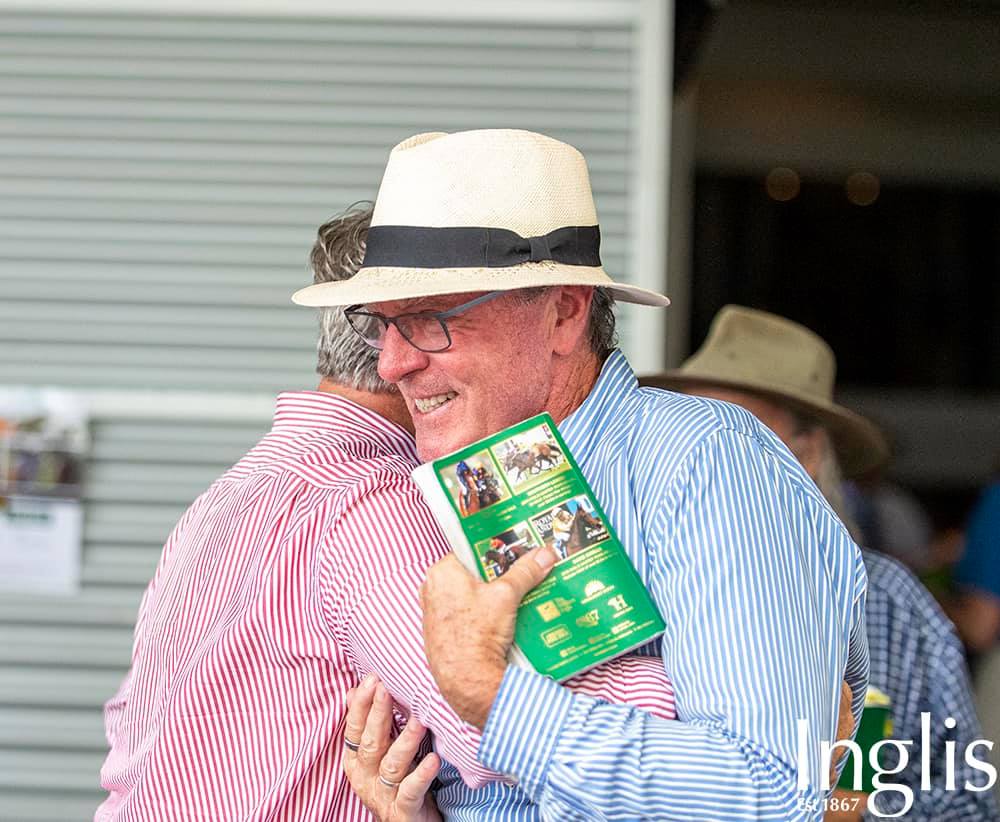 Hips Don't Lie herself was purchased by James Bester for NZ$200,000 at the New Zealand Bloodstock National Yearling Sale at Karaka in 2007, before being bought by Colm Santry Bloodstock for $770,000 at the Magic Millions Gold Coast National Broodmare Sale in 2009 and Bester, who bred the filly with his wife Bridget, said he rated the filly as one of the best he had seen in a number of years.
"She was the best yearling filly I had seen in ten years and I mean it," said Bester. "She was so beautiful and so athletic. Her mother who I bought as a yearling for NZ$200,000 has been an absolute goldmine.
"We own a lot of the family, including Acrobat who won the Inglis Nursery for us in exciting fashion. We expected a decent price, but that has absolutely surpassed all expectations. Inglis has done a wonderful job getting a buying bench together that could compete for her at that level."
Meanwhile, Bridget Bester said it was hard to part with the filly, but she was delighted to see so many good judges appreciate her and was over the moon to see her realise that money.
"I was a bit teary, we love the horses first and foremost and to have one that beautiful is amazing and to let her go is sad," she said. "But to see everyone appreciate her that much is amazing. The mare is literally the gift that keeps on giving and she is just incredible."
Seamus Mills said he rated her one of the best fillies on the sales complex.
"We really, really wanted her," said Mills. "I thought she was the best horse here in terms of pedigree. I didn't think I would have to pay that for her, but whoever was underbidder just wouldn't drop off.
"We did go a little bit above expectation and I didn't think there was a lot between here and the Heart Of Thrills filly, we have ended up with the one with a little bit more pedigree. She is owned by the same ownership group as Odeum, well it was when I was bidding, but I might have to find a third partner."
Mills was effusive in his praise for I Am Invincible, believing him to be the best sire in Australia at the moment.
"He seems the stallion of the sale," Mills said. "On my shortlist of 14 fillies, I think there were about six I Am Invincibles on it. I think he's the best sire in the country.
"I think it's the best family in the stud book," Mills said.
"Many people still rate Acrobat as perhaps the best two-year-old we saw (this season), and we're hoping he'll get back to the races, but family-wise it is as deep as it gets."
Mills said buying into a filly like this was more to do with the long term prospects and hoped she would make a good broodmare of the future.
"She's a long-term prospect," he said. "You have to put some value on these things, because they can breed for you - she's not going to end up a gelding - so when we're here selling foal two, three, four and five out of her, hopefully the dollars will actually make some sense too."
I Am Invincible finished the sale as the leading sire by aggregate, having 41 yearlings sell for a gross of $25,235,000, while his average of $615,488 was bettered only by Darley's Exceed And Excel (Danehill), but that was from a dramatically smaller pool of horses, with five of his yearlings selling for an aggregate of $4,920,000 at an average of $984,000.
Coolmore Stud finished the sale as the second leading vendor by aggregate, having sold 32 yearlings for a gross of $12,260,000 at an average of $383,125.