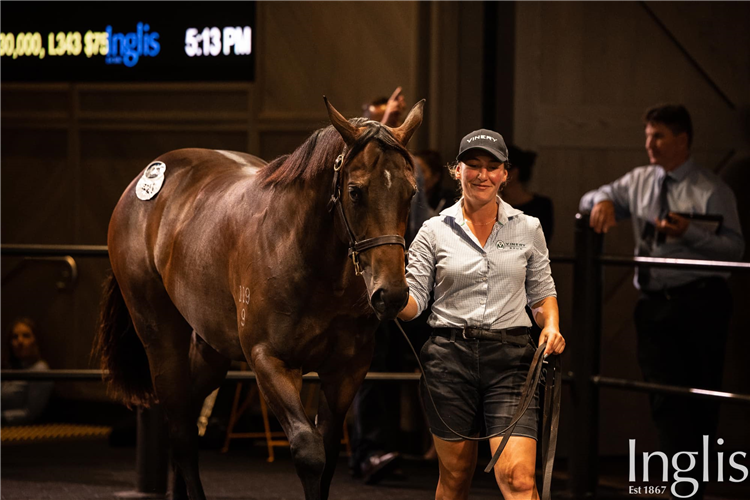 Warwick Farm-based trainer Bryce Heys made his presence felt on the second day of the Inglis Australian Easter Yearling Sale on Tuesday, when he parted with $2.4 million for two yearlings, headlined by a $1.4 million filly by I Am Invincible (Invincible Spirit), handing Vinery Stud their fourth $1 million result during the two day sale.
Catalogued as Lot 421, the filly is the first foal out of stakes-placed Snitzel (Redoute's Choice) mare Miles Of Krishan.
Miles Of Krishan herself is a half-sister to Group 1 winner Il Quello Veloce (Captain Rio) and Listed winner Donna Cattiva (Captain Rio).
The filly's third dam is Listed winner Classy Twiggy (Twig Moss), who is herself a grandam of 2014 The Galaxy (Gr 1, 1100m) winner Tiger Tess (Dubawi), multiple elite level winner Terravista (Captain Rio), Group 2 scorer Bull Of Muscle (Dubawi) and Listed winner Super Easy (Darci Brahma).
Heys said he had rated this filly highly from the moment he saw him and said it was anxious waiting for her to come through the ring so late in the day.
"Snitzel is really starting to do something as a broodmare sire and I'm sure that will continue going forward and obviously I Am Invincible is a wonderful sire," said Heys.
"I rated this filly really, really highly. We had to wait for her and it was a long wait, but we rated her as the best filly in the sale. I was really taken with her and it is a fantastic family in terms of what she holds as broodmare is exciting, but let's get the racing out of the way and hopefully she is fast."
Having sold three $1 million horses on the first day of the sale, this filly handed Vinery Stud another exceptional result and they finished the sale as the leading vendors by average (with three or more lots sold), with the New South Wales-based nursery selling 16 horses for an aggregate of $10,410,000 at an average of $650,625.
Vinery Stud purchased Miles Of Krishan for $500,000 at the 2017 edition of the Magic Millions Gold Coast Yearling Sale and Vinery's Peter Orton was understandably over the moon with the result and told Racing & Sports Bloodstock the filly deserved to realise that price-tag.
"She was a beautiful filly," said Orton. "She was the first foal out of the mare, we gave her until Easter and she enjoyed the time. When she got to $700,000 we thought that would be a lovely result, but she just kept going and going.
"It is very dangerous to go in thinking you have a $1 million horse, we just thought she was a genuine filly who deserved to make $500,000-$600,000 and to get over that was just a beautiful result."
Orton said the farm's results over the past few days were a result of a lot of hard work from everyone on the farm and was happy to see everything come together to produce an outstanding outcome.
"We are one on cloud 9, but it doesn't come through luck, it is through a lot of hard work and team and the clients, who have given us some lovely mares," said Orton. "The team we have at Vinery are just outstanding.
"We can't make the yearlings into something they are not, we can just help them become what they can be and give them every opportunity and we have genuine good results coming off the farm and these were genuinely good horses. We went into a very strong market with quality horses and they were obviously well positioned."
Orton said the farm was in a very good position and was looking forward to the future.
"We have got some young horses coming through, with Headwater, Press Statement and Star Turn, who are doing great jobs and Exceedance had his first season last year and will have his first foals this year and Ole Kirk will cover his first book in the spring.
"Momentum is important and the industry is about having the right product and being consistent and following through with the results."
A few lots earlier, Heys etched his name on to the buyers sheet when he parted with $1 million for a colt by the Coolmore Stud-based sire So You Think (High Chaparral).
Catalogued as Lot 415, the yearling is the fourth foal out of six time-winning Encosta De Lago (Fairy King) mare Martilago, who is herself a daughter of Listed-winning Danehill (Danzig) mare Martique, making the colt a three-quarters brother to New Zealand Group 1 winner Charmont.
Martinique herself is a daughter of dual Group 1 winner Champagne (Zabeel), who also produced Listed winner Nadege (Giant's Causeway).
Further back this is also the same family as multiple Group 1 winners St Reims (Zabeel) and Bonneval (Makfi).
Heys said that had to pay slightly more than he anticipated, but given the strong market it was understandable given the quality of the colt.
"It is a pretty cliche but he was a wonderful horse and I was just asked to buy a colt with his profile," said Heys.
"He was always going to be popular and I had to pay a fraction more than what I anticipated but I was over the moon to be able to buy him, but he was the colt who fitted the brief. He certainly deserved that price-tag."
This season, So You Think has sired 133 winners, with nine of them stakes winners and they are headed by last month's George Ryder Stakes (Gr 1, 1500m) winner Think It Over, who will shoot for further Group 1 glory in Saturday's Doncaster Mile (Gr 1, 1600m).
Segenhoe Stud's Peter O'Brien knows the sire well through his time at Coolmore and he told Racing & Sports Bloodstock that this colt was the image of his multiple Group 1-winning father.
"I got to know So You Think very well with my time at Coolmore and honestly this yearling was a clone of his father, whereby he oozed quality, but being out of an Encosta De Lago mare he had a lot more substance than most So You Thinks," he said. "He had a lovely action and was just a lovely, lovely colt."
O'Brien said the stallion was often underrated by buying benches in Australia and was delighted to see him finally get the recognition he deserved.
"So You Think has been a very good horse to us and I think So You Think is very underrated, when you look at the results, every Saturday he is having stakes winner, after stakes winner and I think the market is finally realising his worth as a stallion.
"Everyone that knows So You Think knows he is just an adonis and the colt just reminds me so much of his father.
"I wasn't expecting him to make a million, just because historical sales and yearlings by the stallion aren't usually in that bracket. I knew he would sell well, but I didn't expect that much, however he deserved to sell that well - he was just magnificent."
So You Think had 13 yearling sell over the two days of trade for an aggregate of $4,480,000, while the stallion recorded an average of $344,615.
Meanwhile, Segenhoe Stud sold 17 yearlings for total receipts of $7,690,000 and recorded an average of $452,353.