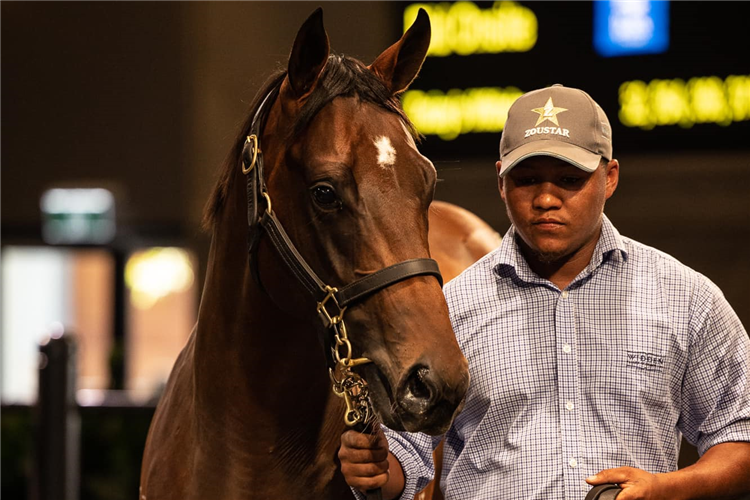 Widden Stud-based sire Zoustar (Northern Meteor) was handed two fine results on the final day of the Inglis Australian Easter Yearling Sale on Wednesday, as trainer Matt Laurie went to $1,250,000 for colt by the stallion, while Peter Moody teamed up with the Victorian Alliance to purchase another son of the sire for $1,150,000.
Laurie bought the bay colt catalogued as Lot 377 and offered by Widden Stud - where the stallion resides - out of stakes-winning Beneteau (Redoute's Choice) mare Lady Jivago.
The colt's fourth dam is Listed-placed Singles Bar (Rory's Jester) and she is famed for being the dam of Listed winner and Group 3-placed and recently pensioned Arrowfield Stud stallion Not A Single Doubt (Redoute's Choice).
Singles Bar is also the dam of Group 2 scorer Hanky Panky (Anabaa), who in turn produced Group 3 winner Master Ash (Sebring) and Listed-winning duo Fun In Flight (Fusaichi Pegasus) and Come Hither (Redoute's Choice) - the dam of Listed scorer Cohesion (Lonhro).
Singles Bar is also the grandam of 2018 Flight Stakes (Gr 1, 1600m) winner Oohood (I Am Invincible) and Listed placed-Breakfast In Bed (Hussonet) - the dam of dual Group 1-winning colt King's Legacy (Redoute's Choice), who will cover his first book of mares at Coolmore Stud this spring.
Widden Stud's owner Antony Thompson was delighted with the result and was happy to see the colt head to a young up and coming trainer like Laurie.
"The colt showed a great temperament throughout the inspections, coming out 30 or 40 times a day and never turned a hair," said Thompson. "It was great a young trainer like Matt Laurie could drum up the support to buy a horse like this.
"We are really flattered because Chris Waller was underbidders and Chris obviously knows a good Zoustar, having trained Zoustar himself and Zousain, so it was a really exciting thing and a really big thrill."
Zoustar has enjoyed a lucrative season on the track, represented by 125 winners, ten of those stakes winners, headed by Group 1 winner Zoutori, who led home a quinella for the stallion in the Newmarket Handicap (Gr 1, 1200m) earlier this year and Thompson said it was a very exciting time for the stallion.
"To quinella the Newmarket, he's in rare age, with just four crops of racing age," said Thompson. "He was champion first-season sire, champion second-season sire, champion third-season sire and leading fourth season sire. He is getting them everywhere.
"He has got a lot of really good horses on the track and the really proper yearlings and foals to come. He is always going to be an important stallion for us and for Australia and with the horses coming through - it is just really exciting for us."
Over the two days of selling, Widden Stud sold 22 yearlings for a gross of $7,720,000 at an average of $350,909.
Earlier on in the day, trainer Peter Moody handed the stallion another good result when he purchased another son of the sire for $1,150,000 and after the colt left the ring, the Victorian Alliance approached the trainer and instantly brought into the colt.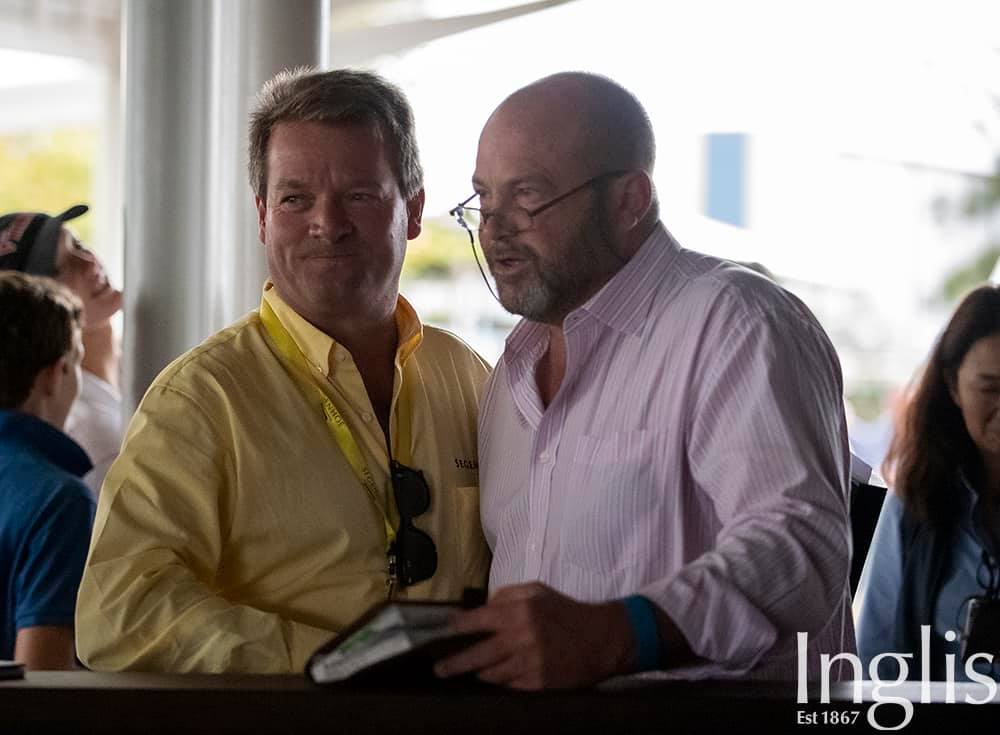 Moody has already enjoyed success with progeny of the sire in the shape of Lightsaber, who landed the VRC Sires' Produce Stakes (Gr 2, 1400m) at Flemington on March 6 - the trainer's first stakes success since he returned to the training ranks last year.
The trainer admitted that he had to stretch his budget to secure the Segenhoe Stud-consigned youngster, but said he was not surprised given the strength of the market in Australia.
"He was a cracking colt, who had a great head and shoulder on him and a great girth - everything you want to see in a horse," said Moody.
"We are having a lot of luck with Zoustar at the moment, he is a hell of a stallion and he just looks a nice running colt. Did I want to pay that much for him? No I didn't, but he's a lovely horse and we had to meet the market and we're very pleased to be taking him home.
"We are one of the lucky countries in the world, where we have great prize-money behind us and it's a great industry that is very buoyant and if you want these nice horses you have to pay nice money for them. We just want to get a return on our investment and let's just hope this bloke can do that.
"He was a lovely big bloke who was very clean on x-rays, so he will go straight to the breakers. We would like to see him at two, but this particular breed seem to thrive in the autumn. We dream of the two-year-old stakes success, but there is a lot of stakes races for three and four-year-olds as well."
Catalogued as Lot 306, the colt is the second foal out of 2015 Widden Stakes (Gr 3, 1100m) winner Fireworks (Snitzel) and she is herself a half-sister to Group 1 winner Calveen (Canny Lad) and Group 2 winner Striker (Van Nistelrooy) - the dam of Group 3 scorer First Impressions (Rip Van Winkle).
Further afield this is the same family as Group 3 winner Okahu Bay (Flying Spur) and Grade 2 scorer Ektifaa (More Than Ready).
Segenhoe Stud's Peter O'Brien told Racing & Sports Bloodstock he was confident the colt would be well received by buyers, describing him as a 'special' animal.
"Zoustar is a just an amazing horse to breed to, because all of his stock have incredible quality and a great action, which this fella had. He was an extraordinary mover and had great balance, all good things you see in good Zoustars.
"Peter [Moody] went out on a whim and bought him himself and then the Victorian Alliance bought in. It is great for Peter, he has been a very good friend for years and he did effectively put his neck on the line and everyone joined in. But why wouldn't they? He was a special animal."
Zoustar had 23 yearlings sell at the Sydney-based sale for an aggregate of $9,345,000, while the stallion finished with an average of $406,304.