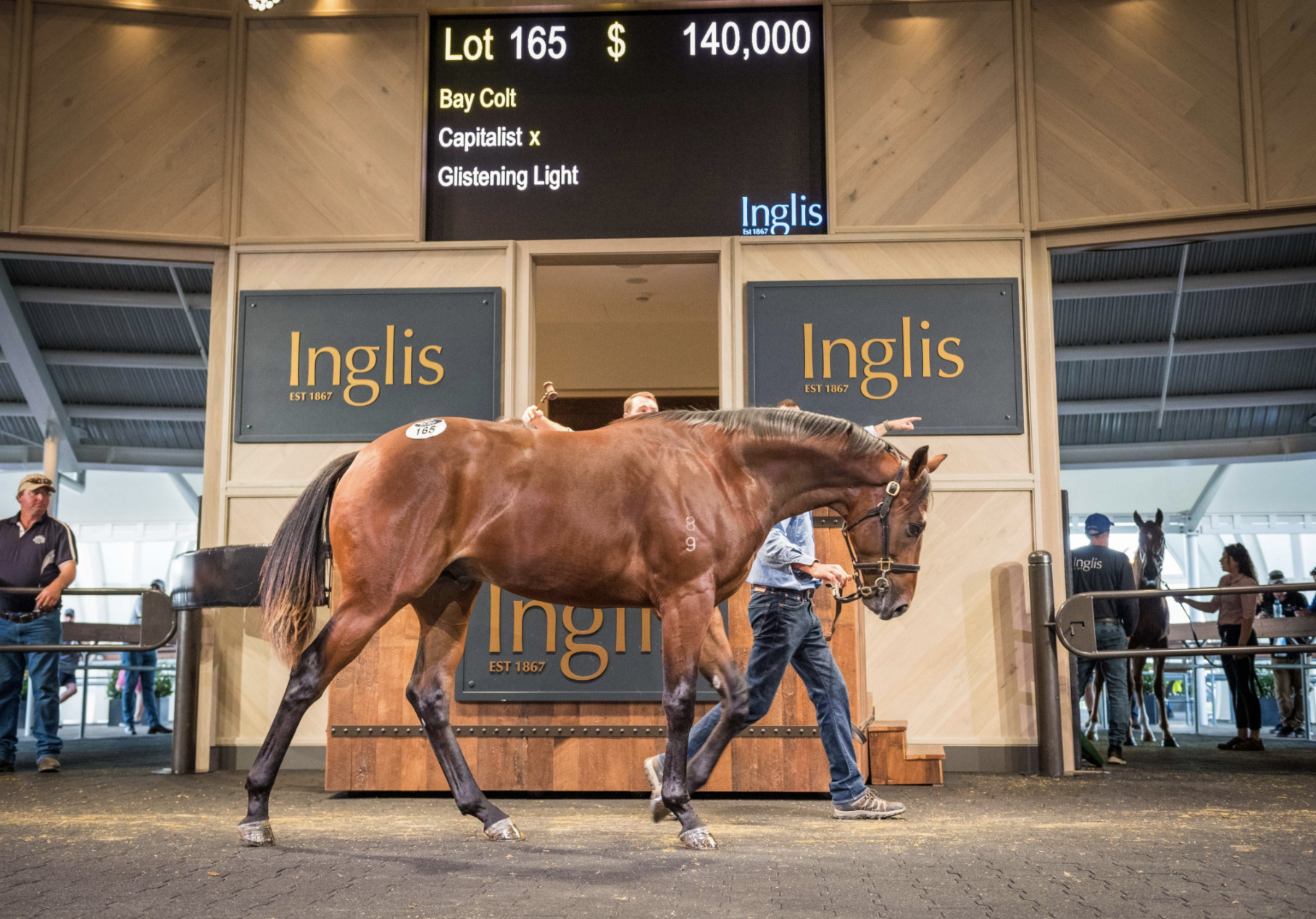 A colt by Newgate Farm's first-season sire sensation Capitalist (Written Tycoon) topped the first session of the Inglis HTBA May Yearling Sale on Sunday as Peter Moffatt and Mitchell Williams Bloodstock went to $140,000 for the youngster, who will be re-offered at the Inglis Ready 2 Race Sale later this year.
Catalogued as Lot 165 and offered by Peter Stewart and Bridgett Woodford-Smith's Huntworth Stud – in conjunction with Redbank North, the colt is out the first foal out of Group 3-placed Exceed And Excel (Danehill) mare Glistening Light, who Stewart and Woodford-Smith purchased for $45,000 at the Inglis Sydney Broodmare and Weanling Sale in 2019 when carrying the colt in utero.
Glistening Light is herself out of dual Group 3-placed Encosta De Lago (Fairy King) mare Glowlamp, who is herself a sister to Group 3 winner Offenbach (Danehill) and Star Of Gibraltar (Danehill) - the dam of Listed winner Tukiyo (Haradasun). Glowlamp is also a sister to the dam of three-time Group 2 winner Spanish Whisper (Lope De Vega).
In realising his price, the colt became the second-most expensive yearling ever purchased at the HTBA May Sale.
"Peter Moffatt will be taking him to the breeze-up sales here in October. Peter used to work with me at Tal Nolen's but he's doing his own thing now in Wangaratta, so hopefully he gets a good result with this horse," Williams said.
"It has been pretty tough to get them, everyone's on the same sort of horses and they're making a bit more money than they used to, those running types.
"Being by Capitalist, he's the right horse if you want to get a hit out of one and make big money, he's the flavour of the month.
"He's a good-bodied and good moving horse who has done everything right, so I think he will be a good breeze-up horse.''
Stewart and Woodford-Smith were originally planning on selling the horse at this year's Classic Yearling Sale but opted to hold off for the May Sale, a decision which on Sunday proved fruitful.
"On pedigree he could have got into Classic but being a November foal, he was just a little bit behind so on the advice of Inglis, we decided to keep him until this sale, particularly because this sale was here at Riverside instead of Scone and it did him so much good because he's just matured so much,'' Stewart said.
"I'm not at all surprised by how busy it's been here all week and how well the sale is going because the yearling market has been so strong and there's some lovely-bred horses in the catalogue.
"He was really busy all week and there have been some very good people look at him, people I really respect in the industry. He's a lovely horse, his x-rays are perfect, he's got a beautiful temperament, he's just a lovely colt.''
Capitalist is the sire of 11 winners, headed by four stakes winners including Group 1 scorer Captivant, while he is one track to be crowned Australia's champion first-season sire by both winners and earnings and also the country's leading sire of two-year-olds.
Earlier on in the afternoon, a colt by Waikato Stud-based sire Ocean Park (Thorn Park) was purchased by Merchant Bloodstock for $85,000 and like the Capitalist colt, he will likely be re-offered at the Inglis Ready 2 Race Sale later this year.
Catalogued as Lot 81 and offered by Riversdale, the colt is the fifth foal out of Brooklyn Roads (Bertolini) and she has already produced two winners.
Brooklyn Roads herself is out Listed winner Ethlen (Hula Town).
The colt was also originally entered for the Classic Sale in February but had to be withdrawn after suffering a slight setback in the lead-up.
"But the extra time has allowed him to mature and being an Ocean Park, they need a bit more time and it's absolutely worked in his favour, his improvement has been dramatic since Classic,'' Riversdale's Nick Hodges said.
"He's been really popular here all week, he's done a lot of work which has been great to have that foot traffic here.
"We were hoping he'd get his $50,000-$60,000 so to reach $85,000 was a great result. We're very happy with the price.''
At the close of trade Inglis reported, 123 yearlings sold at a clearance of 75 per cent for an aggregate $2,604,000 at an average of $21,171, while the median was $14,000.
Inglis managing director Mark Webster said he was satisfied with the day's trade.
"I really believe this rebranded sale has unlimited growth potential and there were no doubt some positive signs on that front on the opening day today,'' Webster said.
"As anybody can see from the statistics, there are plenty of opportunities in this market and this sale is proven to produce top-level graduates.
"We're relatively pleased with how Day 1 fared and everybody is looking forward to Day 2 as buyers face their last day of the year to buy a talented yearling in NSW.''