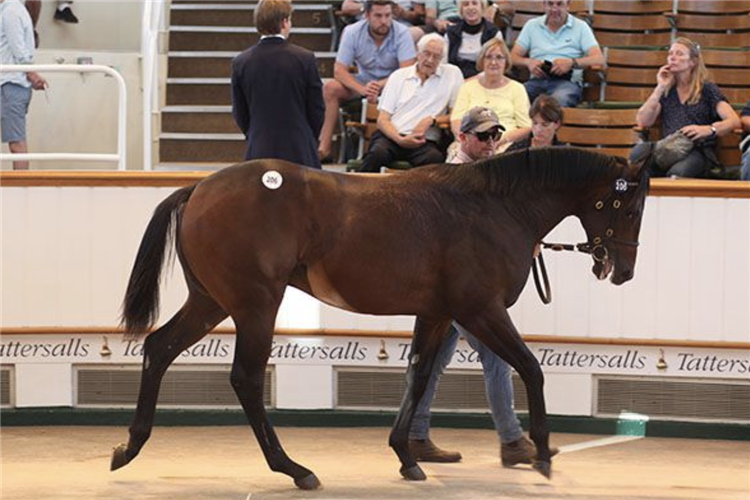 The renamed and rebranded Tattersalls Somerville Yearling Sale got off to a staggering start on its debut, with turnover double that of last year's Ascot Yearling Sale that was held in Newmarket whilst the average and median had similar rises, increasing 93 per cent and 76 per cent respectively. The turnover for the sale was an impressive 4,952,000gns whilst 17 lots sold for 50,000gns or more, compared to just one last year.
The most expensive lot to sell during the one day sale was Lot 206, who became the first ever six-figure lot at this sale, when selling to Adam Driver of Global Equine Group for 120,000gns. The colt, by Cheveley Park-based sire Twilight Son (Kyllachy), is out of the Listed winning and Group 1 placed mare Baileys Jubilee (Bahamian Bounty) and was consigned by Petches Farm, which is owned by Baileys Horse Feeds' managing director Paul Venner. His son Simon, the company's sales director, said:
"We weren't quite expecting to that level, we were very hopeful as we knew we were bringing a nice individual to the sale. All the right people were on him. He has always been quite an eye-catcher, very strong and straightforward, and he has not taken too much work. He has been flat out since getting here, he showed himself off greatly and I think he owned this runway in the Further Yard, he caught a few eyes. He had a few vettings and it is nice when it works out."
Purchaser Adam Driver said: "We will get him back to Jo Fenton's and she will work her magic, break him in and get him backed. He is a strong solid horse, so we will see what he shapes up into. He is for Raed El Youssef whom we have bought some breeze up horses for. We've had a bit of luck with the breeze up horses, so he thought he'd buy a few yearlings. No trainer has been decided upon yet."
At the conclusion of the 2021 Tattersalls Somerville Yearling Sale, Tattersalls Chairman Edmond Mahony commented;
"We are absolutely delighted with today's inaugural Tattersalls Somerville Yearling Sale. We had no choice but to relocate last year's Tattersalls Ascot Yearling Sale to Park Paddocks and it proved to be a great success which made the decision to rebrand and permanently relocate the fixture a relatively straightforward one. Sale turnover of double last year's wide margin record level as well as huge rises in average and median fully vindicate the decision and suggest that the Somerville Yearling Sale can legitimately be regarded as Europe's most progressive yearling sale.