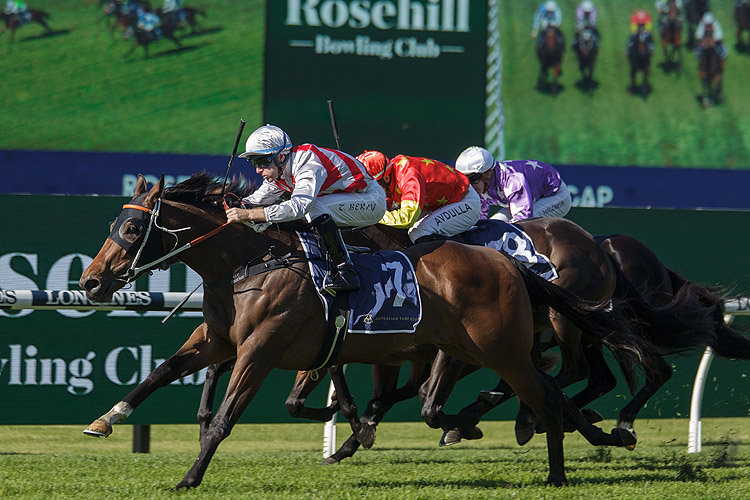 Two Hawkes Racing-consigned horses, offered on behalf of Alan Bell Racing, have topped the Inglis Digital October (Early) Online Sale, with the talented Overmann (Hinchinbrook) bound for Hong Kong and recent maiden winner Saskatoon (Star Turn) to continue for the stable for Seymour Bloodstock.
Overmann, a lightly-raced three-year-old, was purchased by Jason Leung Bloodstock for $330,000, a result which delighted Bell.
"Every time I've sold with the Inglis Digital platform, I've been very pleased," Bell said.
"This is the first time I've offered a Hong Kong-qualified horse on the site, one that was suitable and capable to be competitive over there and it's a significant moment for Inglis Digital, it gives more options to Hong Kong buyers.
"We were well rewarded for going through the Inglis Digital sale process, which included filming and vet and scope reports.
"It was handled extremely professionally by the Inglis team, I admire the amount of effort they put in to ensure all the information is there for buyers."
It was the first time Leung has bid with Inglis Digital, let alone purchased and while the countdown caused some stressful moments, he called it a "wonderful experience".
"I bought a few yearlings from the Inglis Premier Yearling Sale this year and Sebastian Hutch informed me via email of Overmann as a prospect for Asia,'' a delighted Leung said.
"Overmann will be racing in Hong Kong, he's a big strong horse, very reliable and he had beaten Volcanic Rock, which is solid form."
Overmann becomes the 25th horse overall to sell for $300,000 or more on the platform.
Fellow Bell-offered three-year-old Saskatoon was bought by Mark Pilkington Management for $200,000, following an exciting maiden win at Cranbourne on September 23.
"I had a friend in WA who asked me if I knew anything about the horse," Pilkington said.
"He had about $150,000 to spend and I told him that the way Alan Bell and Hawkes Racing operate, he could buy the horse with absolute confidence, mainly due to their process of buying quality colts with a view of a future stallion career.
"I highly recommended the horse but then after speaking to Alan Bell, he convinced me that if Saskatoon went beyond my friend's budget that myself and Darren Thomas should buy him for Seymour Bloodstock.
"Darren studied the form and thought his maiden win was super impressive and that we should buy him if he fell into our price range.
"We also concluded that Alan Bell's 'second bests' are still better than most people's 'bests'!
"We have other horses with John, Michael and Wayne Hawkes and we are really pleased they are keen to continue training Saskatoon, I'm sure Darren's phone will now be running hot with his friends who want to come into the horse.
"As for my friend in WA, I know there will be plenty of options in future Inglis Digital sales for him."
Saskatoon is by Star Turn (Star Witness), a horse Bell raced to high-level success with Hawkes Racing.
"I was really pleased with the sale of Sakatoon as well," Bell said.
"He looks to be quite a progressive horse and I'm delighted to see Star Turn doing so well, his is another validation for the job he's doing as a sire.
"I'm pleased that he will remain with the Hawkes team, they've been very patient with him as he's later maturing but he has a lot of upside.''
The Inglis Digital sale concluded with a gross of more than $2.6million and a clearance rate of 86%.
Other six figure results included Hot Spring Gold (Written Tycoon) at $150,000, I Am Invincible (Invincible Spirit) gelding Qeyaady selling for $120,000 and Nicconi (BIanconi) mare Tipperary Lass selling for $105,000.
Turnover this year has already surpassed $71 million, with eighty horses having now sold for $100,000 or more on Inglis Digital in 2021, with 162 since 2018.
"It was another excellent sale and we are particularly grateful to Alan Bell for his support of the sale with a couple of very talented, unexposed prospects" said Inglis Digital's Nick Melmeth.
"The interest from South East Asia, Hong Kong in particular, in both of those horses was very taking and we believe it is an area of the market with significant scope for growth.
"Trading through Inglis Digital for any vendor is a very clean, straight-forward process and as we have come to see, there is nothing quite like the emotion of an auction to stimulate prospective buyers to bid with real gusto."
The October (Late) Online Sale is now open for entries and will close at midnight (AEDT) on Wednesday, October 20.