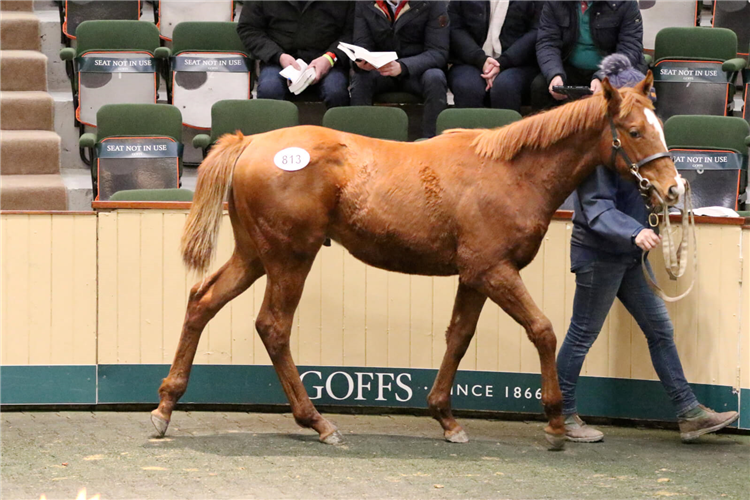 The fourth and final day of the Goffs November Foal Sale on Thursday was topped by a son of Mehmas (Acclamation) who sold to Tally Ho Stud, who finished the sale as the leading buyer, for €70,000.
The sale recorded increases in turnover, median and top price with the most expensive lot sold being a daughter of Frankel (Galileo) who was bought by Juddmonte Farms for €550,000. Tally Ho Stud bought 21 lots over the four days for a total spend of €1,338,500, while The Castlebridge Consignment was the leading vendor having sold 45 foals for €2,167,500 at an average of €48,167.
Tally Ho Stud's exciting young sire Mehmas was responsible for two of the three most expensive foals on the final day of the sale today, the top lot being Lot 813. A brother to five winners, the sale of the chesnut colt by Meadagh Stud to Tally Ho was a poignant one for his breeder Terre McNamara.

"This foal is from the first crop I bred after my husband John passed away in January 2020," she said. "We had Golden Vale Stud and I have continued breeding in a small way since. I am delighted the colt is going to an excellent home at Tally Ho."
Ringfort Stud's Churchill (Galileo) colt (Lot 846) out of the winning Acclamation (Royal Applause) mare Mistime, the same family of Group One winners Soldier Of Fortune, Sholokhov, Skitter Scatter and Intense Focus, was was another highlight of today's trade when purchased for €68,000 by JR Bloodstock.
Paula Flannery later purchased Vinesgrove Stud's Mehmas colt out of Zambezi Queen (Helmet) for €56,000 (Lot 947). From the family of Haydock Sprint Cup (Gr 1, 6f) winner Pipalong, the colt is from the same vendors that bred and sold the top lot, another son of Mehmas, on Day 1 of the Foal Sale.

Reflecting on trade across the four-day November Foal Sale, Goffs Group Chief Executive Henry Beeby said: "What an amazing business.
"As we progress through this depressing pandemic it is so uplifting to be involved in an industry that is always looking forward with positivity. And there is no better example of planning for the future than buying foals so, once again, we salute all the mighty foal pinhookers who have driven a trade of strength, depth and vibrancy over the last four days as they look for the next touch.

"The strong home team have been joined by a multitude of English and overseas speculators along with several end users, and the result has been intense competition and often frenzied bidding especially for those that stood out.

"Of course they have flocked to Goffs as our vendors have provided us with the cream of the Irish foal crop and we thank every one of them for their ongoing support of the Irish National Foal Sale. As ever our mantra is proven – "we can't do it without you" – and it is only with such a strong catalogue that we can deliver the kind of sustained demand that has clearly been in evidence from Lot 1 right through to the close of business today.

"The top of the market proved robust with the new star Frankel leading the way for the second year in succession but bidding has been as keen on each day and at all levels to vindicate so many Irish breeders choice of Goffs for their best. Indeed, a clearance rate of 82%, up from 76% despite a far bigger catalogue, makes the point and we are so pleased to have received so much positive feedback from so many about so much.

"We now turn our attention to our two day Breeding Stock catalogue which reads better than for many a year following yet more wonderful support from breeders".