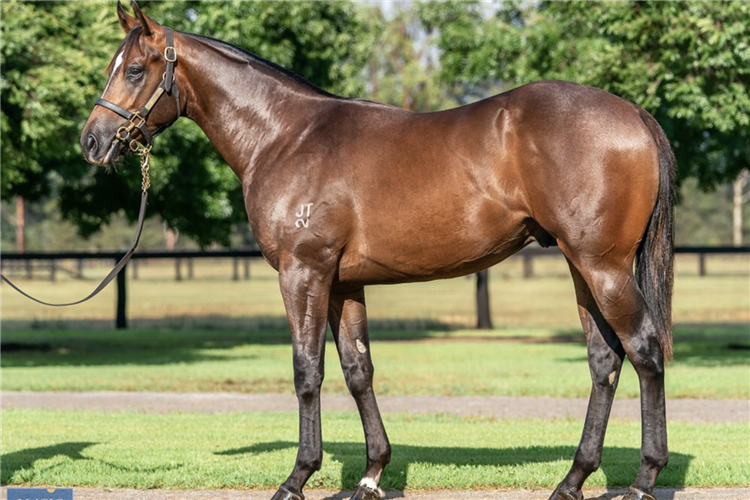 Discern (Zoustar) was the top lot of the Inglis Digital November (Late) Online Auction when bought for $120,000 by Noon Elaine Farm.
The Victorian-based operation has made a decision to improve their mares supporting resident stallion Ilovethiscity (Magic Albert).
Noor Elaine's owners, the El-Fahkri family in Brunswick, Victoria, are going through a "progressive stage'', with new Stud Manager Tim Jackson on board to navigate the transformation of the business.
Jackson hand-picked the Widden Stud-offered Discerned, in foal to young stallion Anders (Not A Single Doubt), as the first step in a broodmare-buying spree that will see the farm significantly improve its broodmare band.
"The El-Fahkri family and I believe there is considerable upside to Ilovethiscity and we want to be buying more quality mares to put to him,'' Jackson said.
"The family is fully aware they need to improve their broodmare genetics and Discerned was a mare that certainly fitted that bill.
"I saw videos on the Inglis website of her and I spoke to the team at Widden, a farm I've got a good opinion of and know they're not going to bullshit you. Discerned is by a good young broodmare sire in Zoustar, she's out of a Flying Spur mare, she has a progressive family and is in foal to a good young bull in Anders. She's the first boxed ticked in our mare recruitment plan.
"We're continually looking, we're after younger mares, mares that are suitable and affordable so I guess we're not unique like that – every stud farm is looking for that really.
"I've used Inglis Digital before, I think it's very good, it's very convenient, convenience is the biggest thing, especially since Covid hit. It just makes it all so easy.''
Widden's Matt Comerford was "thrilled with the result''.
"We had a chat to [Inglis Bloodstock CEO] Sebastian [Hutch] about finding a suitable mare in foal to Anders and put Discerned forward and we really couldn't be happier with the outcome,'' Comerford said.
"It's a real credit to the Inglis Online platform having the buyers' support to the level at which it does.
"There has been fantastic market support for Anders, he has been extremely popular this year, so much so there have been plenty of mare owners we have not been able to accommodate, so the purchaser here is getting a fantastic package.
"Widden has long been an advocate of the Inglis Digital platform, both as a buyer and seller and we look forward to using it regularly moving forward into 2022 and beyond as well.''
Anders was prevalent in both the November (Late) Sale top lots, with second-top lot Loading Zone *Street Sense) – also offered in foal to Anders – realising $105,000 for Two Bays Farm to Michael Christian's Longwood Thoroughbred Farm.
Christian said: "She's a lovely style of mare, a beautiful mover who has produced some outstanding foals already including the three-time Stakes winner Military zone.
"She's been bought with some clients of the farm so she'll be a long-term prospect here at Longwood. We like the family and the fact that she's produced some really nice foals already that have been well received at weanling and yearling sales, we're excited about her future moving forward.''
Those results helped the November (Late) sale gross $2,112,600, taking the total Inglis Digital gross of 2021 surging through the $80m barrier to $80,668,357.
The total 2020 turnover was $52,062,249, which included the Great Southern Sale and the Gold Yearling Sale, both of which were held as Digital Auctions due to Covid restrictions enforced at the time.
The November (Late) sale enjoyed an 85% clearance rate.
"It's been a phenomenal year to date and while it's absolutely not over yet, it's very satisfying to see our buyers enjoy such great success with their purchases off the platform and our vendors leave twice monthly so satisfied with their results,'' Inglis Digital's Business Manager Nick Melmeth said.