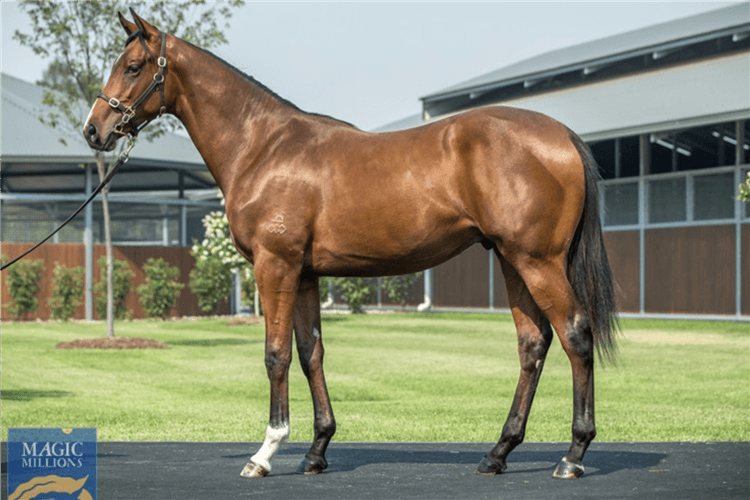 1. Who is (are) your pick of the colts and why?
Lot 164 Dundeel (High Chaparral) - Cavaloce (Testa Rossa) colt. "A scopey, well-balanced colt, he's an unbelievable mover and has a terrific temperament."
Lot 242 Lord Kanaloa (King Kamehameha) - Dimenticata (Danetime) colt. "I love this colt, he has a lot of quality and athleticism."
Lot 493 Shalaa (Invincible Spirit) - Madame Andree (War Emblem) colt. "A racy type with plenty of quality and he's a half-brother to three very promising horses, Madame Pauline, Battleground and Anders."
2. Who is (are) your pick of the fillies and why?
Lot 442 Mikki Isle (Deep Impact) - Kirovskaya (French Deputy) filly. "She's a well-balanced, athletic filly and has been a favourite of mine from a foal. She's a half-sister to Group winner Irithea from a great Japanese family."
Lot 546 Shalaa (Invincible Spirit) - Miss Salinger (All American) filly. "Such a classy filly, from a strong producing family. She has great scope and is a real athlete."
Lot 566 Not A Single Doubt (Redoute's Choice) - Mount Zero (Northern Meteor) filly. "Everything you'd expect from this mating, and more. A super-athletic filly that looks sharp."
3. Who do you feel has improved most over the prep?
We have a large draft, so there's a good number of horses that have blossomed during the prep, but four that have particularly impressed me are : Lot 376 Real Impact (Deep Impact) - Hexameter (Octagonal) filly, Lot 381 Maurice (Screen Hero) - Hollow Bullet (Tayasu Tsuyoshi) colt, Lot 418 Shalaa (I Am Invincible) - Jemison (Commands) colt and Lot 722 Snitzel (Redoute's Choice) - Sananda (Anabaa) colt.
4. How do you feel the 2020 sale will measure up compared to previous renewals?
I think the 2020 sale will be similar to last year, mainly because the fundamentals of racing horses in Australia remain very strong. We've had great results already from our 2019 Magic Millions draft, but I feel across the board we have a slightly stronger draft this year. They're a very even, athletic bunch of yearlings and we can't wait to send them through the ring.
5. What is the thing you like most about the Gold Coast in January?
I love the atmosphere at the Gold Coast and the Magic Millions team does a great job of making the whole week a wonderful event. There's always a great buzz about it, it's the first yearling sale of the season and everyone is fresh and relaxed.