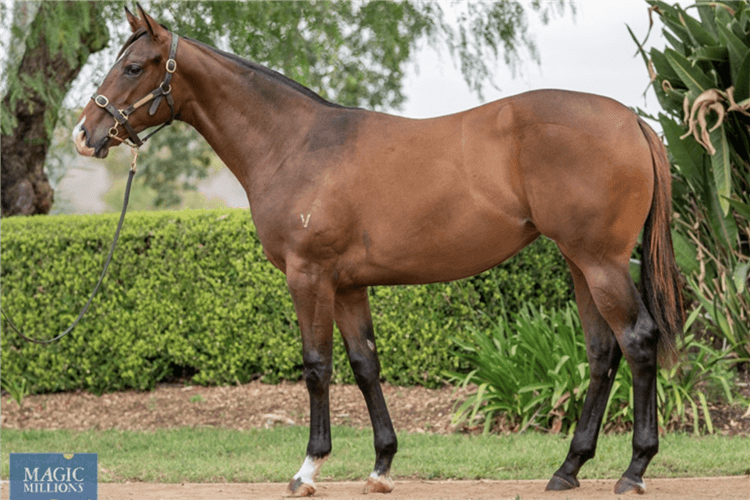 1. Who is (are) your pick of the colts and why?
Tough questions as we do have a really nice bunch of colts. I would have to go with the obvious one and that would be the Snitzel (Redoute's Choice) colt from Fit And Ready (More Than Ready) (Lot 305). He is a lovely horse with plenty of quality and he has the page to back it up. He's by a champion sire and from a proven More Than Ready mare so he should be on the radar of a lot of good judges. Close behind him, and a horse that will represent more value, is the So You Think (High Chaparral) from Loving New (Choctaw Ridge), he is a real racehorse.
2. Who is (are) your pick of the fillies and why?
We have six yearlings in our draft by first season sire Star Turn (Star Witness). They are a really nice bunch, which is not surprising as Star Turn himself was a lovely horse and was also Magic Millions yearling. My pick of the fillies would be one of these Star Turn's from the More Than Ready mare Sanaya (Lot 723). She is a lovely filly and very athletic.
3. Who do you feel has improved most over the prep?
I couldn't split three colts that have done really well since they came in. Star Turn – Spoleto (Vindication) (Lot 801), More Than Ready – Rosenet (Hussonet) (Lot 701) and More Than Ready - You Da One (Fastnet Rock). (Lot 50). All three colts have thrived during their preparation.
4. How do you feel the 2020 sale will measure compared to previous renewals?
I think it will be on par with last year. There might be a few good buyers missing from last year but I'm sure there will be plenty of other groups to step in and buy.
5. What is the thing you like most about the Gold Coast in January?
After a busy breeding season it is always nice to get back to the sales and see a lot of people you haven't seen for a while. I enjoy getting around a number of other drafts inspecting yearlings and seeing stock by new stallions coming through. It is also good to see our own horses parade after a long preparation.