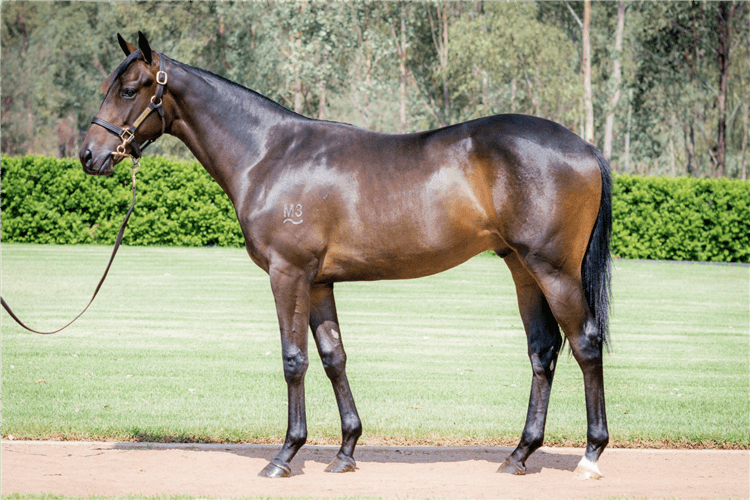 1. Who is (are) your pick of the colts and why?
We have a strong draft of colts bred by some very astute breeders.
Lot 91 is a colt by first-season shuttler Shalaa (Invincible Spirit) and is the second foal out of Define, a stakes placed Lonhro (Octagonal) mare who won over distances up to 1400 metres. He's an attractive, scopey, athletic individual which I imagine will suit a lot of buyers at this sale. He travels very well, has a good brain on him and has been popular on day one of parading.
Lot 340 is a colt by Dundeel (High Chaparral) out of Nassak (Rip Van Winkle) and he is an exciting yearling for us. His dam was a speedy city winning Rip Van Winkle (Galileo) mare who is a half-sister to Group 1 winner Prince Kaapstad (Kaapstad). This is also the immediate family of young sires Ocean Park (Thorn Park) and Grunt (O'Reilly). The colt is very much in the shape of his sire, precocious, with a great top line and his father's look at me presence.
Lot 561 is a colt by Divine Prophet (Choisir) and is a horse with a lot of quality. He's come along beautifully through the prep and is up there physically with the best types in our draft.
Lot 271 is one of only three American Pharoah (Pioneerof The Nile) colts in the sale. He's the first foal of an unraced Encosta De Lago (Fairy King) mare who in turn is out of the stakes placed Galileo (Sadler's Wells) mare Amory Lane. We think he's an excellent first foal with plenty of bone and size to him, in addition like a lot of the American Pharoah's he moves particularly well, with purpose and athleticism.
Lot 651 is our only Book 2 horse, we believe he stacks up with our Book 1 horses both on type and on pedigree. He's the third foal out of an Exceed And Excel (Danehill) mare whose first foal is a winner this season. It is the immediate family of Australian champion two-year-old and three-year-old filly in Yankee Rose (All American) and we think he's going to be a great value for someone buying in that session.
2. Who is (are) your pick of the fillies and why? Personally, I love Lot 250 the Foxwedge (Fastnet Rock) filly. She's a three-quarter sister to Group 2-placed Volpino (Foxwedge) and a half-sister to stakes-placed filly Bright Heart (Dane Shadow). She's an excellent example of the strong, forward, well muscled Australian yearling. She has a great brain on her and looks like she'll just jump and go.
Lot 547 by Nicconi (Bianconi) out of Group 1 winner Velocitea (Volksraad) is a mid-sized filly with quality and a fluid way of moving about her. She looks like a very natural type of runner, I'd expect her to be straightforward and able to get on with it early. In addition she's Danehill (Danzig) free going forward into her later broodmare career.
Lot 399 the Rainbow Queen (Royal Academy) filly by Toronado (High Chaparral) has been a good choice by her breeders Swettenham Stud to represent her sire as the only filly by him at the sale. She's big and strong with a great forearm and action. I expect her to have her share of admirers on the grounds.
Lot 366 is the only filly by Fastnet Rock (Danehill) at the sale, she's owned by Kia Ora Stud and will be one of the best bred filly's on the grounds. She is out of the Sadler's Wells (Northern Dancer) mare Pas De Deux who has already thrown two stakes performers including current season runner in Brave Tango (Congrats). It is a very international family and she will make an excellent addition to someone's broodmare band post racing.
3. Who do you feel has improved most over the prep?
I think Lot 105 the Starspangledbanner (Choisir) colt out of the High Chaparral (Sadler's Wells) mare Doncella has gone ahead in leaps and bounds. He was quite first foal-ish as a foal at foot and through the winter as a weanling. However he's hit his straps and just grown and laid down bone, I think with his August birth date and the development we've seen in him over the past five months he'd be an exciting horse to Ready To Run going forward.
4. How do you feel the 2020 sale will measure compared to previous renewals?
We had a huge Classic Sale last year ending up seventh by aggregate with only 14 horses sold. I really like this draft and Classic is in a sweet spot where the market has judged a lot of sires at Magic Millions and Karaka already. There are always going be horses by the same sires at Classic but it is often the best buying of those stallions before the next offering at Melbourne. I think it's a great sale for trainers and syndicators to have a go at and get something for all budgets at a lower sale average than the sales around it in the calendar.
5. What is the thing you like most about the Classic sale?
It's always busy but it's a bit more relaxed than Magics. You know with a draft of our size there is going to be something of interest for just about everyone who comes to look, you have a broad range of stock. In addition, the design and investment Inglis have made in the complex make the parade areas, scoping boxes and rings flow well for horses, buyers and staff. From a health and safety perspective it's a great sale with lots of room and therefore it is less stressful from a logistical perspective.