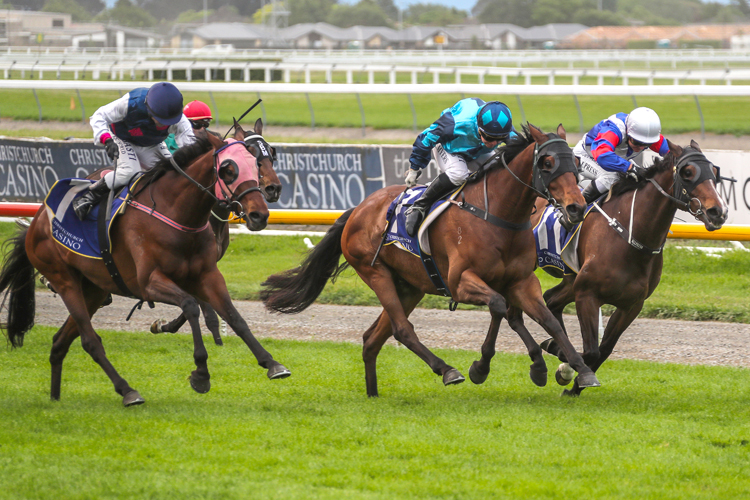 The staying feature was won by the $27,500 Select Sale purchase Duplicity (NZ) (Duporth), while the $16,000 Select Sale graduate Dee and Gee (NZ) (Darci Brahma) finished second and third place went to Soleseifei (NZ) (Shocking), who cost $26,000 at the Select Sale.
It was a strong staying performance from Duplicity, who had previously placed in the Group 3 New Zealand Cup (3200m) and last weekend's Listed Feilding Gold Cup (2200m). He trailed the early leaders before lodging his claim at the top of the straight.
It turned into a four-way battle to the finish with Dee and Gee, Soleseifei and Nymph Monte (NZ) (Tavistock), but Duplicity fought them all off and won by a half-head.
"He's a neat horse who only does what he has to, but he stuck his head out at the line and it was a very good win," jockey Rosie Myers said.
"He was just beaten in the New Zealand Cup last year, and hopefully we can go one better this time. He's full of beans and they've done a great job with him."
Duplicity is trained by Ashley Meadows, who is keen to back up for another shot at the Group 3 New Zealand Cup (3200m) next Saturday.
"He's a lot stronger this time," Meadows said. "Last year he needed the run on the first day, so now it is hopefully just maintenance for the next week and we can go again in the Cup."
Duplicity has now had 32 starts for six wins, eight placings and $224,662 in stakes – more than eight times his purchase price.
Dee and Gee won the Metropolitan Trophy 12 months ago and was a close second on Saturday in her attempted defence of that title. She has had 35 starts for five wins, eight placings and $231,610 -almost 15 times her purchase price.
Third-placed Soleseifei has had 27 starts for four wins, nine placings and $90,290 – three times what she cost at Karaka.