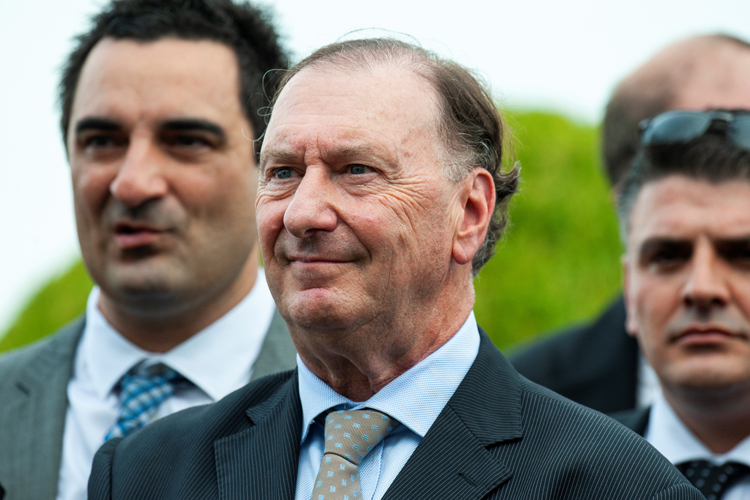 Those victories included two Caulfield Cups (Tristarc & Imposera), the Caulfield & Underwood Stakes (Tristarc), Sir Rupert Clarke Stakes & Toorak Handicap (Magari), St George Stakes (My Brown Jug) & the Blue Diamond Stakes (Courtza).

Nick's long-time friends Tony Cavanagh and John Messara are at Caulfield today to talk about the project to create a statue of Nick, who died suddenly last August, and to introduce the sculptor Linda Klarfeld.

Tony Cavanagh says, "Nick was a once-in-a-lifetime character, a family friend and godfather to my son Daniel, and a major client of mine in the 1980s and 1990s.

"He had a notable impact on racing as a highly successful owner, an indefatigable campaigner for owners in Victoria and throughout Australia, and finally as a buyer and bloodstock consultant for the Hong Kong Jockey Club. But most of all, he was a larger-than-life personality who inspired, entertained and yes, occasionally argued with his many friends and admirers who want to make sure he is not forgotten."

John Messara says, "Nick's death has left a large space in the world that won't be filled, but we can make sure he's remembered with the affection and gratitude we felt for him in life. I'm pleased to join Tony, Bruce Wilson, the Columb family and other friends to support the project to create a statue of him, and give it a special place at Arrowfield Stud."

Linda Klarfeld is a highly regarded Australian artist specialising in figurative sculpture whose public work includes statues of pioneering cardiac surgeon Dr Victor Chang, St Mary McKillop & St John Paul II, cricketers Keith Miller & Bill Woodfull and AFL footballer Neil Roberts.

Linda Klarfeld says, "I consider it a great honour to be entrusted with this work and I can already see and feel the impact that Nick's statue will have on his family and friends alike."