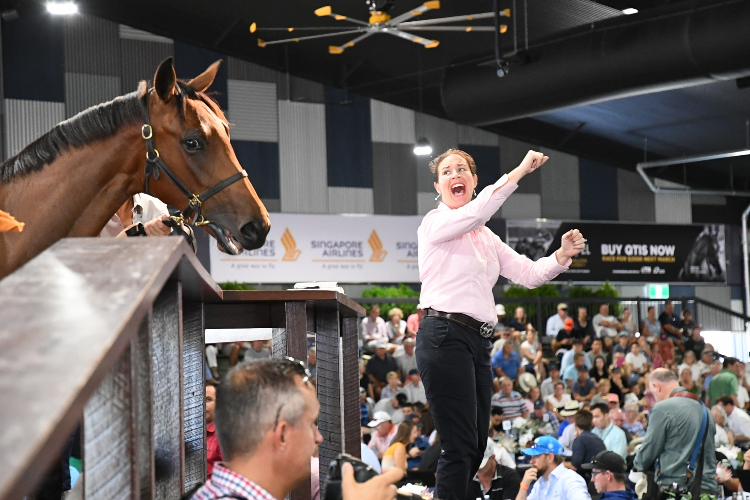 New Macau trainer Nicholas Moore, son of former champion jockey and prominent Rosehill trainer Gary Moore, will train the exciting youngster after signing for him in conjunction with stable client Francis Yip.
The colt was presented by Kenmore Lodge and was among four youngsters who sold for $200,000 during a positive opening session.
"I looked at all the colts in the sale and I thought he was the best," a jubilant Gary Moore said. "I love the sire, he is a great type and he had perfect x-rays.
"The gentleman we bought him for is supporting Nicholas in Macau so at the present moment the horse will be going to Macau.
"His breeze was very impressive and that was the reason we went after him because the main idea is to take him to Macau."
Aquis Farm Operations' Poet's Voice colt from Mairie sold for $200,000 to Conway Wong and will head to NSW trainer Kristen Buchanan at Wyong.
Hong Kong's Peter Chan also went to $200,000 to secure the Nicconi-Ms Marju colt offered by Baystone Farm and Infantry's three quarter brother by Tavistock presented by Alexia Fraser Bloodstock was sold for the same amount to Gary Ling and the China Recreation Club Syndicate.
Rounding out the quartet of $200,000 lots was a Headwater colt from Prison Rules offered by Symphony Lodge. He was purchased by China based buyer Gu Tao.
The opening session produced a gross of over $4 million for 65 lots sold at an average of $62,685 and clearance rate of 75 per cent.
Managing Director Barry Bowditch said: "We were unsure whether having the evening session was the right thing to do, but right from the first lot in the ring there was a real buzz.
"It's a really healthy market, but there's plenty of value to be had across all levels for buyers doing their homework.
"I am pleased for the vendors who have brought quality horses to the sale - they've been rewarded very well."
Day Two will commence at 11am on Tuesday and the Spring Racehorse Sale, featuring a quality draft from Godolphin, will follow the final 2YO through the ring.
Among the Godolphin entries is the stakes galloper Piracy and recent winners Landstrasse, Revenire and Sedgemoor.
SALE STATISTICS
Lots Catalogued: 100
Lots Sold: 65
Lots Passed In: 22
Lots Withdrawn: 13
Sale Gross: $4,074,500
Top Price: $210,000
Average Price: $62,685
Median Price: $45,000
Sold %: 75
DAY ONE TOP LOTS
$210,000 - Deep Field-Khamsa colt; Vendor: Kenmore Lodge /Buyer: Nicholas Moore/Francis Yip (Macau)
$200,000 - Poet's Voice-Mairie colt; Aquis Farm Operations (As Agent) / Conway Wong (NSW)
$200,000 - Nicconi-Ms Marju colt; Baystone Farm (As Agent) / Peter Chan (HK)
$200,000 - Tavistock-Nightingale Island colt; Alexia Fraser B'stock (As Agent) / Gary Ling/China Recreation Club Syndicate (HK)
$200,000 - Headwater-Prison Rules colt; Symphony Lodge (As Agent) / Gu Tao (China)