After Sunday the score reads Chin 45 winners to Cheong's 38, and nothing short of divine intervention, will stop Chin from being crowned Champion Trainer for a second time.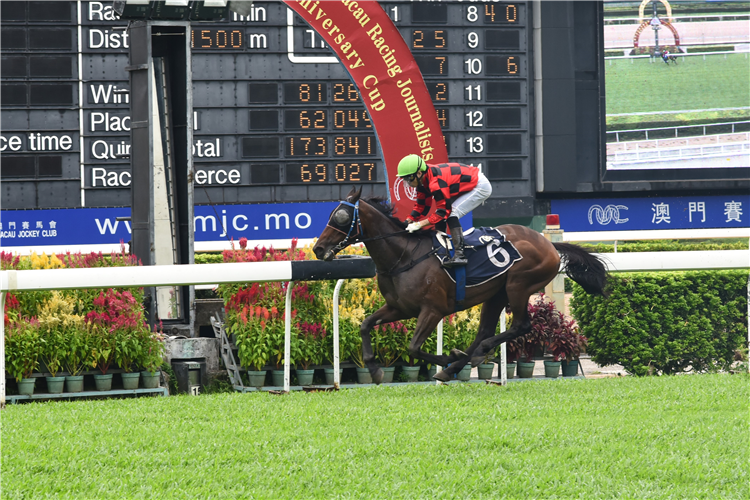 As we mentioned in last week's column the numbers were always going to favor Chin, and with three racedays left and approximately 18 races left to decide, Cheong has to win seven of those and Chin none, for him to be the victor. Highly Improbable.
In an interview prior to the weekends racing Chin touched on the fact that while he had the superior numbers, he was hoping for the weather to fine up, in his words, "I'd much prefer the weather to fine up though, as the majority of my horses will be better suited on good ground."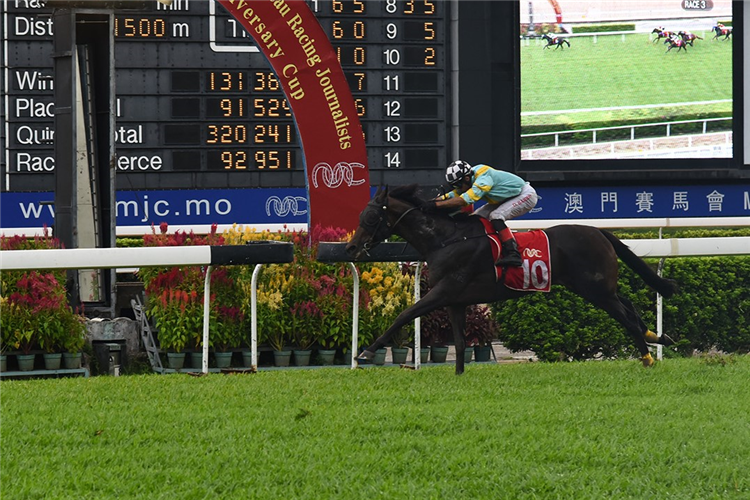 With the monsoon season in full force, Macau has been inundated with tropical storms, at times very severe, with soft tracks now for over month. Sunday was no exception with the heaviest turf track we have seen this year, and its testament to the wonderful draining powers of the Taipa racetrack that racing is able to continue.
However, Chin did find one mudlark in his stable in Mountain Eagle , who absolutely destroyed his rivals in the first of the day under Japanese horseman Masa Tanaka, with a massive 14 ¼ lengths victory over City Hunter (J B Hamel), with Lucky Star (Tshwaro Appie) in third.
It was win number two in Macau for the former New Zealand galloper who raced there as Call Me Murphy. Sunday's race was only a Class 4 & 5 contest, but the time posted by Mountain Eagle of 1.35.4 was almost two seconds quicker than the feature event two races later, The Association Of Macau Racing Journalists 30th Anniversary Cup taken out by Lucky Double in 1.37.1.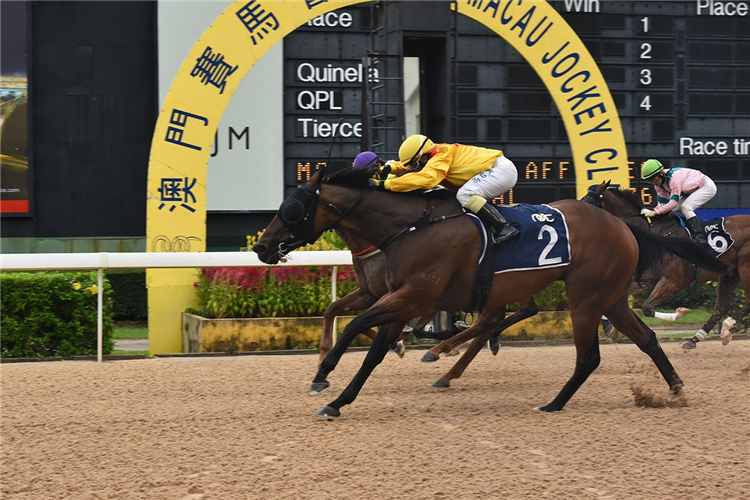 No doubt you have to take into consideration that Mountain Eagle got first use of the grass, however it's still a huge disparity.
After Sunday Mountain Eagle has accumulated $313,950 HKD for his two wins in Macau, which equates to close to $60,000 NZD, which is certainly way up the $11,000 he won there; and there is no doubt plenty more wins in store for the son of Shamoline Warrior (Aus) who is out of the Aucash mare Murphy's Cash. Aucash, who won seven races in Hong Kong reaching Class 1 level, is of course a half-brother to the great Saintly, who won both the W S Cox Plate and the Melbourne Cup on 1996.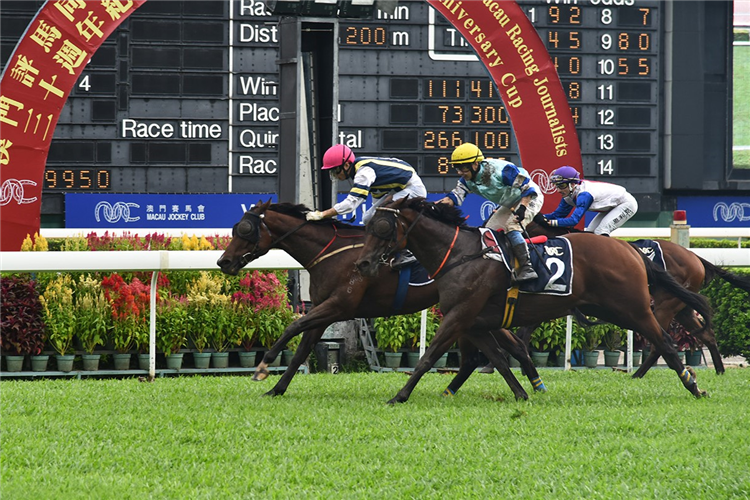 Sio Cheong came all so close to pulling back Chin's winner when he sent out Rock To Road and Top Mountainlegend in the Class 1 & 2 over 1050 metres on the sand three races later.
Top Mountainlegend was no doubt the best of good things beaten when he blew the start under Dayversom Barros losing a good four lengths. Barros saved valuable ground in the run to dart through on the inside of the odds on favorite Golden Conqueror and looked the winner, until Rock To Road came on the scene, and just as it was looking like a Sio Cheong quinella, Stanley Chin's Sheng Li Superstar came blazing down the outside under Luis Corrales, to blow them away in a thrilling three-way finish.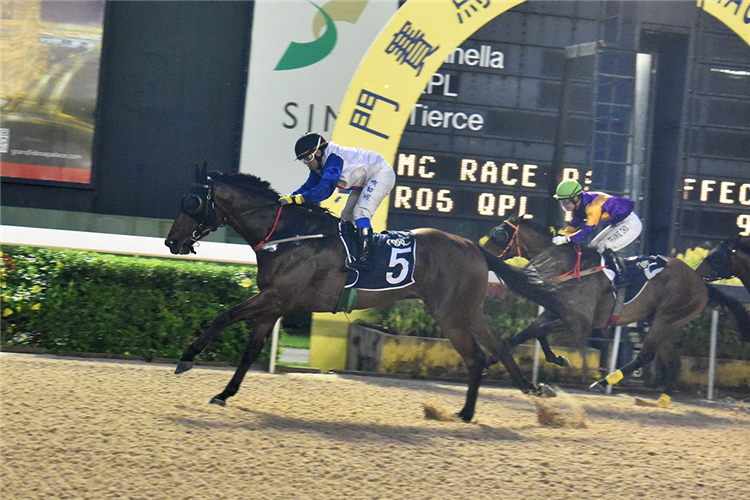 Cheong's never say die attitude gave him some consolation when his promising four-year-old River Unicorn, showed great determination under Luis Corrales to chase down the free running leader Silent Height (Frankie Choi), to win the last of the night the Class 2 over 1350 metres on the sand.
Sunday's feature event was The Association Of Macau Racing Journalist 30th Anniversary Cup, taken out by the Joe Lau prepared Lucky Double in the hands of Dayversom Barros.
Lucky Double, a nice-looking son of Spill The Beans (Aus), from the End Sweep mare Miss Polanas, reveled in the conditions to run away from his opponents and win by five and a quarter lengths over Winnie Star (Luis Corrales), with Casino Mok (Roger Yu) who tried to lead all the way, a short head away in third.
Lucky Double is a horse on the way up and has improved dramatically from his first run in Macau when he was 13 lengths away over 1200 metres. An impressive win followed two starts later over 1200 metres, followed by a nice fast finishing third last start over 1200 metres
Sunday's race over 1500 metres looked tailor made for the gelding, and he was sent out a warm favorite at $23.50 the win for a $10 dollar investment.
Whilst its very early days yet, Lucky Double looks just the type of horse that Joe Lau would be nurturing along for next seasons Derby.
Luis Corrales took riding honors for the day with a treble to take him further ahead in the Jockeys' Premiership with now 71 winners, 19 ahead of Eric Cheung on 52, with Masa Tanaka booting home a double on Sunday to take him into a clear third on 40 victories, in what has been a great season for the Japanese rider.
Tanaka's second winner was the Geoff Allendorf prepared Rubick Kingdom who scrambled over the line to win by a neck, from the fast-finishing stablemate Imperial Eagle (Roger Yu) in the Class 4 over 1200 metres.
Whilst Rubick Kingdom was well supported late to start at $77.50 the win, Imperial Eagle was one of the rank outsiders jumping at $460.00 for the win, with the Allendorf quinella paying a whopping $1388.50.
Rubick Kingdom is only the second son of the Rubick (Aus) breed to race in Macau, the other being the averaged performed Right Right Right .
That said Rubick Kingdom has the makings of a nice horse, and Allendorf is confident that he will furnish into a handy horse next season.
"That was a great result to quinella the race, and Rubick Kingdom's owner Mr. Wong has just come out of quarantine in time to see him race." Allendorf said.
"He made the trip from mainland China to cheer him on, but he had to do his mandatory 14-day quarantine after he arrived in Macau. He is going to go back to China a very happy man."
"I always like to give my horses a bit of time, and Rubick Kingdom is going to make a handy horse next season. They need that time to fully acclimatize."