The clash of the titans, the much-awaited rematch between Macau's King our highest rated horse Sacred Capital, and the Pretender to the throne Star Of Yiu Cheung ; but in the end it turned out a one act affair, with Star Of Yiu Cheung simply demolishing his opposition with a runaway win in the 30th running of the Group 1 Macau Gold Cup on Sunday.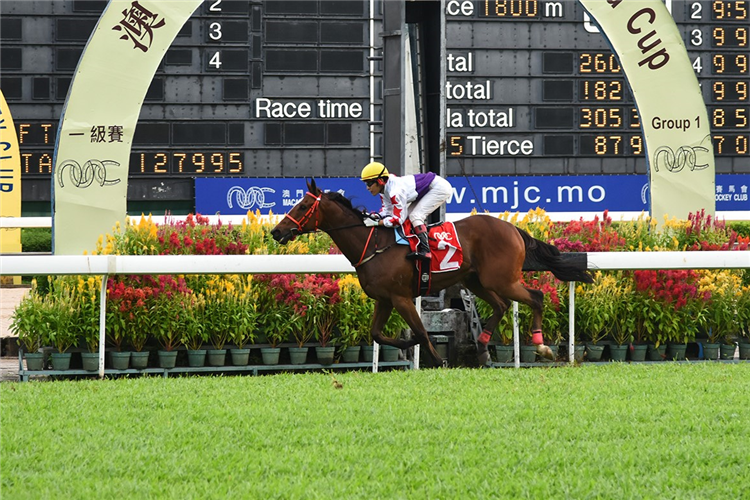 To use trainer Wayne Smith's own words, "that was simply awesome, it was freakish," and it was; a soft six lengths win and a result that was never in doubt after the first few hundred metres.
Star of Yiu Cheung began like a rocket, and went straight to the front to lead the Cup field out of the straight the first time; once in the back jockey Shogo Nakano got the son of Casino Prince (Aus) to relax and come back under him, and then rated him to perfection. Still under a hold at the top of the straight, Nakano let the bay gelding stride and a shake up at the two hundred seen him sprint away with a seven lengths break.
At the end it was Star of Yiu Cheung eased down by six from Top Mountainlegend (Roger Yu) in second, with Qian Gua (Breinell Yamzon) running in third.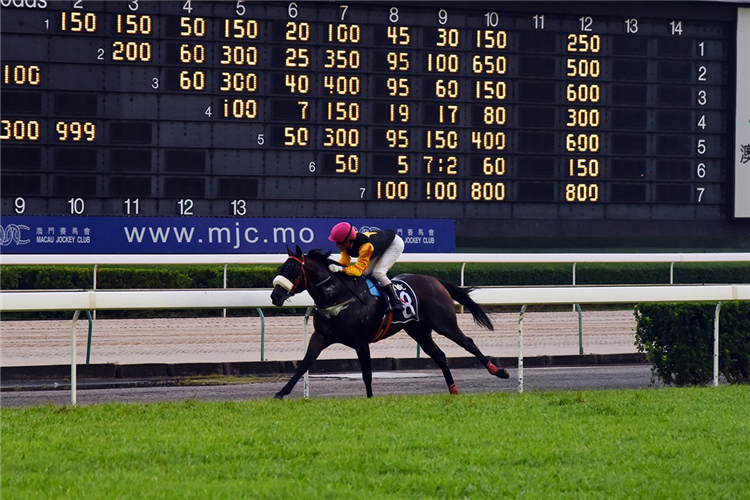 Smith was very confident going into the race, and declared on Thursday morning that he was going to avenge his nose defeat by Sacred Capital in last year's Cup, but admitted after the race he was blown away by the ease of the win.
"I truly expected him to win but he just trotted in, he just destroyed them," he said.
"Shogo (Nakano) and this horse are a match made in heaven; he gets the horse to relax so well he just gets on so well with him."
"It was always in the back of my mind that he might want to go a bit hard in front having only had two 1200 metres races as a lead in, but Shogo just rated him to a perfection."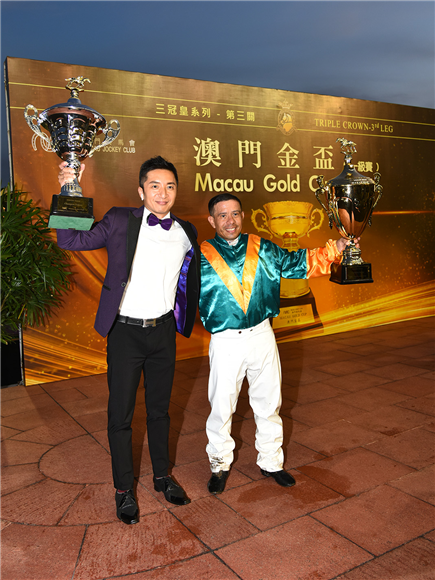 Last season Star Of Yiu Cheung was the proverbial bridesmaid, being the runner up in the Derby Trial (Gr 3) to Winnie Star, second in the Macau Guineas (Gr 1) to Hostwin Saturn, beaten a short head in the Group 1 Derby by Sacred Magnate, and beaten a nose in the last stride by Sacred Capital in the Group 1 Gold Cup.
However, it's been a different ballgame this season, and Smith described the six-year-old bay gelding as now a really serious racehorse.
"He has come back this season as the real finished article, the perfect racehorse. Two runs back he bolts in and breaks a 13-year-old track record doing 1200 metres in 1.07.2, and now he trots in over 1800 metres on a heavy track."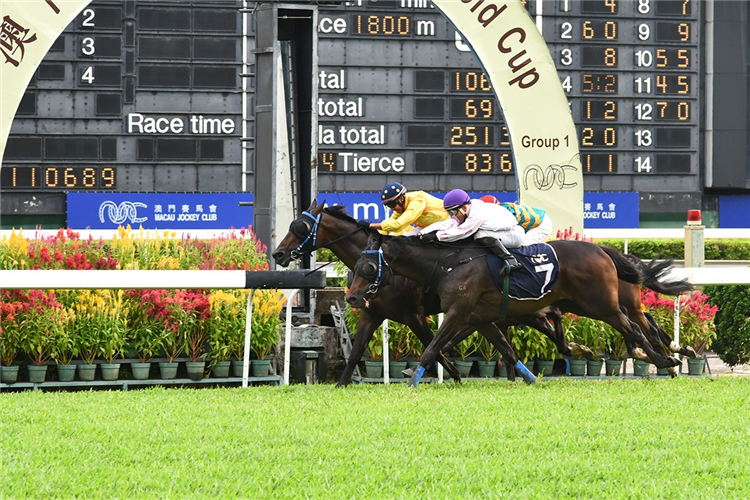 Smith finished the season on 26 winners, a superb effort given he has only 15 horses in his yard. As well he managed 31 placed efforts from his 174 runners giving him a 15%-win rate and a 33% place rate.
"It's been a good steady season. There was no highs or lows, the horses just ran consistent all season so I couldn't ask for more than that."
Sacred Capital who jumped second favorite in the race was never really in contention on a track that was riding on the heavy side, and after being caught three and four deep in the run turned in a career worse performance, finishing a distant tenth 23 lengths away. Stablemate Sacred Magnate fared not much better finishing sixth 13 ¼ lengths away.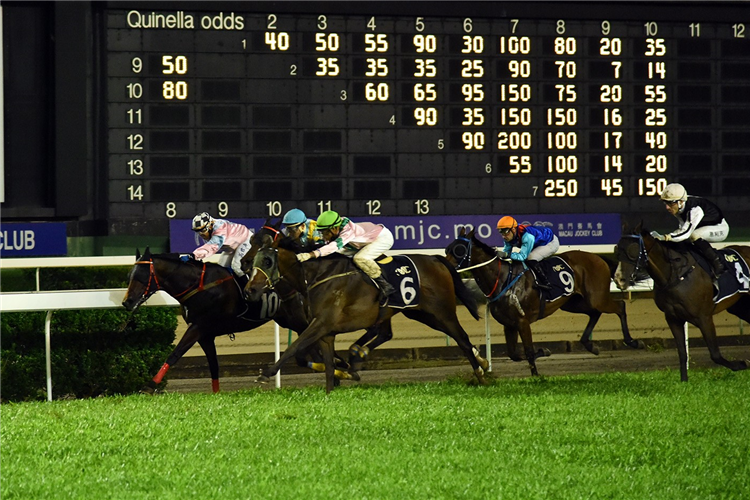 A very down to earth Joe Lau had this to say of his runners after the race.
"It was obvious to me after the first three hundred metres or so that Sacred Capital was not going to be there. They were really getting into the ground and he was not the same horse and ended up very wide the run," he said.
"Sacred Magnate was the same, he was never happy on the ground. I've checked them out and they have pulled up well, there were no problems. It just wasn't our day; they were different horses on the day."
Shogo Nakano stole riding honors on the day winning three races on the eight-race card, including the very next race after the Gold Cup on Smith's Pursuing Eagle , who took out the Class 2 Handicap over 1200 metres. Pursuing Eagle won by a whopping 8 ½ lengths over race favorite Fifer (Masa Tanaka), with Fortune Paradise (Tshwaro Appie) in third.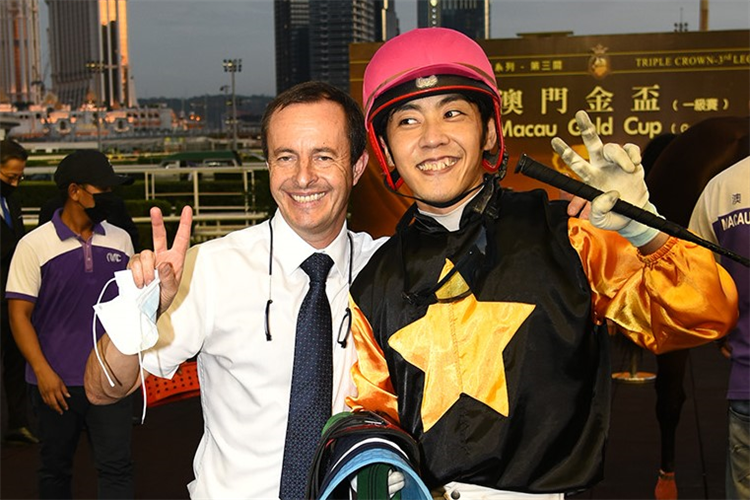 It was win number six in Macau for the son of Holy Roman Emperor (Ire), and whilst Smith expected a bold showing he was astounded at the win.
"I truly expected him to run well as he was only beaten a half-length by Fifer last start, but he is for me a better horse on top of the ground; but he just blew them away on the heavy ground and won eased down."
Nakano's earlier winner was the Sio Cheong prepared River Pentium who led throughout to win the Class 3 & 4 over 1200 metres.
Luis Corrales picked up his sixth Macau Champion Jockeys Title to end the season on 73 wins, which has been another great achievement given that there were only 66 racedays conducted.
Corrales now joins Manoel Nunes as the only two riders to win six titles. Eric Cheung was runner up on 57 victories a fine effort in his first year as a senior rider, with Masa Tanaka in third spot on 43 winners.
Stanley Chin took out his second Macau Trainers' Title with 49 winners six ahead of Sio Cheong on 43, with Tony Fung in third spot on 30 wins.
Chin led in a double for the day with Star Of City Gold (Tshwaro Appie) in the Class 2 & 3 over 1800 metres and also provided the quinella in the race with Treasurelakebuddy (Breinell Yamzon) a head way in second spot, and then picked up his second win for the day with the Hong Kong cast-off Marqula in the Class 3 & 4 Division 1 over 1200 metres, with Masa Tanaka on top.
Nick Moore finished the season on a winning note with Hostwin Jupiter rocketing home late to score a last stride win in the Class 4 over 1500 metres.
Ridden by Eric Cheung, Hostwin Jupiter sprouted wings late to beat Big Alloy (Breinell Yamzon), with the tearaway leader Dawson (Luis Corrales) in third.
Moore finished with 19 winners for the season, a fine effort given he only has a small team of 14 horses in his barn. With a total of 133 runners for the year Moore's stats read 19 wins with 21 seconds and 13 third placed efforts giving him a 14%-win strike and a 40% place hit.