With a lack of Group 1 turf races programed in Macau over the next three months, Saturday's event is a vital lead up race for the six-year-old, that Smith is aiming towards the Group 3 Chinese Club Challenge Cup over 1400 metres at Sha Tin on New Year's Day.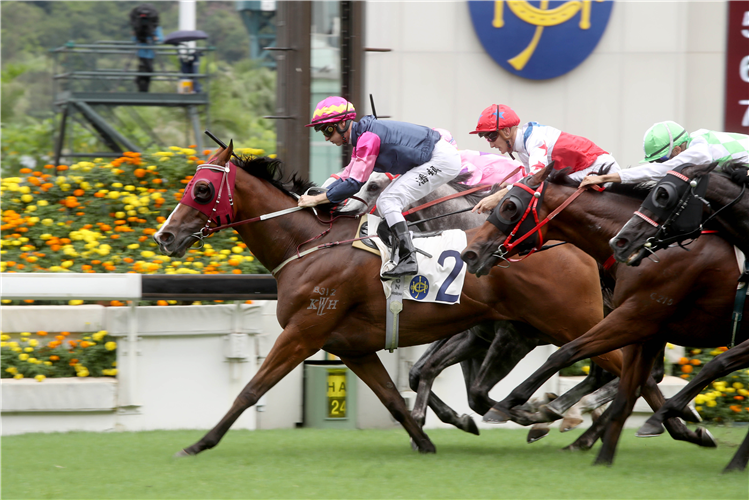 However, Smith faces an anxious wait with the ever-changing Covid travel restrictions between Macau and Hong Kong. The Challenge Cup though, is only the first stage of his aspiring plans for the good-looking son of Casino Prince (Aus).
"The ultimate goal is to get him to Dubai, that's always been my plan travel permitting. I am confident that he will hold his own anywhere in the world at Group 3 level, and he is still improving; already due to travel bans, we've missed races in Hong Kong."
"The straight six at Meydan would suit him, but there are plenty of races over the carnival for him, he is so versatile; he's not restricted to any distance."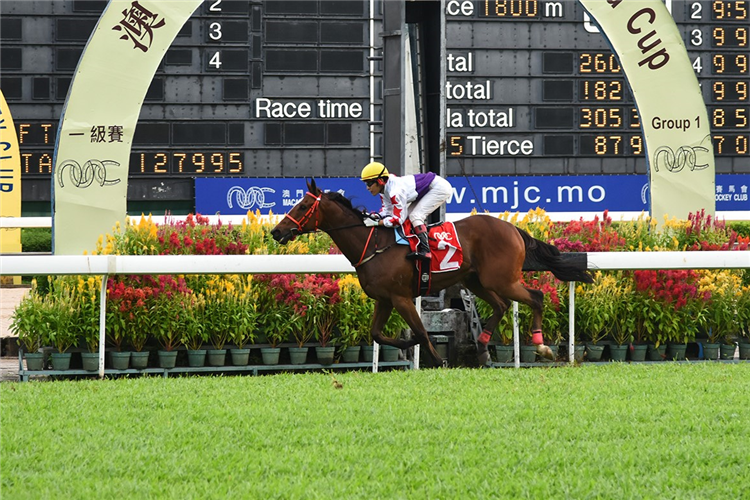 After a somewhat mixed first season in the enclave as a four-year-old, where he won four races and placed second on six occasions from his 10 starts, Star Of Yiu Cheung emerged as a super galloper in his second season sweeping all before him.
In his first season the big bay was a victim of his own undoing by racing too fiercely and not settling in his races; ending up the proverbial bridesmaid with narrow defeats in four Group races. He went down by a short head in the Group 3 Derby Trial (1500) to Winnie Star, then followed a half-length defeat in the Group 3 Macau Guineas again at 1500 metres to Hostwin Saturn. One month later he was caught in the last stride and defeated a head by Sacred Magnate in Group 1 SJM Derby over 1800 metres, then ended the season with a last stride nose defeat in the Group 1 Macau Gold Cup to Sacred Capital at the same distance.
Now in the words of Smith, he returned a 'proper' horse in his five-year-old year, winning five of his six starts which included dominant victories in the Group 1 Chairman's Challenge Cup over 1200 metres, an effortless six lengths win on the bridle in the Group 1 Macau Gold Cup at 1800 metres; and a record-breaking win back in May where he clocked 1.07.2 for 1200 metres clipping .01 off Macau's greatest sprinter Warcat's old standard from 2008.
"It's just awesome the way he came back after his first year, his wins have been so effortless its mind blowing." Smith added.
To add further merit to the gelding's dominant season, Star Of Yiu Cheung has had to undergo two minor operations due to recuring sinus infections.
"He got two really bad sinus infections; they were just allergic reactions and they would get so bad he would be carrying his head on the side. Both times they had to drill a hole into the frontal sinus just above the left eye. Then they insert a tube into the cavity with a balloon inside so it won't come out; then we flushed it out for ten days with a diluted iodine solution. Once he is over it, you take out the tube and the hole heals over in no time."
In Saturday's race Japanese rider Shogo Nakano who has partnered the gelding in his last three effortless wins, again takes the reins in what Smith describes as a 'match made in heaven.'
"In his first season with any luck we would have taken all, the Guineas, the Derby and the Gold Cup but for him overacing. Shogo just gets along with him so well and gets him to relax in the run, and then he runs terrific sections his last four hundred."
Smith considers himself very fortunate to have Star Of Yiu Cheung in his yard, but for a neck defeat in a Hawkesbury barrier trial the gelding would have been plying his trade in Hong Kong.
Star Of Yiu Cheung is by Casino Prince out of the Charge Forward (Aus) mare Call Collect, who was raced by Peter Horowitz of Sir Dapper fame. Call Collect herself was only a moderate performer winning a Sapphire Coast maiden and placing three rimes from her 12 starts.
A $50,000 purchase at the 2017 Gold Coast Magic Millions in Training Sale by Victoria Peak Bloodstock, Star of Yiu Cheung was registered under the Aquis Racing banner and aptly named in Australia as Reverse Charges.
"I was looking to buy a few nice horses when I was getting ready to start training in 2019. I've been friends with Shane McGrath from Aquis for years, and he recommended a couple of horses to me, and one of them was Star Of Yiu Cheung.
"He was earmarked for sale to Hong Kong, but thankfully for me he was beaten a neck in the trial at Hawkesbury. The winner was sold straight off to Hong Kong, but luckily they overlooked this horse, otherwise he would be in Hong Kong now."
In life they say an ounce of luck is worth a ton of judgement; the horse that beat Star of Yiu Cheung in that Hawkesbury trial was named Whatever You Want. He was renamed One Happy Star in Hong Kong, and unfortunately retired in September this year winless after 15 starts.
When it comes to assessing a horse's worth for a tilt at international competition, few horsemen would come better qualified then Irish born Smith.
After winning the Derrinstown Champion Apprentice Series in Ireland as a raw kid, Smith got the travel bug and spent time in both the USA and Australia. A stint with the legendary Colin Hayes at Lindsey Park which he described as a fabulous learning experience that helped shape his career, preluded an opportunity to ride in Dubai.
Smith made Dubai his base for 19 years going on to be Champion Jockey in 2012, and proved to be immensely popular with the locals. Among his biggest wins there were the UAE 2000 Guineas and the UAE Emirates Derby on Victory Moon in 2003, providing South African Trainer Mick De Kock with his first Group 1 International winner. Instant Recall owned by Sheikh Humaid bin Rashid Al Nuami was another big race winner in 2008, in the Group 3 Al Qouz Sprint.
Star Of Yiu Cheung lines up on Saturday against the same runners that he has treated with contempt in his previous 1200 metres wins, and again in a cracking turf trial on October 5 where he was never off the bridle. That is, with the exception of one runner, the former top line Hong Kong sprinter Thanks Forever
The much-awaited Macau debut for Thanks Forever finally arrives Saturday, with trainer Nick Moore delighted with the condition of his star galloper who is Macau's highest rated horse on 123 points.
Thanks Forever is best remembered for his brilliant win over Hot King Prawn in the 2020 Group 3 Sha Tin vase over 1200 metres. Prepared by John Moore the son of Duporth (Aus) only raced once more before suffering his second bleeding attack, and was then barred from Hong Kong racing.
"First off I've got to say what an honor it is to have a horse like this in my yard." Nick Moore said.
"Macau has a more liberal stance on bleeders so we are one of the few places worldwide he can continue to race. The owners who are all in Hong Kong wanted to still be able to see him race, and Uncle John (Moore) recommended that he come to my stable. So, I guess I should be saying Thanks Forever to Uncle John."
A magnificent big strong type, Thanks Forever was purchased by George Moore Bloodstock for $170,000 at the 2017 Magic Millions Gold Coast Yearling Sales. He won five and placed a further seven times in Hong Kong amassing $13,537,100 HKD in prize money, and earned a reputation as one of Hong Kong best sprinters before going awry.
"He looks a picture of good health; I could not be happier with him. He has had three trials in readiness for this; the first two were easy and no pressure, and his latest trial last Tuesday week we asked a bit more of him, and I was wrapped with the way he went."
"We've scoped him regularly and he has come up as a perfectly clean. I've done my job I cannot do anymore. But we must remember he has not raced since June 2020." Moore added.
Filipino horseman Breinell Yamzon who has been the horse's regular partner in his track work and his trials, takes the ride in Saturday's race.
Nick Moore, who is only in his second season as trainer, has already posted his first Group 1 winner with Hostwin Saturn in 2020 Macau Guineas, and picked up his second Group victory in the Derby Trial Gr 3 with Hostwin Achilles in May this year.
Nick is the third generation of the of the Moore family to train in the enclave. He is the grandson of the legendary George Moore arguably Australia's greatest ever jockey, who as trainer was Hong Kong's premier trainer on 11 occasions. Nick's father Gary was top international jockey who won the Arc de Triomphe on Gold River in 1981, and was later seven times champion rider in Hong Kong. As a trainer Gary dominated Macau racing winning eight trainer's premierships. Brother John Moore is a legend in Hong Kong racing and is recognized as one of Hong Kong's best ever as a seven times champion trainer.