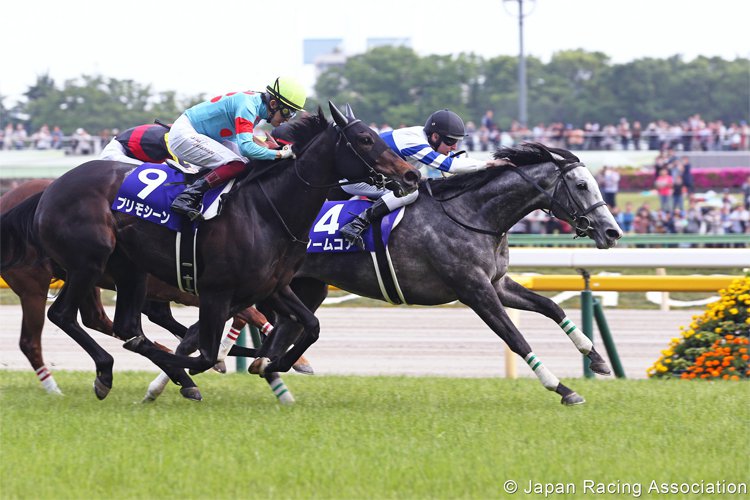 Fifth pick Normcore captured her first G1 title in track record of 1:30.5, shortening the record time by as much as 0.8 seconds. Winning both her two starts as a two-year-old, the Harbinger filly was unable to race in the classics, finishing third in the first two graded starts of her three-year-old season. Her first graded title came in the Shion Stakes (G3, 2,000m) in September and she was fifth in her first G1 attempt in the Queen Elizabeth II Cup in November. This year, Normcore came off a second and a seventh in two G3 races in January and March, respectively. This win marked trainer Kiyoshi Hagiwara's third JRA-G1 title following his win in the Champions Cup with Le Vent Se Leve last year. For Australia-based Damian Lane, who has been riding in Japan under a short-term license since the end of April, this marked his first G1 title and third graded title for JRA following the Niigata Daishoten (G3) and the Keio Hai Spring Cup (G2).
Breaking smoothly from stall four, Normcore traveled two-wide in mid-division, around seventh from frontrunner Aerolithe who set a rapid pace. Entering the lane behind Lucky Lilac, the Harbinger filly swung to the outside and unleashed a powerful turn of speed, passing her rivals one by one including the race favorite. The four-year-old gray took the front 100 meters out and held off the fast-closing Primo Scene to cross the wire in record time.
"It feels great to win a G1 in Japan. She handled the mile great. I think the tempo of the mile really suited her and she traveled lovely and really finished strong. I always felt she was going to finish the race strong and she was going to be right there but I just didn't know whether there were going to be good horses coming from behind but she was good enough to hold them off," commented jockey Damian Lane.
Fourth choice Primo Scene traveled behind Normcore in around tenth and, though meeting traffic entering the lane, threaded through the horses to make bid from the outside. The Deep Impact filly produced an impressive burst of speed that marked the fastest of the field in the last three furlongs but was a neck short of the winner at the wire.
Eleventh pick Crocosmia made a clear start and hugged the rails in fifth. The Stay Gold mare surged out behind Lucky Lilac with 400 meters to go and won out a strong rally with the race favorite in the last 200 meters to come in third.
Race favorite Lucky Lilac waited in 5-6th from the front, made bid with a clear path at the top of the lane and diligently passed her rivals but was overtaken by the eventual winner and the runner-up in the last 100 meters and also by Crocosmia before the wire with a nose margin.
Other Horses :
5th: (11) Aerolithe - set fast pace, sustained lead but overtaken by top 4 finishers 100m out
6th: (10) Mieno Succeed - took economic trip towards rear, showed good charge, 2nd fastest over last 3 furlongs
7th: (17) Sound Chiara - lost ground in mid-pack, switched to outside at early stretch, passed tired rivals
8th: (7) Mikki Charm - chased leader in 2nd or 3rd, weakened after passing 200m marker
9th: (16) Soul Stirring - settled in 4th from wide draw, lacked needed kick in last 200m
10th: (14) Let's Go Donki - sat 3rd from rear, showed belated charge at stretch
11th: (2) Red Olga - saved ground inside eventual winner, met traffic 150m out, lost momentum
12th: (8) Denko Ange - was off a bit slow, raced towards rear, quickened in last 200m
13th: (13) Satono Walkure - ran 3-wide 2nd from rear, passed tired rivals at stretch
14th: (1) Amalfi Coast - tracked leader in 2nd or 3rd, ran gamely until 200m pole, outrun thereafter
15th: (18) Frontier Queen - traveled 3-wide in mid-group, gradually fell back at stretch
16th: (12) One to One - trailed in far rear, angled out, unable to reach contention
17th: (5) Meisho Owara - hugged rails in mid-division, never fired at stretch
18th: (15) Cantabile - positioned outside winner, faded after 4th corner