The two Dubawi-sired dominators—and Dubai's best milers—met once prior in last season's Round 1, with a below-fitness Muntazah finishing well astern a romping North America. Standing at nearly 17 hands, North America towered over his rivals on the track that day, winning by nine lengths and eclipsing both the stakes and 1600m track record with a mark of 1:35.88.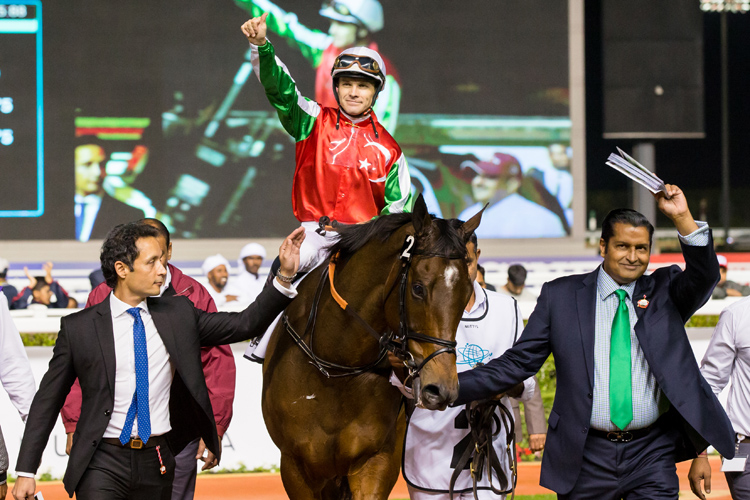 Owned by HH Sheikh Hamdan bin Rashid Al Maktoum and trained by Doug Watson, a sharper Muntazah would go on to manhandle a similar field by 4¼ lengths in the Firebreak (G3) five weeks later; four weeks prior to smashing North America's aforementioned mark with a 10-length win in Super Saturday's Burj Nahaar (G3) in 1:34.99. Meanwhile, Satish Seemar-conditioned North America stretched out to win the 1900m Al Maktoum Challenge R2 (G2) in facile fashion, but both horses were subsequently past-peak when Muntazah was third in the Godolphin Mile sponsored by Mohammed bin Rashid Al Maktoum City—District One (G2) and North America faded to seventh as second-favourite in the Dubai World Cup sponsored by Emirates Airline (G1).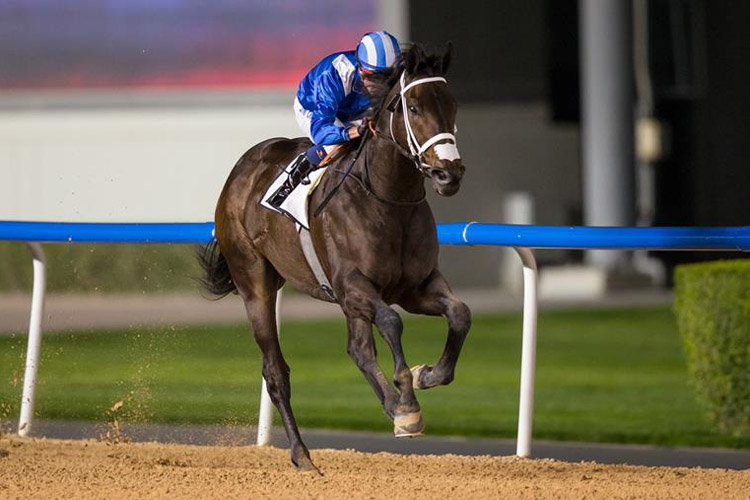 This season, both will make their 2020 debuts in Round 1, with North America officially rated 118 and Muntazah at 116. On Tuesday morning, they drew eyebrow-raising bookend barriers, with Muntazah in post one and North America outside in the eight-hole.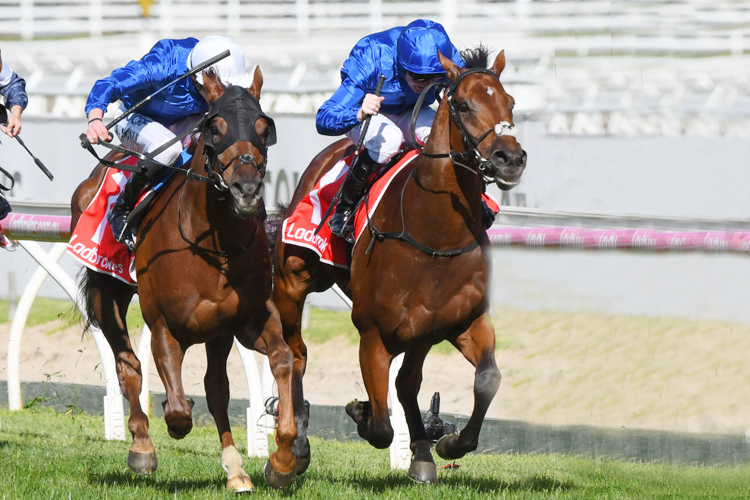 "It's not an ideal draw," Seemar said. "But I do know he will give it his best. You have two speed horses inside of him with Muntazah and (2018 Godolphin Mile winner) Heavy Metal and if he breaks on top, he should be alright.
"He's had that experience before," Seemar continued. "It's hard to say what will happen. You can look at it two ways. Either he breaks and jumps out well, takes his spot and wins—or it doesn't work out. (Muntazah) has the (better) draw and a straight-away advantage, so he is the one to beat, but there's always a scenario that will change as the race happens."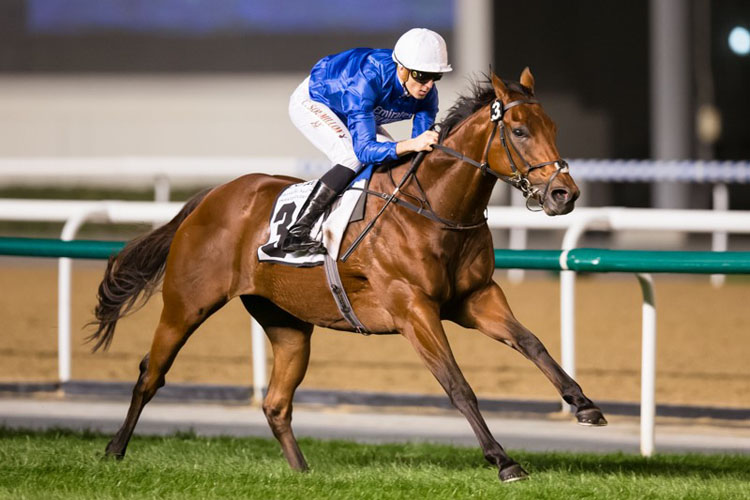 Assistant trainer Bhupat Seemar expressed confidence in how the lightly raced 8-year-old has been preparing: "All is going well with him. We kind of followed the same route as last year and the year before; the proven track and path. He's doing really well and training the way you want to see. He just doesn't do much at home, so he's like Reynaldothewizard was—they keep it all for the racetrack. He's healthy and looking well and I think he'll be fit enough to run well in Round 1."
Watson is hoping to overcome Muntazah's penchant for slow seasonal beginnings. He was 14th of 15 last year in Abu Dhabi's grassy National Day Cup (Listed) as the favourite to kick off his 2018-19 season and the year prior was ninth of 14 in a Meydan turf handicap. The ultimate goal for Muntazah is the $12 million Dubai World Cup if he proves he can get the additional distance, while a return to the $1.5 million Godolphin Mile—in which he has placed the last two years—is no small contingency.
"He's honestly training great," Watson said. "He's had two nice works over at Meydan the last two weeks. We've got him as fit as we can get him. Obviously, it's a big race, but that's the way things pan out over here (in Dubai). You have to sometimes go to those bigger races first. Our goals are at the end of the season, so we hope he runs his race on Thursday.
"If it was our second or third run, I'd be very happy with the post," Watson continued. "I don't know how he's going to jump and travel in the first run of the season. He's a big, heavy horse and we've done more with him than ever before the beginning of the season, but if it's enough, we don't know. If he breaks on top, he won't be taken back. In the (2018) Godolphin Mile, he would have won if we didn't take him back after he broke on top.
"I just want to see him run well, but I'm not going to panic if he doesn't—just look at last year's first race back at Abu Dhabi, when he ran horribly, but then he came back and started to run well. He may take one to get into him, but we're very happy with where he is soundness-wise and everything. We'll go from there."
Benbatl And Dream Castle Return
Benbatl (above) may have skipped a Dubai World Cup Carnival in 2019, but the winner of the 2018 Dubai Turf sponsored by DP World (G1) is coming in hot once again in 2020 for top trainer Saeed bin Suroor. The Godolphin-owned son of Dubawi enters Thursday's $250,000 Singspiel Stakes (G2)—a race he dominated in 2018—as the heavy favourite for his connections, making his first start since finishing unplaced in Ascot's Queen Elizabeth II Stakes (G1) in October. Said effort followed a massive return to form in Newmarket's Joel Stakes (G2) that earned him a lofty rating.
"He's doing very well," Bin Suroor said. "He worked very well last Thursday to prepare for this race. It was very strong and a good work. He had a long time off after a hard (2018 season). He's in good form and he is ready to go. I'm happy with him and look forward to running."
Between his Dubai Turf romp and belated September return at Newmarket, the bay charge landed Germany's Grosser Dallmayr Preis-Bayerisches Zuchtrennen (G1) and Australia's Ladbrokes Stakes (G1) before finishing a game runner-up to the great Winx in the 2018 Cox Plate (G1). He is officially rated 125, which is the second-highest of any horse trained in Dubai. The only horse eclipsing said number is Godolphin's Charlie Appleby-conditioned Ghaiyyath (126).
Bin Suroor's Al Quoz Stables is off to a fantastic start already and that momentum could maintain, as Dream Castle (above), winner of last year's Singspiel (when a G3), will look to defend his title, providing a potent one-two punch. The Group 1-winning son of Frankel was off form when venturing to Australia during the autumn, but returns to his favourite course. Additionally, Listed winner and Royal Ascot runner-up Platinum Star makes his sophomore bow as a heavy favourite in the $100,000 Dubai Trophy over 1200m on turf on Thursday.
"Dream Castle is doing very well," Bin Suroor said. "We will keep him on the grass and he has worked well in Dubai. He's a better horse in Dubai and he enjoys being back. Platinum Star will run in the (Dubai Trophy) on the grass. We will assess him after that. He's in good form."
Another sophomore with Royal Ascot form who is supplying ample excitement is Final Song, who closed smartly to overtake highly regarded fillies Down on Da Bayou and Rio Angie in last Thursday's $100,000 UAE 1000 Guineas Trial.
"She's very good and back to exercise and cantered well this week," Bin Suroor reported. "I'm happy with her and I think she will get even farther. The Guineas (1600m) distance would be nice for her. The other filly, Dubai Love, ran very well to be fourth. I think we will run both in the (Listed $250,000 UAE 1000) Guineas (on Jan. 23)."
Commanding, Far Sky Shooting High
The waters are getting deeper for the classic generation, which is evident with Thursday's $100,000 UAE 2000 Guineas Trial. The appearance of Scandinavian star 3-year-old Nocentsinkentucky and Godolphin's highly regarded First View will supply plenty of pre-race fireworks, but a pair of well-intended 3-year-olds with UAE form look to make good on a great deal on their connections' confidence.
Nasir Askar's Satish Seemar-trained Commanding (above) lived up to his name last out, winning by five lengths in maiden company over this 1600m trip on Dec. 5. The son of dirt-friendly sire Camacho out of the First Defense mare Chateau Dauphin has been giving his connections all the right vibes in the interim.
"He' s a very big horse and I think he's going to be even better next year," said Bhupat Seemar, assistant trainer. "He surprised us because we thought, with him being so big, that he would need more time. I think he's come forward and progressed again. He's even bigger and filled out and should run a good race. I think what happened last time is he got lonely up front and lost a few lengths near the wire. He was in front a long time and I think perhaps he thought he had already won the race a furlong out, so he thought it was time to pull up. I'm sure if there was a horse going with him, he would finish strong."
Meanwhile, Sky Racing's Doug Watson-conditioned Far Sky (pictured above, far left) nearly overcame the impossible 16-post over the same 1600m last out on Dec. 19, finishing a game second by three-quarters of a length to front-running Dubai Avenue (pictured far right). The final time of his heat was .79 seconds faster than Commanding's two weeks prior. Additionally, third-place finisher Good Fighter (centre) returned to break his maiden on Saturday. A son of Stay Thirsty and the Belong To Me mare Mine All Mine, Far Sky drew the rail on Thursday.
Watson may also start Sanad Libya, who was third in Commanding's race by 5¼ lengths on debut, but is currently the first reserve and would require a defection.
"Both are nice little horses and you don't know how you stack up yet," Watson said. "They are both shaping up pretty well for the race. I'm sure Far Sky will run there and I thought, from the sixteen-hole the other day, he ran a big race. I believe he should run back well and he's training great.
"Sanad Libya is one of those horses who will be better over time," he continued. "He's developing and will be better over longer distances like the Al Bastakiya and (UAE) Derby (1900m) trip than he will over the mile, but we have to go where we need to go."
Secret Ambition, Kimbear, Thegreatcollection No 'Second String'
While the masters of Red Stables and Zabeel Stables, Doug Watson and Satish Seemar, respectively, will be acutely focused on their top-rated horses in the Group 2 $350,000 Al Maktoum Challenge Round 1 on Thursday—Muntazah and North America—both teams are quick to warn that their other horses in the race should not be dismissed. Watson saddles G3 winner Kimbear (rated 106) and improving handicapper Thegreatcollection (104), while Seemar will start G3 winner Secret Ambition (107), pictured above, who is fresh off defeating both of those rivals in the Dubai Creek Mile (Listed) in December.
"Secret Ambition a tough performer and tough horse," Bhupat Seemar, assistant trainer, said. "We were doubting ourselves (earlier) this year thinking that sometimes he needs the run and throws in the towel on his first race back, but looking back at last year, he tried to act up in the gate, which caught us off-guard. This year, we worked with him at the gate and the gate crew has done a great job with him. He broke well for the first time, really, (in the Dubai Creek Mile). When he can be up there and eyeballing something in the straight, there aren't many horses who can pass him."
Watson expressed similar confidence in his pair.
"Kimbear ran extremely well in the Dubai Creek Mile," Watson said. "It was a funny-run race. The pace was very hot and he was maybe a little out of his depth and ring-rusty, but he's come out of the race in great shape. We struggled with his foot last year and he wasn't perfectly right in any of his races, but still ran decent races. He seems to be doing really well and within himself. He will benefit from the pace, again, for sure.
"With Thegreatcollection, (jockey) Sam (Hitchcott) just got stuck on the rail," he continued. "He felt that he could have won the race (if he had not encountered traffic) and he wound up finishing fifth. He deserves a run in the race and has been so honest; always tries."