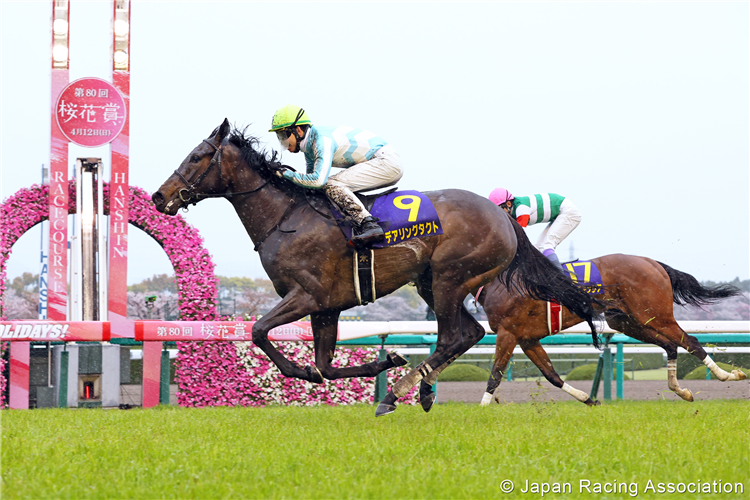 Second pick Daring Tact claimed this year's Oka Sho (Japanese 1000 Guineas), the first jewel of the fillies' Triple Crown, marking her third consecutive career victory in as many starts. The first-crop daughter of 2014 Japan Cup victor Epiphaneia is the first filly in 40 years and third overall to claim the title in her third career start while she also becomes the first in 16 years and seventh overall undefeated filly to win the first leg. Her debut win last November and Elfin Stakes victory in February—both at the mile—were by convincing 1-1/2 lengths and 4 lengths, respectively. For both trainer Haruki Sugiyama and jockey Kohei Matsuyama, this triumph marks their second JRA-G1 victory—Sugiyama's first title was the 2018 JBC Classic with K T Brave and Matsuyama's was with Al Ain in the 2017 Satsuki Sho (Japanese 2000 Guineas).
Daring Tact was a bit keen after breaking from stall nine but settled in a rearward position in 11th to 12th cruising down the backstretch in the heavy rain. Making rapid headway in a wide sweeping move around the final turn, the Epiphaneia filly kicked into gear showcasing a strong and tenacious charge with the fastest late speed and after picking off the tiring field, finally caught Resistencia a few strides before the wire for the win.
"I concentrated on her rhythm more than where to position her today. We were far behind the leaders and desperate in catching up but she responded beautifully and stretched incredibly all the way to the line. I'm not worried about the added distance in the coming Japanese Oaks but she does have issues to work on such as being relaxed. I'm praying that the day we can race in front of the crowd again will come soon," commented jockey Kohei Matsuyama after the race.
Race favorite Resistencia broke well from a wide stall and promptly sat behind pacesetter Smile Kana on her outside by the third corner. The pair battled it out down the straight, way ahead of the rest of the field, but Resistencia finally wore out the Deep Impact filly in the last half furlong only to give in to the intimidating speed of the winner in the final strides and was a 1-1/2-length second.
Breaking sharply from an inner stall, ninth pick
Smile Kana
led the field with good speed over the yielding going with
Nine to Five
briefly and then
Resistencia
, on her heels. After a long and heavy duel from the top of the stretch with the eventual runner-up, the gray filly ran out of steam and was beaten in the last 50 meters to finish 1-3/4 lengths from the runner-up in third.
Other Horses :
4th: (11) Cravache d'Or - raced 3-wide around 7th, accelerated along rails, 2nd fastest over last 3
furlongs
5th: (14) Miyamazakura - advanced to 3rd, outrun after 3rd corner, improved position at stretch
6th: (4) Sanctuaire - traveled around 7th along rails, ran willingly until 100m pole
7th: (10) Fiori Chiari - saved ground around 15th, showed 3rd fastest late kick, belatedly
8th: (5) Maltese Diosa - tracked leaders around 3rd, ran gamely until 200m marker, weakened
thereafter
9th: (18) Epos - ran 3-wide around 10th, showed effort between horses, never a threat
10th: (8) Ria Amelia - settled around 10th in front of winner, failed to respond at stretch
11th: (2) Chain of Love - trailed in rear, made headway after 3rd corner, lacked needed kick
12th: (13) Magic Castle - raced 3-wide around 15th, passed tired rivals at straight
13th: (16) Cape Cod - sat in 14th behind winner, unable to reach contention
14th: (12) Intermission - took economic trip around 10th, met traffic at early stretch, even paced
15th: (7) Hiruno Malibu - hugged rails 2nd from rear, angled out, never fired
16th: (6) Woman's Heart - traveled around 7th, driven after 3rd corner, showed little
17th: (1) Nine to Five - broke sharply, stalked leaders around 3rd, outrun at stretch
18th: (15) Yamakatsu Mermaid - prominent early around 3rd, faded after final corner