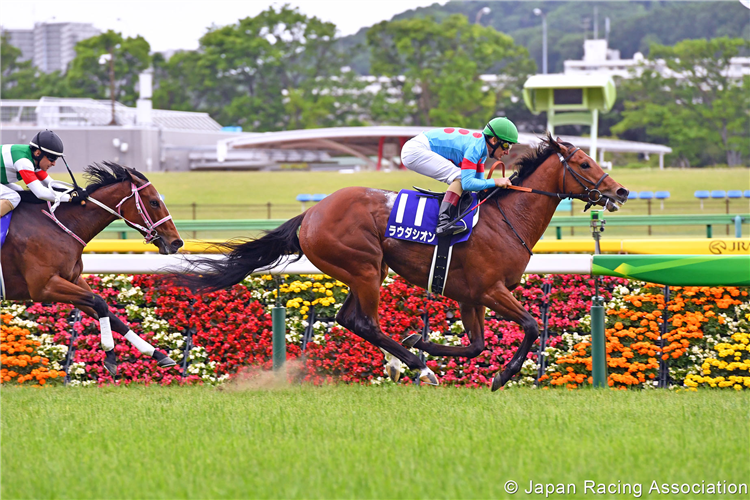 Ninth favorite Lauda Sion landed his first career G1 title in this year's NHK Mile Cup. The Real Impact colt won two out of three starts between 1,200 and 1,400 meters before finishing eighth in his first mile challenge in the Asahi Hai Futurity Stakes (G1, 1,600m) as a two-year-old. He kicked off his three-year-old campaign with a win in the Crocus Stakes (Listed, 1,400m) and finished second in his last start, the Falcon Stakes (G3, 1,400m) in March. The NHK Mile Cup victory was the second JRA-G1 title for trainer Takashi Saito after his winning the Shuka Sho with Chrono Genesis last year. Jockey Mirco Demuro, who also won the same race last year with Admire Mars, scored his 32nd JRA-G1 victory with his latest G1 victory being only last month in the Osaka Hai with Lucky Lilac. Lauda Sion is among the first crop sired by Real Impact (JPN, by Deep Impact) and the first G1 winner produced by the 2011 Yasuda Kinen and 2015 George Ryder Stakes victor.
Lauda Sion, who had come off a runner-up effort in a 1,400-meter sprint in March, broke sharply and disputed the lead with Resistencia before Mirco Demuro eased the keen son of Real Impact back in second. Settling well while never more than half a length behind the race favorite and pressing the pace, Lauda Sion demonstrated his strength with perfect timing as Resistencia started to weaken in the last furlong and drew away with ease to win by a comfortable 1-1/2-length margin.
"I knew that the track today ran better for front runners, and considering that he's usually an evenly-paced colt, I planned to keep him well up in front. He's always quick out of the gate so we were able to secure a good position and I felt he had plenty to outrun Christophe's filly in the final stages," commented Mirco Demuro.
Race favorite Resistencia, six kilos less from her last start, broke smoothly from an inside draw and took command after a brief duel with Lauda Sion, maintained her lead halfway into the straight and dueled again with the eventual winner before giving way in the last furlong for second.
Gilded Mirror was given a smooth ride under Yuichi Fukunaga behind the leaders in sixth position along the rails and, while having to edge his way out for a clear path for the stretch run, came out of a three-horse rally to finish 3/4-length behind Resistencia.
Other Horses :
4th: (2) Taisei Vision - saved ground around 3rd, dueled with Gilded Mirror in last 200m, nose
short
5th: (14) Luftstrom - sat around 15th, failed to find clear path, switched to inside, accelerated in
last 200m
6th: (5) Shine Garnet - raced around 8th, showed effort between horses, even paced in last
200m
7th: (18) Win Greatest - trailed in rear, angled out, showed fastest late kick, belatedly
8th: (9) Rhinebeck - settled wide around 8th, showed effort but never threatened
9th: (12) Bon Om Touk - ran 3-wide around 6th, ran willingly until 100m out, weakened
thereafter
10th: (15) Soul Train - traveled 4-wide around 12th, struggled to find clear path, quickened in last
200m
11th: (7) Meisho Titan - settled around 10th, switched to outside 400m out, unable to reach
contention
12th: (16) Stone Ridge - chased leaders around 3rd, ran gamely until 200m pole, dropped back
13th: (17) Satono Impresa - ran 2nd from rear, advanced after 3rd corner, checked at early
stretch, never fired
14th: (8) Succession - sat 3-wide around 10th, checked at early stretch, failed to respond
15th: (4) Prince Return - tracked leaders around 3rd, met traffic 400m out, fell back
16th: (1) Shachi - was off slow, hugged rails around 12th, failed to find clear path at
early stretch, showed little
17th: (10) Harmony Magellan - raced around 12th, found little room at early stretch, never a
threat
18th: (13) Nishino Storm - traveled wide around 15th, checked at early stretch, no factor