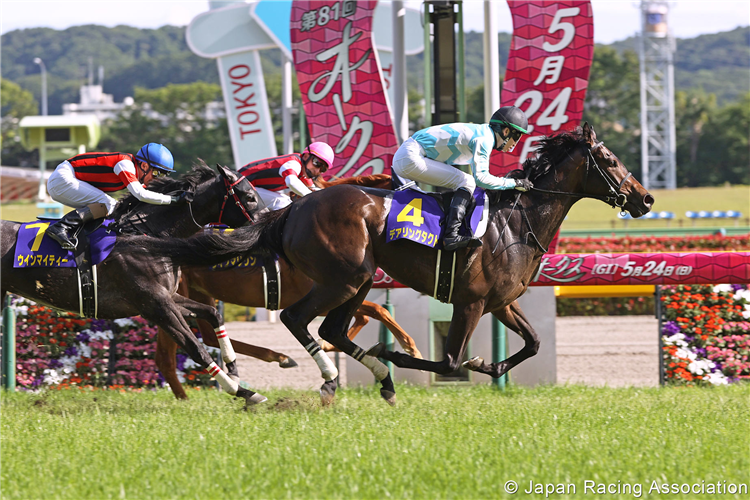 Heavily favored Daring Tact retained her immaculate record in winning this year's Yushun Himba (Japanese Oaks) becoming the fifth filly in JRA history to claim the title undefeated, following last year's victor Loves Only You. The Epiphaneia filly is now the 15th filly to capture both the Oka Sho (Japanese 1000 Guineas) and the Yushun Himba which include five eventual fillies' Triple Crown winners, and is also the second unbeaten winner since Miss Onward in 1957 to claim two classic titles for three-year-olds fillies. She has showcased incredible speed, running the fastest in the last three furlongs in all of her races over various distances and goings. Both trainer Haruki Sugiyama and jockey Kohei Matsuyama celebrate their third JRA-G1 victory—their latest was with the filly in the recent Oka Sho.
Daring Tact settled on the rails sixth from the rear after a good break while Smile Kana shot to the front setting the early pace six to seven lengths ahead of the rest as the field cruised down the backstretch. While the runners began to make their bids rounding the final corner, Matsuyama shifted his filly away from the rails a bit to avoid traffic however, still struggled to find a clear path in early stretch. Finally shooting through a narrow gap between rivals 300 meters out, the brown filly exploded with the fastest closing speed and caught Win Marilyn in the last 50 meters to prevail by half-a-length.
"After a good break, we were bumped a few times, so I decided to keep her relaxed in a lower position than planned. She instantly kicked into gear once out of traffic in the straight and showed another amazing run down the middle of the lane. Her tremendous burst of speed was extraordinary. It was the first time I rode a favorite (in G1 races) and I admit I felt the pressure, so I'm relieved," commented Kohei Matsuyama after the race.
Flora Stakes winner Win Marilyn broke smoothly from a wide stall and sat unhurried far behind Smile Kana in second but caught up and was on the heels of the pacesetter at the top of the lane. While the others fanned out for room, the seventh favorite squeezed through an opening on the rails, unleashed a strong run, and pinned Win Mighty 100 meters out but succumbed to the speed of the winner to settle for second.
Sent off 13th favorite in a field of 18, Wasurenagusa Sho victor Win Mighty saved ground in fifth to sixth, entered the lane in good striking position and won a brief battle over Cravache d'Or at the furlong pole but surrendered the lead to Win Marilyn and the eventual winner to finish a neck from the runner-up for a well-earned third.
Other Horses :
4th: (6) Ria Amelia - broke poorly, settled in front of winner, showed good turn of foot in last
200m
5th: (12) Magic Castle - sat in 16-17th, met traffic 300m out, responded well in last 200m
6th: (15) Chain of Love - was off a bit slow, trailed in rear, circled wide, showed 2nd fastest late
drive
7th: (10) Miyamazakura - saved ground around 9th, ran willingly but failed to threaten
8th: (5) Ho O Peaceful - raced around 5th, ran gamely until 200m marker, weakened thereafter
9th: (11) Lily Pure Heart - stumbled at start, gradually advanced from rear, showed brief effort
10th: (17) Maltese Diosa - traveled 3-wide around 9th, showed effort until 100m out, even paced
thereafter
11th: (1) Des Ailes - sat around 14th behind winner, angled out for clear path, accelerated
briefly
12th: (13) Woman's Heart - settled around 8th, lacked needed kick at stretch
13th: (18) Sanctuaire - raced 3-wide around 14th, unable to reach contention
14th: (14) Fiori Chiari - ran 3-wide around 5th, gradually dropped back while checked before
200m pole
15th: (2) Cravache d'Or - hugged rails around 3rd, took brief lead 300m out, outrun in last 200m
16th: (8) Smile Kana - set fast pace, led until 300m out, fell back in last 200m
17th: (3) Ablaze - tracked leaders around 3rd, ran out of steam 300m out
18th: (9) Intermission - traveled three-wide around 11th outside winner, faded after 3rd corner