Prepared by Joe Lau, Crown Of Gold was never in doubt after being fired out of the gates by regular rider Luis Corrales. Rated nicely in front Crown Of Gold was let slide by Corrales from the six hundred were he extended his lead to a six length break turning for home, running out an easy three lengths winner untouched over Fantastic Friends (Eric Cheung), with Golden Victory (Peter Ho) in third.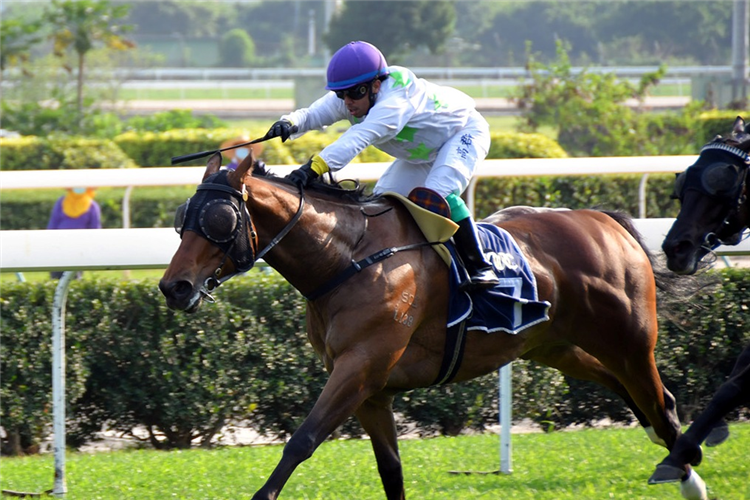 Saturday's race was for Four Year Olds only with the winner guaranteed a Derby start. However trainer Joe Lau is not getting too carried away with win at the moment.
"Yes it was a good win and he done it easily, but let's be honest the class was not that flash, from a Derby point of view he still has a long way to go." The usually conservative Lau said.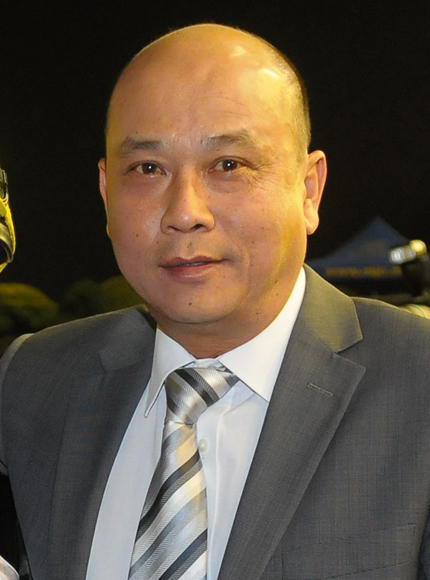 Whilst Lau's comments are valid it took nothing away from the dominance of Crown Of Gold's win over the Derby distance and on a very heavy testing track. Add to that two nice wins prior at 1500 metres on good tracks both in the good time of 1.27.9, Crown Of Gold is shaping up as a very worthy contender. The Derby is run on July 19 right in the middle of the monsoon season, as we've seen in the past there is always a chance of a wet track.
"I'm not sure if I'll run him in the Macau Guineas (Group 3). I'll see how he pulls up; I'll let the horse tell me. He's got his Derby start already so it's not like I have to chase it."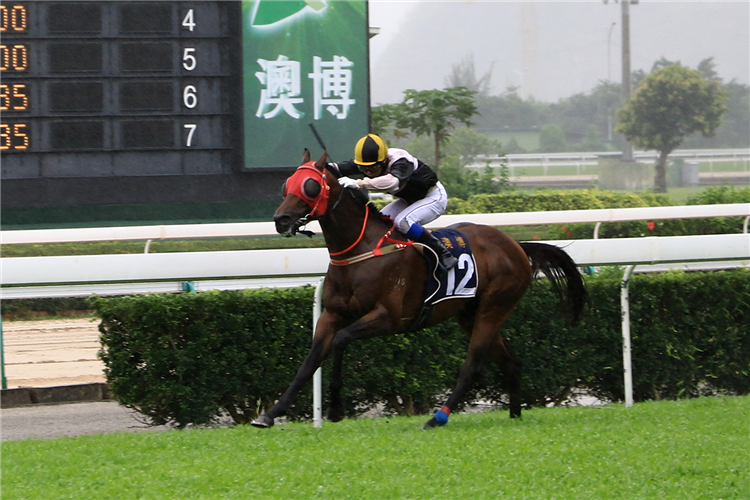 Joe Lau's main Derby contender is no doubt Sacred Magnate a son of Foxwedge (Aus) who was originally A$155,000 purchase at the 2017 Gold Coast Yearling Sale. Racing in Victoria as Expansion the gelding won a 1000 metre Maiden at Yarra Valley when prepared by Leon and Troy Corstens.
Three starts later Expansion ran a creditable 5th in the Group 3 Colin Hayes Stakes at Flemington over 1400 metres only beaten 2. 4 lengths.
At his only Macau start Sacred Magnate had a tough time caught three deep in the run and received a solid knock at the eight hundred corner. Spotting the leaders a big start the gelding ran home well under Peter Ho to wind up in fifth spot beaten six and a quarter lengths.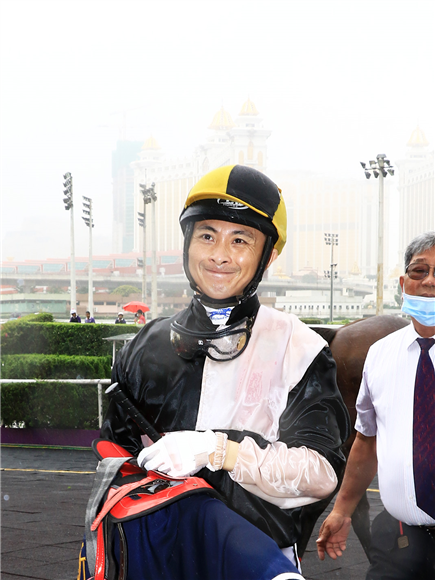 "Sacred Magnate is a nice horse and yes not much went right from barrier (12) at this first start." Lau said.
"I might run him his this weekend over 1200 metres and then the Macau Guineas. It's going to be very wet again this weekend so still a bit undecided."
Lau has long been considered the doyen of Macau's conditioners and only operates with a small team nowadays. Sacred Capital gave Lau his third Macau Derby last year following on the heels of The Alfonso (2015) and Sacred Man (2017).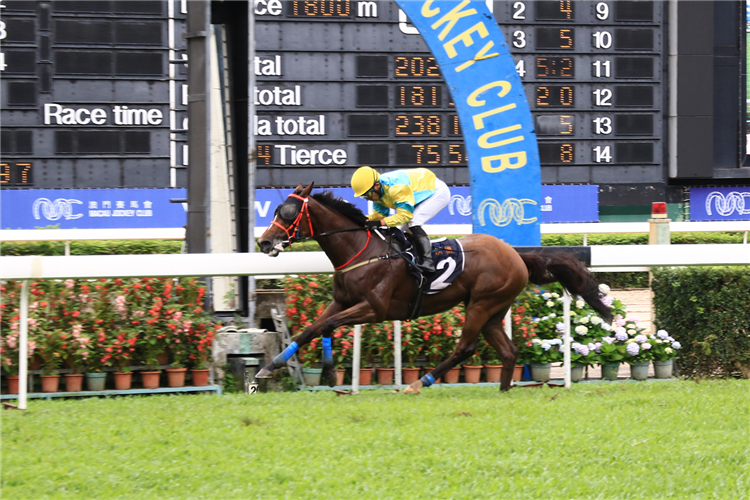 It's been a long hard road for former top flight Macau jockey Peter Lao as he tries to regain his place as one of the enclave's top riders.
In career marred by race falls and a complete loss of confidence, Lau hung up his boots for a number of years before returning to race riding last December for one last throw of the dice.
Racegoers got a glimpse of the old Peter Lao on Saturday as he gave a perfect display on the Victor Chan prepared Take The Cake in the Class 4 over 1200 metres.
Sent to the front out of the gates Lao rated the son of Reward For Effort (Aus) to perfection in the run before cuddling the horse until the two hundred where he cut loose. Take The Cake extended his lead and ran out an easy two and half lengths winner over Mulan Go (J B Hamel), with Premier Choice (Stephane Ladjadj) in third.
Lao was a former three times Champion Apprentice in Macau when apprenticed to Darby Armstrong. before making the move to Singapore for a number of years
His feature wins in the Lion City include The Queen Elizabeth ll Cup and Raffles Cup on Emerald Isles, along with a Kranji Mile on Pacific Prince and the Patron's Bowl on Bon Amie.
The old confidence that made him a fearless competitor is back and Lao is looking superb on his runners with his short stirrup, great balance and vigorous style.
There were some impressive wins on Saturday but without doubt the easiest win was by the new Zealand import Qian Gua ridden by Breinell Yamzon.
Prepared by K H Leong Qian Gua made it two wins at the 1800 metres when he led throughout to simply destroy his rivals in the Class 2 Handicap winning by eight and a quarter lengths.
Qian Gua translated means "to worry about" and he certainly gave his rivals plenty of that in Saturday's race and at his previous 1800 metres start.
At his second run in Macau Qian Gua surprised all when he lead throughout to romp in at odds of $530.00 for the win. No such luxury on Saturday with the son Cape Blanco (Ire) going out second favorite at $40.00 for the win
Qian Gua had 16 runs in New Zealand for a two wins at Matamata when prepared by Stephen Autridge and Jamie Richards when racing under the same name.
The five year obviously relishes a wet track and ploughed through Saturday's testing conditions and would not be out of place in the Macau Gold Cup at in August that more often than not has been run on a soft or heavy track due to the typhoon season.