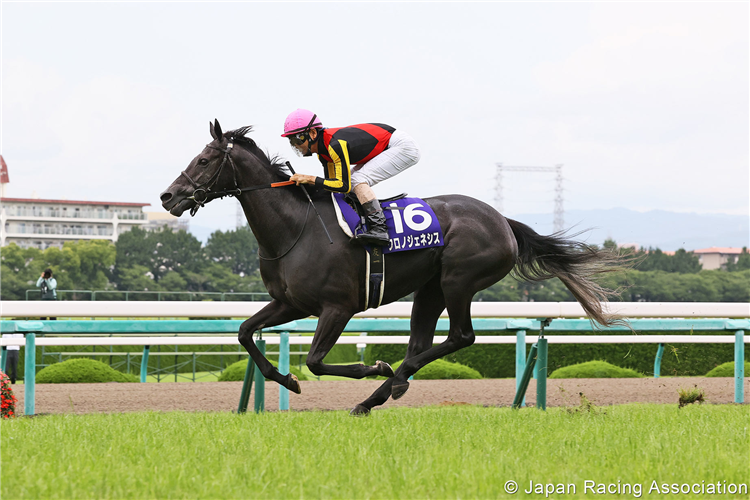 Second pick Chrono Genesis claimed this year's Takarazuka Kinen to register her second G1 title following her win in last year's Shuka Sho (2,000m), the last jewel of the fillies Triple Crown. Marking her third graded victory in her kick off start of this season in the Kyoto Kinen (G2, 2,200m) over a yielding track in February, she finished a neck second in the previous Osaka Hai (G1, 2,000m) in April. For trainer Takashi Saito, this win marked his third JRA-G1 title following his NHK Mile Cup win with Lauda Sion in May and for jockey Yuichi Kitamura, his fourth JRA-G1 victory following the Hanshin Juvenile Fillies title with Resistencia in December last year.
Chrono Genesis, one of the only two female contenders in an "All-Star" field, broke smoothly out of stall 16 and settled around ninth from frontrunner Tosen Surya. Continuing to take a wide route rounding the last two corners, the Bago filly advanced strongly to enter the lane in second behind Lucky Lilac. Once assuming command 300 meters out, the four-year-old filly unleashed a powerful kick despite the somewhat soft going due to rain, leaving the field behind to win the race with a race-record margin of six lengths.
"The filly broke smoothly and we were able to travel in good rhythm in good striking position. I didn't really have to urge her to go but she just went spontaneously. She was responding really well so I knew that she will stretch well in the lane. She has become a powerful filly and was in very good condition. She was really strong," commented jockey Yuichi Kitamura.
Last year's runner-up and sixth choice Kiseki, though forced to race toward the rear due to a slow break, edged forward through the backstretch, recovering to around ninth position, just behind Chrono Genesis, before entering the third corner. The six-year-old son of Rulership continued to advance behind the eventual winner through the corners and, while unable to keep up with the overwhelming speed of the winner, finished second, five length in front of the third-place finisher.
Twelfth pick Mozu Bello traveled wide behind Chrono Genesis, around 12th from the front, and held on well in the stretch to come in third.
Race favorite Saturnalia broke smoothly, hugged the rails in tenth and angled out turning the last corners for the attack but was unable to exert his strong late kick due to the soft ground and finished fourth.
Other Horses :
5th: (10) Meisho Tengen - settled around 16th, showed 3rd fastest late drive
6th: (11) Lucky Lilac - ran around 5th, inherited lead briefly at early stretch, weakened in last 200m
7th: (6) Tosen Surya - set pace, showed tenacity until 150m out
8th: (1) Tosen Cambina - saved ground around 16th, passed tired rivals
9th: (13) Danburite - chased leaders around 3rd, gradually dropped back after 3rd corner
10th: (8) Red Genial - positioned in 11th, even paced
11th: (15) Stiffelio - raced in 9th, driven after 3rd corner, failed to respond
12th: (17) Cadenas - trailed in rear, made headway after 3rd corner, never threatened
13th: (7) Wagnerian - stalked leader in 2nd, nothing left at stretch
14th: (9) Admire Alba - took economic trip in 13th, unable to reach contention
15th: (2) Persian Knight - tracked leaders around 3rd, fell back after 3rd corner
16th: (18) Blast Onepiece - sat around 5th from widest draw, outrun after 3rd corner
17th: (3) Glory Vase - settled around 14th, advanced after 3rd corner, never fired at stretch
18th: (4) African Gold - traveled around 7th, faded after 3rd corner