Chin opened his night with the Australian import Goal Achiever who scored an easy win in the Class 5 & 6 over 1500 metres under the guidance of Eric Cheung. Cheung gave the four-year-old the box seat run on the back of the leader Chapman Way, before popping into space at the top of the straight to race clear of his opposition.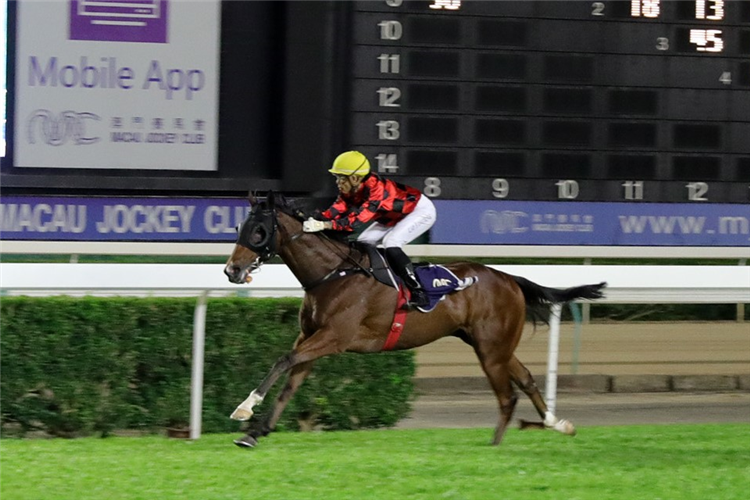 Goal Achiever is a son of Star Witness (AUS) and was only an A$36,000 purchase at the 2018 Gold Coast 2YO's in Training Sales. The bay gelding has taken awhile to come to hand with Friday's race his eighth career start, however he does look to have returned stronger this season as a four-year-old, and his win was full of merit with almost four lengths to spare on the line in a time of 1.28.4.
The contrary New Zealand import Tavezbac completed Chin's double when he bolted away with the Class 2 over 1350 metres on the sand again under Eric Cheung.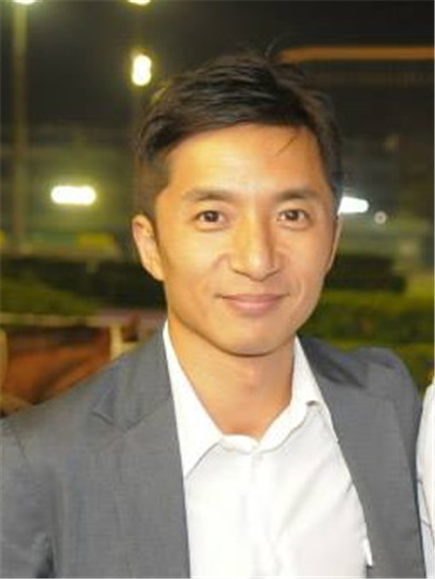 Prior to being exported to Macau, Tavezbac won a maiden race at Ruakaka over 1400 metres in nice fashion when prepared there by Chris Gibbs. The son Tavistock (NZ) arrived in Macau in late 2018, but never got to the racetrack until some nine months later in July 2019.
"He had two runs in New Zealand for one very good win at Ruakaka but from the time he arrived in Macau he was a problem." Chin said.
"He just refused to go anywhere near the gates not even close. We had a lot of trouble with him and he is a big strong horse over 1200 pounds so you can't force him; and he gave the handlers trouble and the riders too. Even Eric (Cheung) my apprentice was off for some months when he injured him in the mounting yard."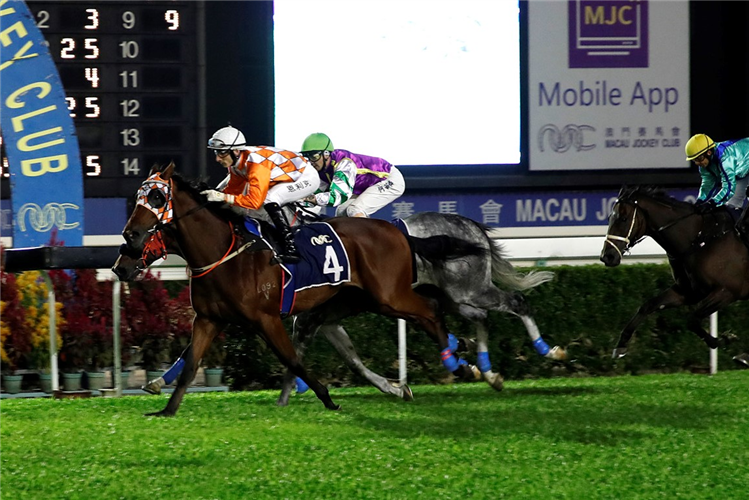 "After he refused to jump back in June we gave him plenty of time off and thankfully he seems good at the moment. I wasn't really surprised at his win even though I thought the 1350 metres was a bit short for him. If he can stay focused, he is a quality racehorse and can be one of the best 1500 to 1600 metre sand horses in Macau."
As contrary as he is Tavezbac has now won four races in Macau and picked up well over $1 million HKD for his owner Mr. Won Chin Leung.
Chin won his first trainers title in the 2018 – 2019 season with 52 winners and is very optimistic of his chances for a second title this season.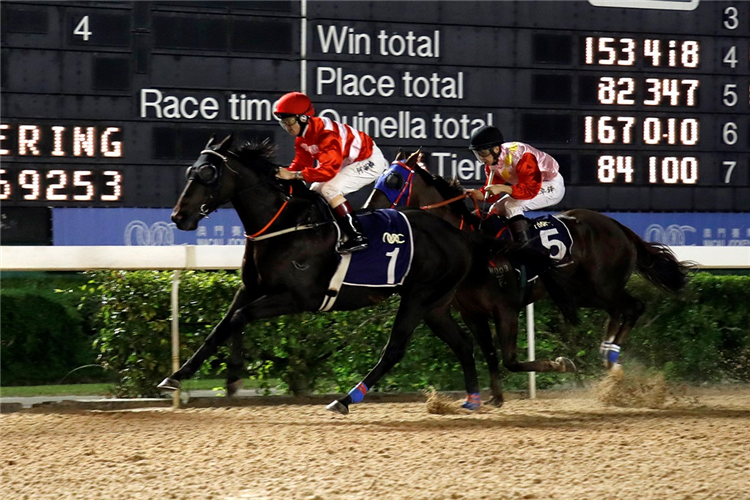 "Last season we had a lot of new horses that didn't quiet live up to expectations due mostly to immaturity and a few issues. We are really expecting a big season this time around. The horses are more mature and they are thriving; as well I've picked up some more new horses that I have high expectations for so it's all coming together nicely."
Geoff Allendorf got on the scoreboard for the new season also with a double on Friday night with Luen On Prodigy and Heat Of The Battle.
The four-year-old Husson (ARG) gelding Luen On Prodigy was the first to score for Allendorf when he came with a late rush to win the second division of the Class 5 & 6 over 1500 metres.
Given a nice ride from barrier seven by Brazilian Fausto Henrique, Luen On Prodigy surged late to score over House Of Power (Peter Ho), with Thunder Bear (Tshwaro Appie) close up in third.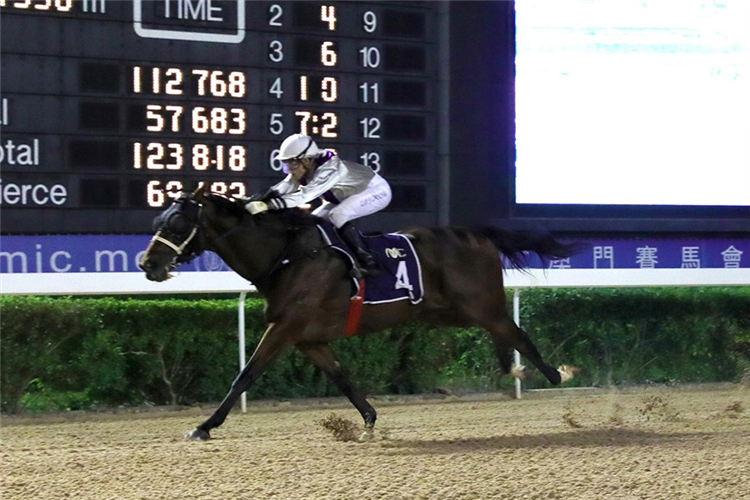 It was win number two for Luen On Prodigy who took a while to come to hand but has now furnished into a nice four-year-old. The chestnut is also a product of the 2018 Gold Coast 2YO's in Training Sale where he was picked up for a modest A$35,000. The gelding has won or placed on five occasions in his 15 race starts and now has over $300,000 HKD in prize money with his best days ahead of him.
Heat Of The Battle broke through for his Maiden win after 15 attempts for Allendorf, when he worried the $1.4 favorite Powerful Right out of the prize in the Maiden handicap over 1050 metres on the sand.
Ridden treat by Peter Ho, Heat Of The Battle had to dig deep but went home too well for Powerful Right (Charlie Chan), with Master Of Mars (Eric Cheung) in third spot.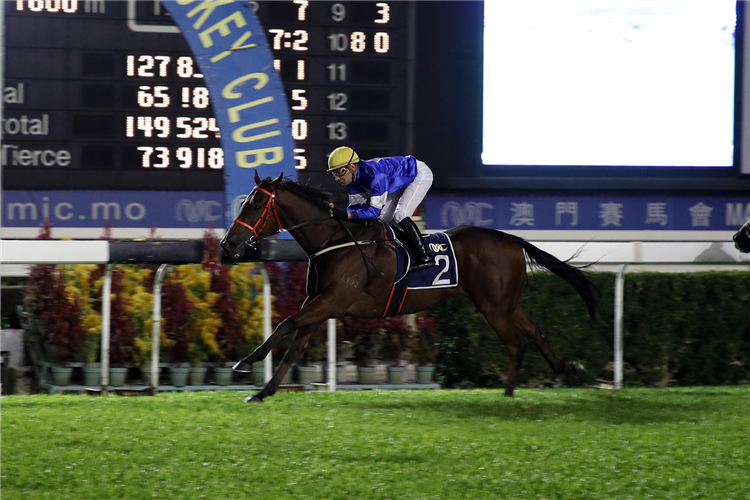 "With Luen On Prodigy we only paid $35,000 for him at the sales and he has promised more than he has given so far, but that win was encouraging and I think he will go on with it more now." Allendorf said.
"It was finally good to get a win with Heat Of The Battle after 15 runs. That said he has been very honest being in a top three spot in seven of his starts and now he has won over $300,000 HKD."
"Full marks to the horse who won against the odds in handling the quick backup and drop back in trip. He is a real tough horse and it was a great ride by Peter (Ho). He showed plenty of aggression early to go up and annoy the favorite and kept the pressure on and the horse gave his all. Let's hope he can go on from here."
The ride of the night hands down went to Frenchman Jean – Baptiste (JB) Hamel who gave his rival jockeys' a lesson in front running riding on Knows It All for trainer Wayne Smith.
Hamel sent Knows It All straight to lead out of the gates and then took complete control of the race soon after. The Frenchman slowed the tempo to a nicety in the back and had the opposition stacked up behind him, and was allowed to walk the field almost to the top of the straight. Hamel cut loose on Knows It All soon after and the son of Bachelor Duke (USA) went into top gear and dashed away from his opposition.
The stable mate and race favorite Modena Best was left a bit flat footed under Luis Corrales when the winner sprinted, and was doing good work to run into second place and cut the margin to a length and a half, and give Wayne Smith the quinella. Third placed Satano Eternal was another not suited by the slow tempo and ran into a traffic jam in the straight, and did well to land a minor spot.