Nick Moore who is in his second season as a trainer, kicked his day off on Sunday with a surprise win with his newly acquired Beat The Market at odds of $476.00 for the win. Beat The Market made light work of barrier 12 under Frankie Choi to win the 0 to 45 Special Conditions Race over 1500 metres.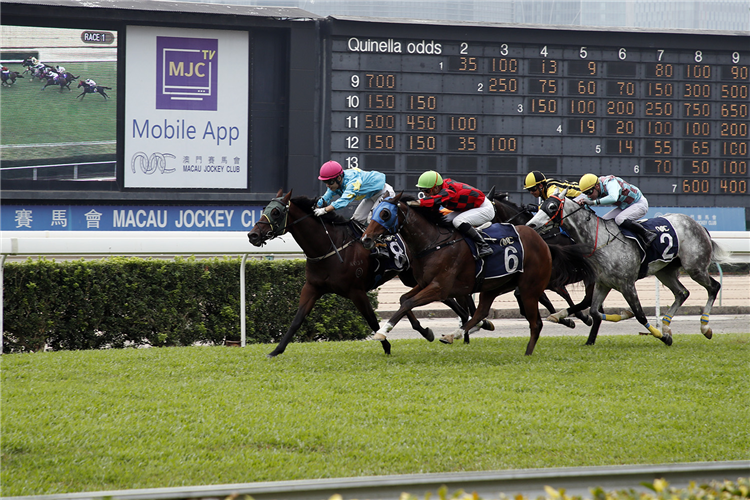 Beat The Market had been a winner of three races in the enclave prior to Sunday when prepared by Stanley Chin, but had not won since August 2019. They say a change is as good as a holiday with the son of Time Thief (Aus) stepping out for the Nick Moore yard just the second time on Sunday. At his first run for the stable the gelding was well supported but struggled in the run and finished a dismal ninth behind Northern Legend beaten 12 ¾ lengths.
"When he first came to my stable this season, I just tried taking all the gear off him like the blinkers, the lugging bit and nose band." Moore said.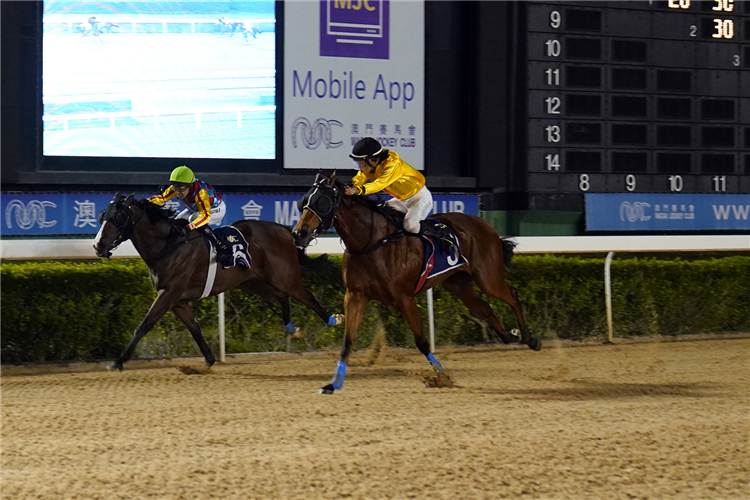 "I wanted to start fresh, but I realized after the first run the way that he raced that he did need the blinkers and so we put them back on. His work had been ok, so I just told Frankie (Choi) to ride hard from gate 12 and get him forward as he is very one paced. He did a good job and after the win I thought we might be in for a good day here, as I was very keen on Hostwin Saturn and Hostwin Euphoria later in the day."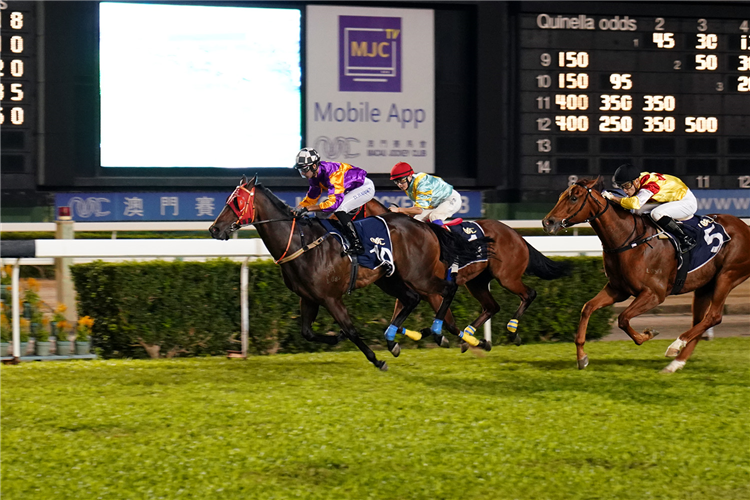 Moore was spot on with his forecast for both runners with last season's Group 1 Macau Guineas winner Hostwin Saturn , scoring a brilliant first up win in the Class 1 & 2 over 1200 metres under Roger Yu.
Hostwin Saturn had won three races last season including the Guineas on his way to the Derby over 1800 metres, where he was sent out a $30.00 favorite. After beginning very slowly in the Derby the bay gelding found himself in traffic and then did a lot of work in the race; but to his credit he was only beaten five lengths behind Sacred Magnate and company.
"I was very confident today even though it was only 1200 metres; his first run in Macau was over 1200 metres and he ran great race, only beaten one and half lengths in a good field and good time. He did well in the break and his trial was first rate before this race."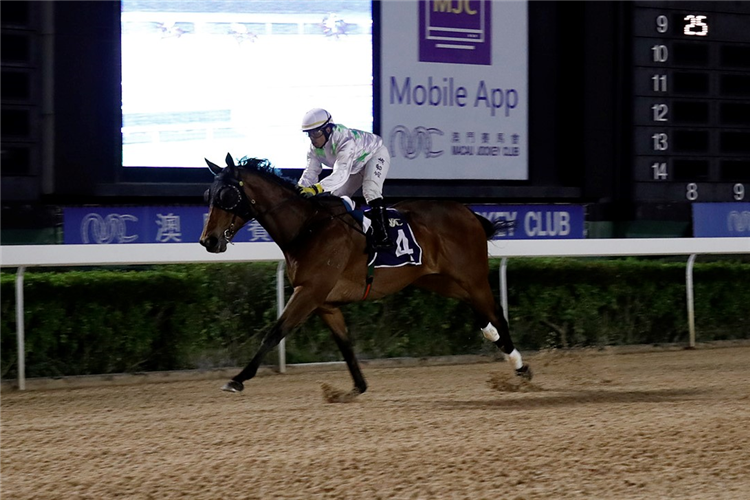 "He will make a good cup horse this season, and I'd like to think we might get a run in the Hong Kong – Macau Trophy if it's possible to have it next year."
Moore's promising Derby prospect Hostwin Euphoria saluted under Luis Corrales in the next event the Class 3 over 1500 metres, to give Moore his treble for the day; but not after a tussle with the early leader Casino Mok.
"Hostwin Euphoria is still learning all about the game. I told Luis (Corrales) to be positive on him from the outside gate, and he did a great job to park off the leader. He took a while to get going in the straight but then he just outstayed them."
With just 18 runners for the new season Moore has posted five winners and two placings.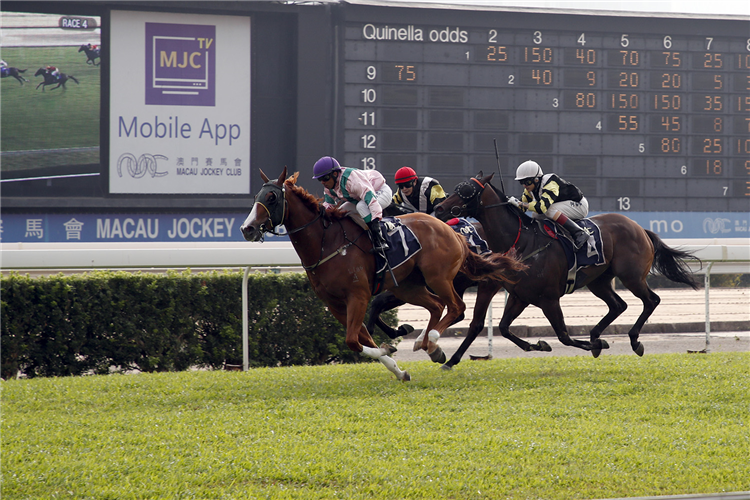 Luis Corrales surged to the lead in the rider's standings with four winners over the weekend racing to give him an early one- win lead in the Jockeys standings with 11 winners, one in front of Eric Cheung who is on 10 victories.
Corrales opened his account for the weekend with an easy victory on the Joe Lau prepared Crown Of Gold who scored fresh up in the Class 3 over 1350 metres on the sand Friday night.
Joe Lau did a fine job with Crown Of Gold last season winning four races in succession, and taking him from a rating of 40 to a mark of 71 to start one of the Derby favorites. The son of Duporth (Aus) did a top job in the Derby running a close fourth behind stablemate Sacred Magnate, after finding a spot of trouble in the run. Friday nights easy win showed the five year will be a force to be reckoned with in the Cup races this season.
On Sunday Corrales was quick off the mark in race two with One Belt One Road who jumped out of the ground late to win the Class 4 & 5 over 1200 metres.
Hostwin Euphoria gave Corrales his second win in the Class 3 over 1500 metres, with the Panamanian rider closing his day with a victory on the Stanley Chin trained Master Paradise in the Class 6 over 1500 metres.
A five times Champion senior rider in the enclave as well as being Champion Apprentice twice in 1999 and 2000, Corrales is shooting for a sixth Macau title which would put him on par with Brazilian Manoel Nunes, who won six Championships in the enclave before re-locating to Singapore.
Stanley Chin's three winners over the two days racing took him to equal first spot on the Trainer's table with nine wins alongside former 2015 – 2016 Champion trainer Sio Cheong, with last years leading conditioner Tony Fung in third spot on eight wins.
Chin picked up his first win on Friday night in the Class 4 over 1510 metres with City Gold who was ridden by his former apprentice Eric Cheung.
Master Paradise was the second winner for Chin over the two days when he scored on Sunday, with his promising stayer Star Of City Gold winning the last on Sunday the Class 4 over 1800 metres, ridden by Japanese rider Massa Tanaka.
Chin who was Champion trainer in the in the 2018 - 2019 season is bullish about his chances for a second title stating in a recent interview.
"Last season we had a lot of new horses that didn't quite live up to expectations due mostly to immaturity and a few issues. The horse are more mature and they are thriving, as well I've picked up some more new horses that I have high expectations for so it's all coming together."
Friday night's feature the 2020 New Zealand Bloodstock Ready To Run Sale Stakes was fittingly taken out by the NZ bred five-year-old For Community, ridden by Brazilian Dayversom Barros for trainer Stephen Chow
For Community is a son of the 2011 NZ Derby winner Jimmy Choux (NZ) from the Paris Opera Pesky and has now won four races in Macau all over the 1200 metres on the turf.