Rid of that imposing foe, the daughter of Empire Maker has her moment to shine in Thursday's UAE Oaks (G3), which will be contested over a 1900m trip that she is bred to relish.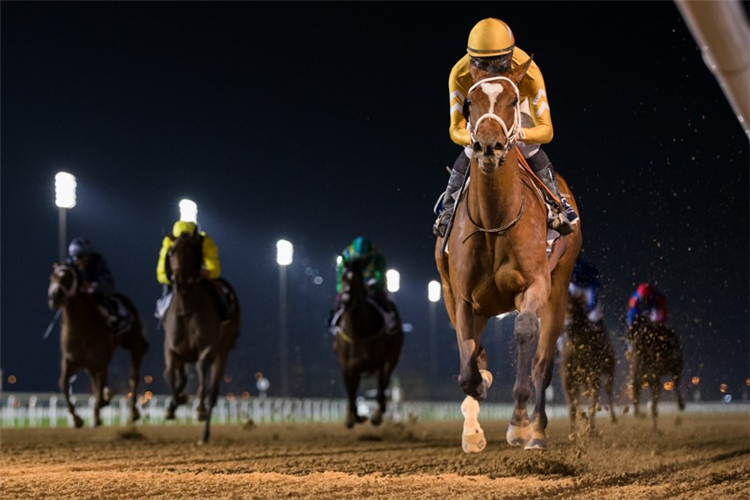 "She's doing really well and we broke her out of the gate twice with Pat (Dobbs, jockey)," Watson said. "I'm happy with him being on her this time. She has a lot of talent and if you stay out of her mouth--because she's touchy with that--at the start, she will break a lot better. I think she and Super Chianti are in great shape for the run. Mnasek should definitely love the distance."
Charles Fipke's homebred Super Saver filly Super Chianti, third in the Guineas, joins her stablemate in the gate with a change of equipment and some much-needed experience under her belt. With a pedigree that says she might enjoy the up in trip, as well, Super Chianti completes a strong one-two punch for Watson in a race that might produce a starter for the $750,000 UAE Derby (G2).
"Super Chianti will get a visor this time and hopefully that helps her break better and she can be a little more involved," Watson continued. "They're both coming into the race fitter than before and I think they'll give good accounts of themselves.
"You have to respect the Jebel Ali filly, Nayefah, in there for (Nicholas) Bachalard, as well. She may be a maiden, but she's bred to love this distance and hasn't ran all that badly so far."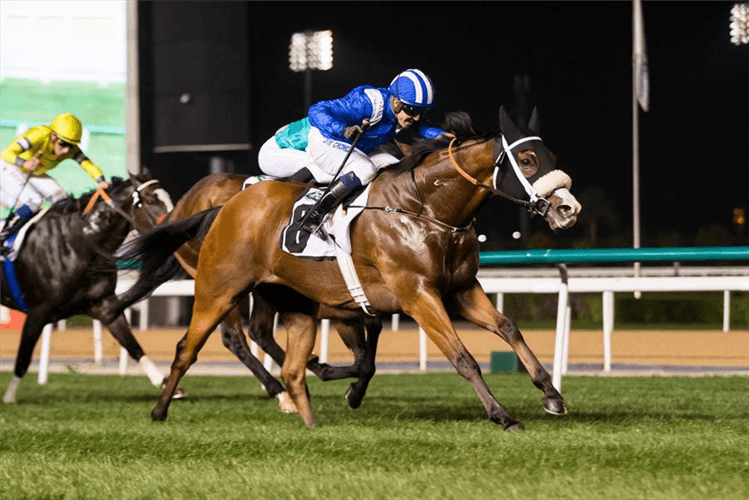 Watson also touched on Waady , who defends his crown in the Meydan Sprint (G2) on Thursday and returns to his favourite five-furlong trip and grass surface in the process.
Watson: "It's really good to be back on grass with him and he's definitely better on it, even tough he ran great last out in the Dubawi (finishing second). He's in great form and everything about him at the moment is positive.
"I would love to see him run well again in this, so that we can just go straight to the (Group 1 $1 million) Al Quoz Sprint with him (on March 26, Dubai World Cup Day)."
Fitter Gladiator King Defends Shindagha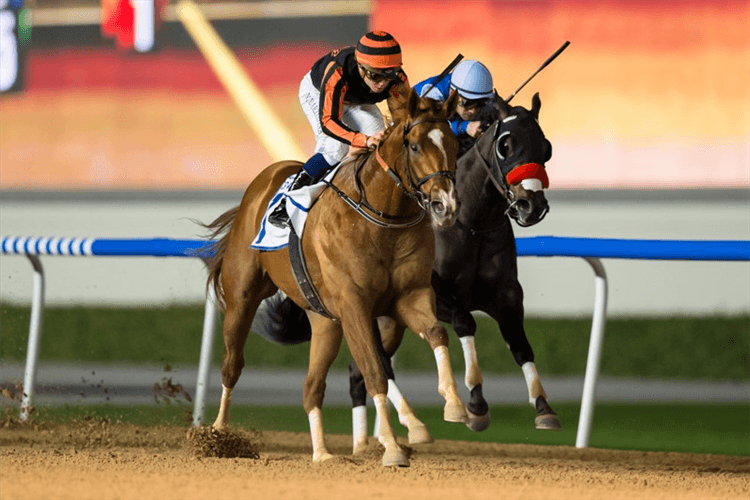 RRR Racing's Satish Seemar-trained Gladiator King was expected to reestablish his sovereignty over the Dubai sprinter ranks when defending his Dubawi (G3) crown last month, but was usurped by Seemar-trained fellow HH Sheikh Rashid bin Humaid Al Nuaimi colour-bearer Switzerland. With that competitor headed to Saturday's $1.5 million Riyadh Dirt Sprint, Gladiator King (who settled for third in the Dubawi) stays home and looks to come on tremendously from the run.
The burly 5-year-old chestnut will attempt to put one back in the win column on home UAE soil when he defends another title in the Al Shindagha Sprint (G3) on Thursday at Meydan. The son of Curlin will likely be a short favourite in the affair.
"He's in great form," said Bhupat Seemar, assistant trainer and eternal man-in-the-know at Zabeel Stables. "He ran third in his first run against fitter horses. He's a big, strong horse and you can only do so much galloping with him to get him in shape enough to compete with those types, so he definitely needed the run. I think the fitness angle and the way the race was run, where he never caught a breather, didn't set up for him. He's definitely tightened up and improved from then."
Seemar also touched on the return of 2020 Al Bastakiya (Listed) runner-up Tuz, who will try to earn a ticket to Super Saturday in Thursday's 1600m handicap on dirt: "I'm really excited about him. He's so talented and has obviously had his smaller problems--hence the delayed start.
"I think he's exciting. What he does in the morning, you just don't find the bottom of this horse. I know it's his first run, but after this first run, I won't be afraid to take on any horse in Dubai with him. This will count as his prep run and Super Saturday will hopefully be his next."
Communique, Military March Skip Saudi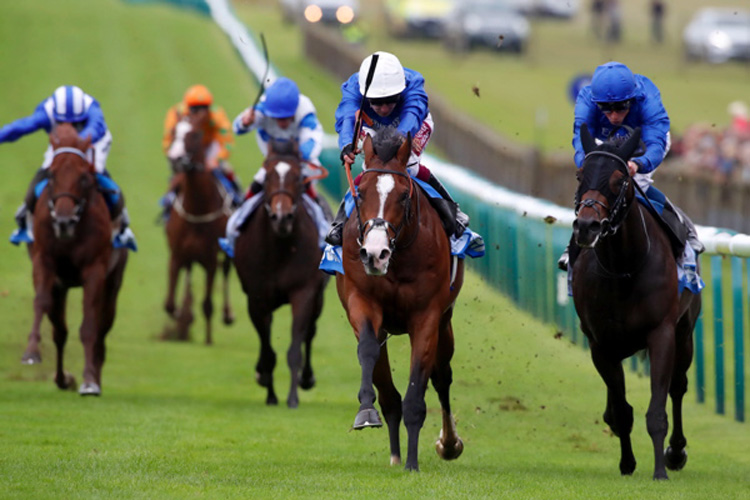 HH Sheikh Hamdan bin Mohammed Al Maktoum's Communique and Godolphin's Military March will not make their previously scheduled runs on the rich Saudi Cup card, per their conditioners. Communique was one of the top-weighted and most accomplished contenders in the $2.5 million Red Sea Turf Handicap over 3000m for trainer Salem bin Ghadayer, but exited two poor efforts in Dubai since being turned over to Bin Ghadayer from UK-based trainer Mark Johnston.
"Communique will not go," Bin Ghadayer said. "The horse is just not ready and if you go to a big race there, you have to go 100 per cent. Otherwise, there's no reason to go."
Military March came into the 2021 DWC Carnival as one of the most highly anticipated runners, but flopped on first showing as the short-priced favourite in the Singspiel (G2) on Jan. 21. The Saeed bin Suroor pupil was under consideration for the $1 million Neom Turf Cup over 2100m.
Bin Suroor: "He's not coming. We'll keep him for racing in Dubai and keep him home. We'll try for (Dubai World Cup night) and decide a race for him."