Relishing the 1900m, the bay filly stuffed her opposition by open lengths under Pat Dobbs, stamping herself as a force with which to reckon if owner Al Rashid Stables decides to take on the boys in the same-distance UAE Derby (G2) on March 27.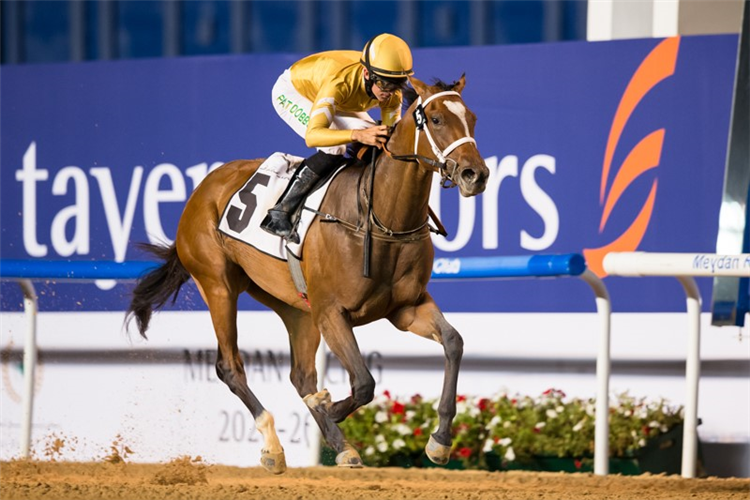 Watson: "She just goes out there and and tries hard. We've done very little with her since she ran. She's a small filly and she has a lot of talent. We worked her in company out of the gate and that helped. Today she didn't enjoy being behind and when she was tipped out you could see it. She was the best filly. I don't know if they'll want to run her in the Derby, but who knows. Fair dues to Shane (Ryan, starter) and the gate crew. The did a great job helping us out. Obviously, she's a little funny in the gate and she broke great tonight. (The owners) should send her to America. That's her second win here. She's got a lot of options over there. If she stays sound and training like she is, she could win over there."
Dobbs: "She's very brave. She didn't enjoy the early part of the race, getting the kickback, but once she got out, she travelled super. She stays very well. She's a little bit light-mouthed, but she's got a big heart and is a lovely mover."
D'bai Denies G2 Zabeel Mile Foes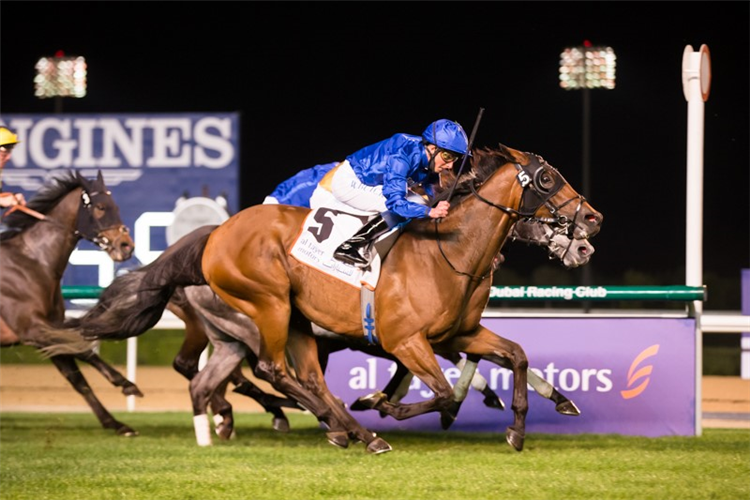 $163,000 Zabeel Mile (G2)
Race 5 (20:50)
1600m (turf)
Winner:D'Bai
Owner: Godolphin
Trainer: Charlie Appleby
Jockey: William Buick
Breeder: Lodge Park Stud (IRE)
Sire: Dubawi
2nd: FIRST CONTACT (Tadhg O'Shea)
3rd: ART DU VAL (James Doyle)
Time: 1:35.94
Margins: Head, Neck, Short Head
In Brief: D'bai was the class of the Zabeel Mile (G2) field and proved it in the proverbial 11th hour, running down First Contact in the final strides and coming out on top in a five-horse blanket finish in the 1600m affair. Ridden and timed well by William Buick, the Charlie Appleby-trained son of Dubawi proved his conditioner's judgment right, as he was originally scheduled to compete in the 1351 Turf Sprint in Saudi Arabia, but was left behind to head Appleby's team in this event. D'bai won his third Group affair in the process.
Buick: "I thought I would get there. He's a bit of a heart-in-your-mouth sort of horse. In the race tonight, there was never going to be an end-to-end gallop on paper. They went slow, as I had expected. I would have loved to dropped into last and got him switched off, but I had to jump and get position. My worry was not to get trapped wide, but I got a good run behind Mickael's horse and he got into it nicely. When he got into his top gear, I knew we had enough time to get there in the end. All through his career he's been very consistent and on his day, like he showed this evening, he's a class horse."
Equilateral Makes Amends In G2 Meydan Sprint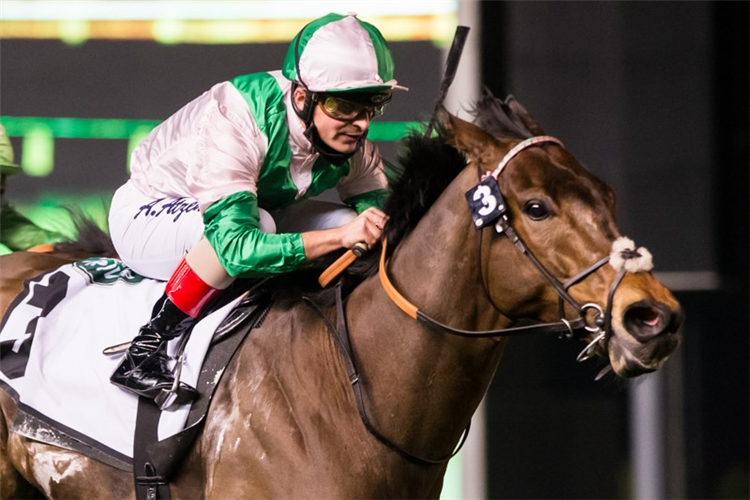 $163,000 Meydan Sprint (G2)
Race 2 (19:05)
1000m (turf)
Winner: Equilateral
Owner: Mrs Fitriani Hay
Trainer: Charlie Hills
Jockey: Andrea Atzeni
Breeder: Juddmonte Farms (GB)
Sire: Equiano
2nd: ACKLAM EXPRESS (Rowan Scott)
3rd: A'ALI (Frankie Dettori)
Time: 57.25
Margins: 1, Neck, 1
In Brief: Making up for his disappointing run when second last year as the hot favourite in the same race, Charlie Hills-trained Equilateral won his third race from four tries at Meydan, landing the five-furlong Meydan Sprint (G2) in fine style under Andrea Atzeni. Hitting the front earlier than expected at the midpoint of the race, the son of Equiano then held off sophomore Acklam Express and A'Ali to win the contest, securing his spot in the gate for the Al Quoz Sprint (G1) on Dubai World Cup night.
Atzeni: "I was happy all the way. He jumped good and travelled really nicely. He took me there so easily and I probably got there earlier than I would have liked, but I didn't want to disappoint him and to be fair to the horse, he kept going all the way to the line".
Summer Romance Wires G2 Balanchine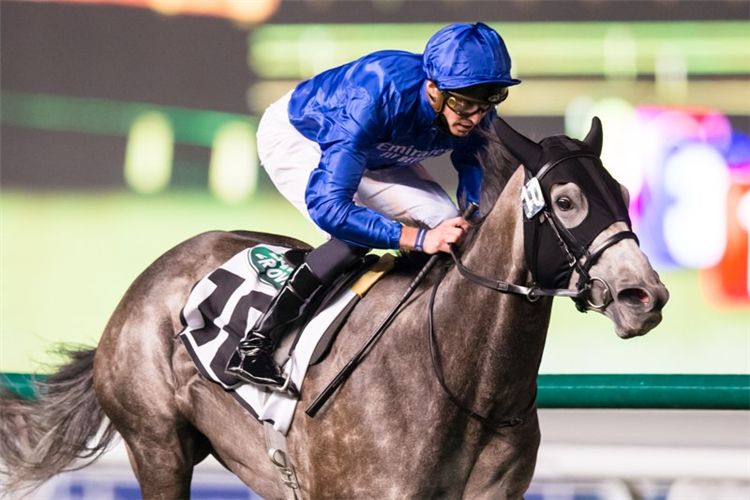 $163,000 Balanchine (G2)
Race 6 (21:25)
1800m (turf)
Winner: Summer Romance
Owner: Godolphin
Trainer: Charlie Appleby
Jockey: James Doyle
Breeder: Roundhill Stud (IRE)
Sire: Kingman
2nd: STYLISTIQUE (Andrea Atzeni)
3rd: ALTHIQA (William Buick)
Time: 1:48.47
Margins: 2 1/4, 3/4, 1
In Brief: Turning the tables on stablemate Althiqa, who bested her three weeks ago in the G2 Cape Verdi, a more relaxed Summer Romance made all under James Doyle for Godolphin and trainer Charlie Appleby in the G2 Balanchine. The daughter of Kingman was not remotely as keen as she was last time, slowing the pace down properly before sprinting home emphatically.
Appleby: "Last time she was fresh and went down to the post with her hood on and they took the hood off and she took (William Buick, rider in the Cape Verdi) on. Also in the pre-race and pre-lims, as you probably all saw, we saddled her out the back there and brought her down late, so she wasn't walking around the paddock. Obviously, she ran with the hood on this time, which has helped her. We ticked a few more boxes on the way in and obviously James gave her a great ride on the front end and she got a soft lead."
New Trails Finds Old Form In Listed Curlin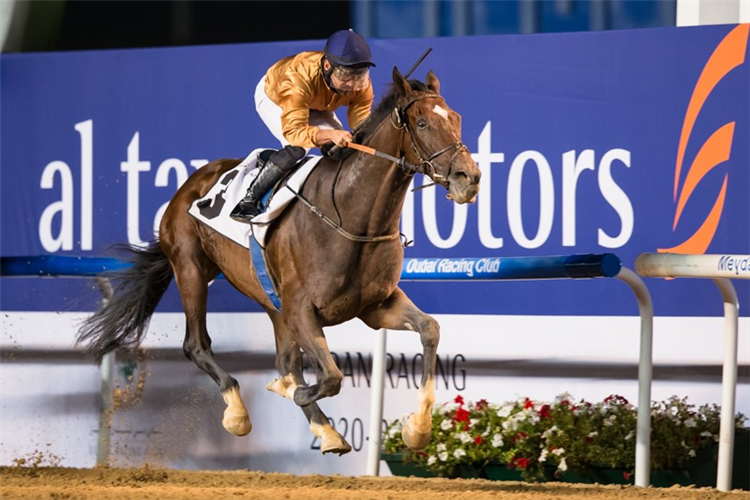 $88,000 Curlin Stakes (Listed)
Race 3 (19:40)
2000m (dirt)
Winner: New Trails
Owner: Hamdan Saltan Ali Alsabousi
Trainer: Ahmad bin Harmash
Jockey: Fernando Jara
Breeder: Darley (USA)
Sire: Medaglia d'Oro
2nd: DUBAI ICON (Frankie Dettori)
3rd: REAL WORLD (Pat Cosgrave)
Time: 2:04.54
Margins: 2, Short Head, 1/2
In Brief: New Trails was once a solid Group-level performer, including a run in the Dubai World Cup (G1) in 2019 and a 111 rating, but having lost his shine after a set of poor performances, he entered his 2020-21 seasonal debut with a bit to find and now rated 97 in the Curlin Stakes (Listed). Deliver he did, as the son of Medalia d'Oro out-classed his rivals and closed home under an impressive ride by Fernando Jara for trainer Ahmad bin Harmash.
Jara: "Sometimes you think they're fit and they don't perform the way you (expect). I always want to see the first run. It was a great job by Ahmad to bring him back after a year. It was a great performance for him to get him ready. He got a great trip and saved ground all the way. He's a nice horse and tries hard. When they get a good trip like this, they're going to be up there."
Al Tariq Takes The G3 Al Shindagha Sprint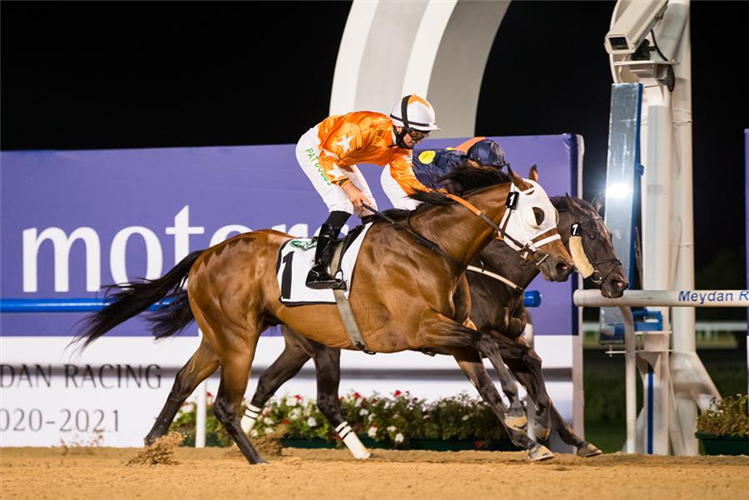 $130,000 Al Shindagha Sprint (G3)
Race 6 (21:25)
1200m (dirt)
Winner: Al Tariq
Owner: Abdul Mohsen Al Abdul Kareem
Trainer: Doug Watson
Jockey: Pat Dobbs
Breeder: Selim Blanga Moghrabi
Sire: Oasis Dream
2nd: IMPORTANT MISSION (Mickael Barzalona)
3rd: GLADIATOR KING (William Buick)
Time: 1:10.56
Margins: 1/2, 3 1/4, Neck
In Brief: Coming off just 13 days' rest from his impressive win in the Jebel Ali Sprint (Listed), Doug Watson-trained Al Tariq proved once again a tough customer in a fight, running down a gritty Important Mission in the Al Shindagha Sprint (G3) under Pat Dobbs. Favourite Gladiator King acted up badly in the gate and could only manage third. Watson has now won four of the past five editions of this major prep for the Dubai Golden Shaheen (G1).
Dobbs: "He surprised us at Jebel Ali. He got an injury earlier in the season that set him back a bit, but he's done really well since. Doug's brilliant at getting these horses back and freshening them up and getting them to perform to their best. It was a nice surprise. He has loads of speed and travels super. It felt like they weren't going quick enough for me most of the race. He stayed it out well. They went very fast and fractions seemed very good, so it was a proper test."
Hypothetical Makes Godolphin Mile Claims
$65,000 Jaguar XF Handicap (90-105)
Race 1 (18:30)
1600m (dirt)
Winner: Hypothetical
Owner: HH Sheikh Hamdan bin Mohammed Al Maktoum
Trainer: Salem bin Ghadayer
Jockey: Mickael Barzalona
Breeder: Knocktoran Stud (IRE)
Sire: Lope de Vega
2nd: BRIGHT START (Harry Bentley)
3rd: ALKAAMEL (Sandro Paiva)
Time: 1:35.95
Margins: 3/4, 1 3/4, Neck
In Brief: Hypothetical has long been thought of as full of potential, but tonight confirmed that he's possibly Dubai World Cup night material with a smart handicap victory over 1600m on dirt. Sitting midpack, rallying at the top of the lane and running down Bright Start in the process, the son of Lope de Vega extended trainer Salem bin Ghadayer's lead in the UAE standings. Mickael Barzalona was in the saddle for HH Sheikh Hamdan bin Mohammed Al Maktoum, finishing up in a smart time of 1:35.95.
Barzalona: "I knew we were going to go a good gallop. My horse is a very sharp horse and he couldn't keep up, so I knew they were going quick. It suited my horse and I'm very pleased. He's improved and if he keeps improving, he will be able to do well on World Cup night. He's a very tough horse and could possibly go farther. It's never easy for the European horses to handle the dirt during their first season, but Salem has done a good job preparing them."