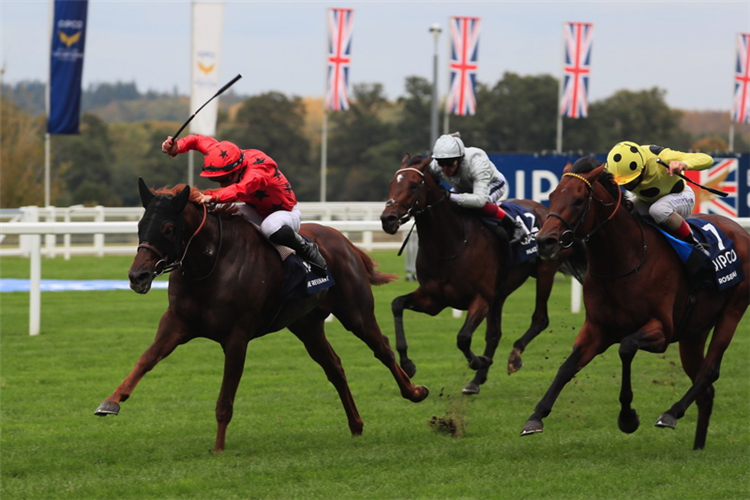 Calgary Games
The immensely exciting son of Readly Express remained unbeaten in five career starts when winning the feature G1 UET Grand Prix Finale (2140m) at Aby (SWE) last weekend. Dubbed as one of the most exciting horses in the last twenty years, trainer Timo Nurmos has announced that performance will be the end of his four-year-old season as he would like to save the horse for future campaigns at five and six. The Jean-Michel Baudouin-trained filly Hirondelle Sibey finished runner-up fairing best of the French contenders.
Express Jet
Express Jet picked up a nice prize winning the Grand Prix de Gelsenkirchen at Gelsenkirchen in Germany on Sunday. Well-placed by trainer Tomas Malmqvist the son of Goetmals Wood was able to record an eighth career success. The booking of local German driver Thomas Panschow proved an advantage as his track knowledge contributed greatly to the success.
Cleangame
The Jean-Michel Bazire-trained Cleangame added to his immense tally when running out an easy winner of the G3 Grand Prix Anjou-Maine (3125m) at Angers last Wednesday. It was a remarkable thirty eighth success from fifty eight outings for the son of Ouragan de Celland. Praise was high from fellow trainer Jean-Paul Marmion who suggested if he was not a gelding, he could have won the G1 Prix d'Amérique (2700m).
Farandole di Palba
Owners of the mare Farandole di Palba tasted success with their first runner at Vincennes when the Yves Vidal-trained six-year-old scored in the Grade D Prix Ludovica (2850m). It was an excellent initial experience for the owners who also bred the trotter.
Yoann Lebourgeois
Top driver Yoann Lebourgeois was subject of a masked attack returning from driving at Vincennes on Tuesday evening. The driver, who currently sits second in the standings on 222 winners, will be forced to take off at least forty-five days with multiple fractures, including the shoulder blade, shoulder, and forearm. Concerning his assault, an investigation is currently underway ordered by the prosecutor's office of Lisieux.
Talent
Talent finished strongly to fend off eventual runner-up Evzen when winning the Velká Pardubická (6900m) at Pardubice (CZH). Talent had finished seventh in the 2018 renewal and fourth in last year's editions. The success was a first in this legendary race for his jockey, Pavel Slozil, and trainer, Hana Kabelkova.
Torquator Tasso
G1 Prix de l'Arc de Triomphe (2400m) hero Torquator Tasso will not head to Japan following an announcement made by trainer Marcel Weiss. He will, however, remain in training next season with the main objective being to defend his title.
Sealiway
It was announced that the Cedric Rossi-trained stable star Sealiway had come out of the Prix de l'Arc de Triomphe (2400m) well after finishing fifth and that he will now head to Ascot on Saturday. The G1 Champion Stakes (2000m) is targeted, and he will be ridden by Mickaël Barzalona.
Francis-Henri Graffard and The Revenant
Francis-Henri Graffard expressed his delight with The Revenant who went down by a small margin in the G2 Prix Daniel Wildenstein (1600m) at Longchamp during Arc weekend following a lengthy-break. The trainer stated the son of Dubawi would still likely head to the QEII Stakes (1600m) at Ascot this weekend to take on Palace Pier and Baaeed despite the possibility of not having his preferred ground.
Skalleti
One French-raider who will not be participating on Champions Weekend at Ascot this Saturday is Skaletti. Trainer Jérôme Reynier said he will not budge on running the horse with the expected ground much quicker than anticipated for this time of year. Potential options could be the G2 Premio Roma (2000m) (ITY) on November 7th, which he has already won, or the G1 Grosser Preis Von Bayern (2400m) at Munich (GER) on the same day. Skalleti is yet to win over 2400m having only one start in the G2 Prix Foy where he finished fourth of six runners and started 2.4 favourite in the race.
Control Tower
After finishing sixth in the G1 Prix Royallieu (2800m) at Longchamp, trainer Nicolas Clément has suggested a tilt at the G3 Prix Belle de Nuit (2800m) at Saint-Cloud may be on the cards for Control Tower, before returning to training as a five-year-old.
Call The Wind
Trainer Freddy Head indicated Dubai or Riyadh are possible targets if receiving invitations after his stable star found the ground too deep in the G1 Prix du Cadran (4000m).
Maisons-Laffitte
The municipal council of Maisons-Laffitte has decided, by a landslide of 28 votes out of 35, to buy the Maisons-Laffitte racecourse from France-Galop. This decision will ensure land control and business occupation in the stands plus the resumption of races. Further consideration will need to be given to the proposal.
Défi du Galop Standings
The provincial courses Listed race series is drawing to a close and the current points tally is:
Horse
Monty – 18 points
Ateem – 12 points
Moderator – 12 points
Trainer
Jean-Claude Rouget – 14 points
Jérôme Reynier – 13 points
Andre Fabre, François Monfort, Charley Rossi – 12 points
Jockey
Gérald Mossé – 18 points
Mickaël Barzalona – 14 points
Maxime Guyon – 12 points