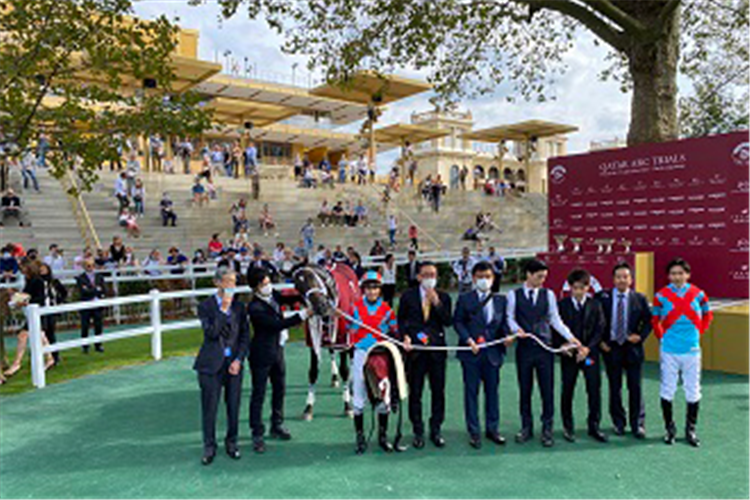 Deep Bond laid claim to the Prix Foy at ParisLongchamp Racecourse on Sunday, Sept. 12 with an aggressive ride under Cristian Demuro that landed him victory and buoyed hope in Japan's 52-year pursuit of the Holy Grail - a win of the Prix de l'Arc de Triomphe.
Deep Bond was Japan's only Arc nominee to be given a prep at ParisLongchamp ahead of the Oct. 3 Arc, which marks its 100th running this year.
The 4-year-old son of Kizuna took the lead from the gate and was stalked by Broome. Ridden clear from 3 furlongs out, Deep Bond kept on well while Broome gave chase, but Deep Bond showed no signs of tiring and stayed his ground to the finish.
Deep Bond's winning time under 58 kg was 2 minutes 31.82 seconds over 2,400 meters of good turf.
The Aidan O'Brien-trained Broome, ridden by Lanfranco Dettori, followed the winner home in second by 1 1/2 lengths. Race favorite Skalleti, who had fought Gerald Mosse much of the way, finished nearly 7 lengths off Deep Bond in fourth place.
Deep Bond's trainer, the Ritto-based Ryuji Okubo commented from ParisLongchamp."I did have some reservations about racing him in France, but at 4 years old, he has matured in leaps and bounds (and is still maturing), and I thought he'd be suited to the heavy turf of Longchamp."
The Prix Foy was Deep Bond's third Grade 2 win. He has, however, yet to win a top-level race and was 10-5-4 in last year's classics. This year mid March, he scooped the Grade 2 Hanshin Daishoten over 3,000 meters of yielding turf, then ran second in the May 2 Grade 1 Tenno Sho (Spring) over 3,200 meters missing the win by only 3/4 length.
"The owner had the Arc in mind since the Kikuka Sho (Japanese St. Leger), but even more so after the Hanshin Daishoten," Okubo said. "Deep Bond's a big horse at 500 kg with dynamic movement and he moves in a big way. The pace here is different from Japan and I had wanted him to ride the rhythm a bit more as he often does, and race from further back.
"But, he went for the lead and the jockey made the decision to go with it and let Deep Bond race at his own rhythm. And that turned out to be a winner."
Asked about the expected stronger pace in the Arc, Okubo replied, "I think that will work in his favor. . . . I think we can go to the 100th running of the Arc with confidence."
Cristian Demuro was riding Deep Bond for the first time. The 29-year-old younger brother of Mirco said he'd had the lead in mind before the break. "It had been my plan to send him forward. He's a one-pace kind of horse and I thought that if no one wanted to go to the front, I would."
Demuro, who won his first Arc last year aboard Sottsass, added, "I think today's turf condition suited Deep Bond well. We've been given a fabulous ticket to the Arc."
Deep Bond's owner is Shinji Maeda, who owns last year's Japanese Triple Crown winner Contrail. He also owned Deep Bond's sire Kizuna, who won the Arc trial Prix Niel in 2013 and, the following month, ran fourth in the Arc. Elder brother KojiMaeda, representing North Hills, the farm that bred all three horses, said, "There's been a lot of depressing news during the corona epidemic so I'm happy to have some good news reach Japan. He ran a very strong race.
"Most of all, I'm excited to have a North Hills-bred son of Kizuna win in France. His sire won the Prix Niel and went to the Arc and finished fourth. I'm looking forward to seeing Deep Bond better that."