Flying the Singapore flag at the annual jockeys' series on the Indian Ocean island, the Australian jockey struck one home at only his second ride, favourite Carlton Heights, in the Tropical Attitude Trophy (1500m), earning the maximum nine points for a win. He also reaped in two points for his third place board Anza-Borrego at his first ride.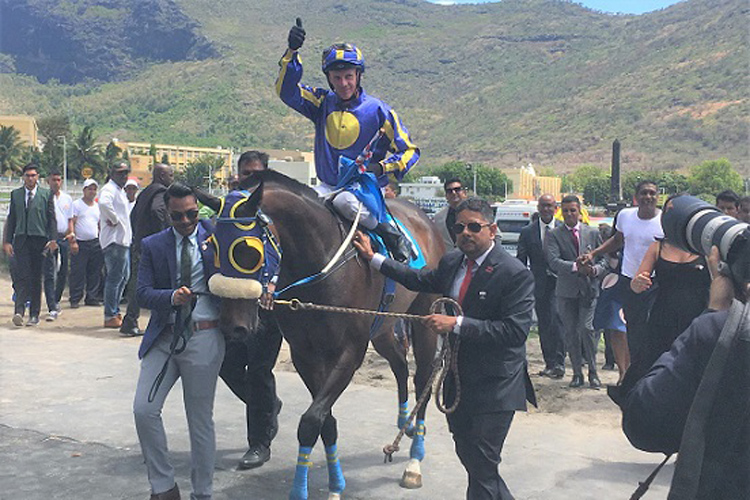 He was less lucky at his other five rides, but still has six rides on Sunday to make ground on current leader, former three-time Singapore champion jockey and current Mauritius champion jockey Manoel Nunes.
The Brazilian ace also won one race only, aboard outsider Greatfiveeight, but tops the ladder thanks to several placings – three seconds (four points each), one third (two points) and one fourth (one point) for a total of 24 points while Powell is 13 points astern in eighth place.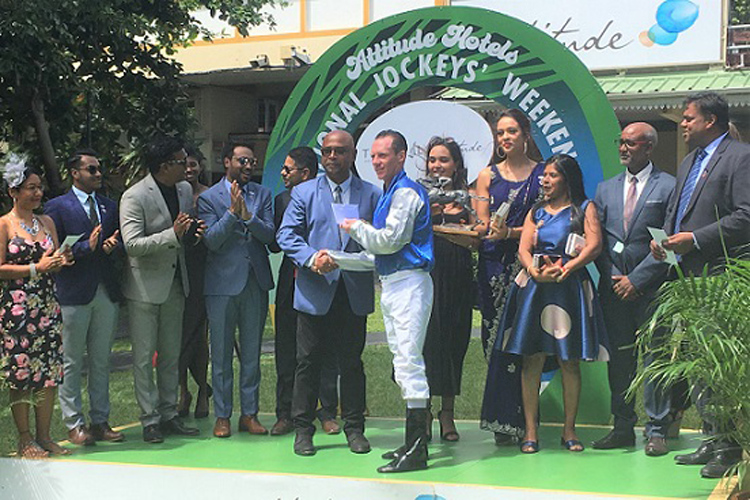 "It's good to ride a winner here after so long. The crowd is still as passionate and as enthusiastic as ever," said Powell who was returning to Mauritius after 14 years (he rode there at several stints that began in the mid 90s).
"My winner (Carlton Heights) pulled my arms off right through, I was a little worried, to be honest, but once the pace picked up, he quickened up very well. He won a nice race.
"It's been a close and even contest so far. Manoel leads but he's not well clear, tomorrow will be the decider."
Carlton Heights' trainer Amar Sewdyal was just starting out in racing when Powell plied his trade at the Champ de Mars, but had heard of him and had nothing but praise for the 49-year-old jockey.

"Old is gold! I didn't have to tell John much. He knows the track, he is a professional and he rode the horse perfect," said the Mauritian handler.
"He was able to settle the horse and give him a breather, and didn't panic when the other horse (Jet Path) challenged him.
"He actually still had a second wind left in him. It was a perfect ride from John."
Other victors at the first half of the IJW 2019 Kranji racegoers will be familiar with are local boy and former Kranji rider Nooresh Juglall and Jason Collett, the Sydney-based New Zealand jockey and Kranji jockey Alysha Collett's elder brother who rode one winner (Auspicious Day) at a hit-and-run visit for the 2018 Kranji Mile in May, and who bagged two winners (Ovation Award and Silver Song) in Mauritius on Saturday to sit in second place on 19 points.

"Both horses drew a good barrier and had a soft run. The first winner (Ovation Award) was three back, and was a touch keen down the back, while the second winner (Silver Song) settled on the speed which was not overly strong," said Collett.
"We peeled off, and both came home really well to prevail at the finish, albeit the margin was quite small for the first winner.
"I did hear it was a tight track and they were dead right: it is a tight track, but there wasn't too much interference. I'm really happy with the way things have gone.
"It's been very hot out there but the crowd atmosphere is absolutely fantastic."
IJW 2019 Leaderboard after Day 1
| | | | |
| --- | --- | --- | --- |
| | Jockeys | Country | Points |
| | | | |
| 1 | Manoel Nunes | Brazil | 24 |
| 2 | Jason Collett | New Zealand | 19 |
| 3 | Manuel Martinez | Chile | 17 |
| 4 | Jason Watson | UK | 17 |
| 5 | Surender Srinath | India | 14 |
| 6 | Nooresh Juglall | Mauritius | 14 |
| 7 | Jameer Allyhosain | Mauritius | 12 |
| 8 | John Powell | Singapore | 11 |
| 9 | Aurelien Lemaitre | France | 5 |
| 10 | Randall Simons | South Africa | 5 |
| 11 | Nishal Teeha | Mauritius | 4 |
| 12 | Derreck David | South Africa | 2 |