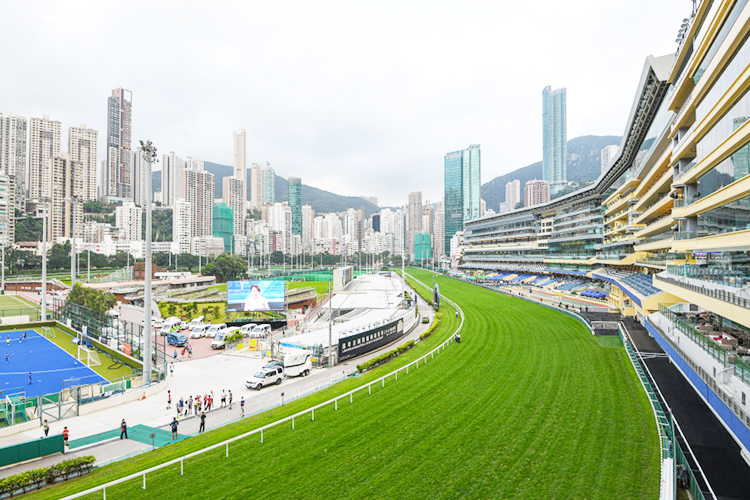 Race 1: #3 Victorious Seeker, #2 Garlic Yeah, #6 Sky Gem, #5 Mcmunigal
Race 2: #7 Dr Proactive, #10 After Me, #12 Exceptional Desire, #2 Confucius Day
Race 3: #10 G Unit, #11 Very Sweet Orange, #12 Momentum Galaxy, #1 Little Bird
Race 4: #4 Let's Take It Easy, #11 Megatron, #2 Triumphant Horse, #3 Har Har Heart
Race 5: #10 Victory Mastery, #3 Gunnar, #1 Ares, #4 Amazing
Race 6: #1 Magnificent, #12 Starship, #4 Reel Bizzy, #8 Heavenly Though
Race 7: #2 Californiadeepshot, #7 Mr Picasso, #3 Aquila, #11 Victory In Hand
Race 8: #1 Country Star, #11 Sparkling Dragon, #2 Amazing Star, #4 Waldorf
Race 1: Wistaria Handicap
#3 Victorious Seeker narrowly missed last time. He gets up in distance here to 2200m which now appears suitable and if he can overcome the wide draw, he's going to get his chance. #2 Garlic Yeah has returned to a competitive mark. He's turned his form around since the return to Class 5 and with Zac Purton now taking the reins, he commands respect. #6 Sky Gem is a course and distance winner already this term. He's since been racing over unsuitable distances and now getting back up in trip might be just what he needs. #5 Mcmunigal is the likely leader of this. He can run them along here and is capable landing some prize money.
Race 2: Osmanthus Handicap
#7 Dr Proactive has mixed his form and although he hasn't won for two seasons now, he's still racing well and his narrow miss three starts ago suggests that's capable of piecing it all together. #10 After Me is a two-time winner already this campaign. He rarely runs a bad race and this contest appears suitable. #12 Exceptional Desire has been racing well off his current mark. He's a three-time winner who from the gate is expected to be thereabouts. #2 Confucius Day is unlucky not to have won already this season having placed in six of his nine runs this campaign. He'll play catch me if you can here for Victor Wong and Michael Chang.
Race 3: Cassia Handicap
#10 G Unit has taken his racing to a new level this term, twice winning over this course and distance. He's found his niche in Hong Kong and with a positive ride from Grant van Niekerk he can take this out. #11 Very Sweet Orange gets the services of Brazilian champion jockey Vagner Borges. He's searching for his third consecutive win and although he's now up to Class 3, his on-pace style of racing affords him every chance in the run no matter and he just may have a few more ratings points in hand. #12 Momentum Galaxy is consistent and with the right run for the in-form Derek Leung can see him figure. #1 Little Bird carries top weight. Zac Purton now takes over for his second start in Class 3 this season and his best commands respect.
Race 4: Verbena Handicap
#4 Let's Take It Easy is a three-time course and distance winner. He's drawn to get the right run for Zac Purton from gate five which should allow him to do next to work in the run. He can atone for his narrow miss last time out. #11 Megatron gets in light with only 118lb on his back. He's consistent and his forward-style of racing will see him look the winner for a long way. #2 Triumphant Horse has drawn a touch awkward but he does get Joao Moreira to offset this minor problem. He'll relish the step up in trip here. #3 Har Har Heart mixes his form. He'll be thereabouts.
Race 5: Osmanthus Handicap
#10 Victory Mastery took three runs to acclimatise before narrowly missing in each of his latest two runs. He'll need a race run to suit but he appears to be on the right trajectory. #3 Gunnar rarely runs a bad race. He's drawn to get the right run from the inside draw and this looks suitable. #1 Ares won well last start for Zac Purton and Frankie Lor. He sits on the cusp of Class 3 now and it wouldn't surprise to see him climb into it at only his third start. #4 Amazing got up by a short-head last start after rattling home from the tail of the field. He's next best if he produces that type of performance again.
Race 6: Magnolia Handicap
#1 Magnificent is a two-time course and distance winner. He gets the services of Vagner Borges here and from the good gate he shapes as the likely leader of this contest. #12 Starship gets in light with only 117lb to carry. He can settle off the pace for Matthew Chadwick and rattle home as he has done previously. #4 Reel Bizzy has been reasonably consistent this term. He'll need a race run to suit but with a clean run home he remains a chance. #8 Heavenly Thought got off the mark in Hong Kong last start. He's not overly talented but he appears to have found his figure and the retention of Joao Moreira warrants respect.
Race 7: Dianthus Handicap
#2 Californiadeepshot got off the mark on debut before grabbing fifth and placing third in his latest. He's drawn to find the front here from gate one and with Joao Moreira up he is expected to take plenty of beating. #7 Mr Picasso found his mark and won well last start. Suspect he might need to go back down but off that performance he rates as a leading player. #3 Aquila's best is up to this although he's struggle to produce it of late. Zac Purton takes over here and if he can overcome the wide gate, he's in with a chance. #11 Victory In Hand won two on the trot before fading to sixth at his latest. He can bounce back with the right run, especially as he only has to lug 116lb.
Race 8: Begonia Handicap
#1 Country Star returns to his preferred course and distance where he is a five-time winner. He's largely appeared to struggle this season but he does step back to Class 2 for this and the services of Joao Moreira command respect. #11 Sparkling Dragon is looking for the hat-trick of wins. He returned in good order first-up and his latest trial indicated that he has come out of that run well. #2 Amazing Star won three in a row before fading to seventh at his latest. He's proven in Class 2 as a winner he does deserve forgiveness for his latest defeat, as he broke through the gate pre-race which spent some petrol. #4 Waldorf won well last start. He can figure from the gate and he won't be too far away.