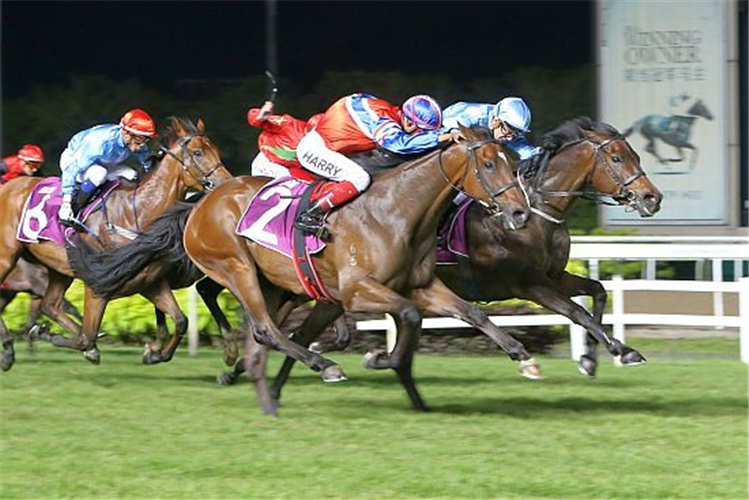 Even if Clements does not often book A'Isisuhairi 'Harry' Kasim, when he picked the former two-time Singapore champion apprentice jockey to replace Daniel Moor (stood down by the Stewards) for that plum ride, he had no idea James Peters did the same four years ago in the same feature race.
The Malaysian jockey then turned supersub for champion jockey Manoel Nunes (indisposed) in steering Titanium home for the English trainer in the Stewards' Cup, which was then run as the first Leg of the Singapore Four-Year-Old Challenge (it is now the second Leg) over 1400m.
"I feel sorry for Daniel Moor, but I'm happy this has been my night," said A'Isisuhairi, who has developed a knack of winning feature races at least once a year since his first in 2013, the Group 2 EW Barker Trophy aboard Trudeau when he was still an apprentice.
"I remember I also replaced Manoel Nunes on Titanium and we won the same Stewards' Cup. Things keep rocking this year."
Uncannily, the come-from-behind style was more or less the same blueprint on Friday night, except that Titanium was even further back, seeing them all after beginning from the second-worst alley in 15.
One of a quintet of horses for Clements of which Top Knight was the leading hope, Siam Blue Vanda ($34) was drawn much handier in six. He, however, endured a more chequered run, but the finish was just as robust when he was unleased by A'Isisuhairi at the top of the straight.
He copped a hefty bump with his own stablemate Top Knight (Vlad Duric), who had actually pinched the first run on him from the 600m, and was looking all but home and hosed when slingshot in full flight.
Duric had obviously taken no chances with the early move after the son of Zoustar came up short at his last three starts, finding one better each time, including a second place to stablemate Bold Thruster at his last start in the first Leg of the 4YO series, the Group 3 Silver Bowl (1400m) on February 29.
After missing the start by five lengths, Aramaayo (Patrick Moloney) had somehow snuck under the radar throughout the race, stealthily taking the shortcuts home and working his way through the field to jump out as the fresh horse on the scene at the 300m.
But his early blunder took its toll on him as Top Knight came zooming past him. With 50m to go, Clements' and champion owner Falcon Racing Stable's gallant horse was on the cusp of finally putting an end to his luckless run.
But A'Isisuhairi didn't think the fat lady had sung yet. Though interrupted in midstream, he deftly got his mount back on an even keel before setting out to nab that second Stewards' Cup silverware as an emergency jockey. The two Clements lunged, and it became sweet déjà vu for Harry, but another bitter pill to swallow for Duric and Top Knight, beaten a short head.
Aramaayo was brave in defeat, taking third place another 1 ½ lengths away, splitting up what would have been yet another outrageous Clements dominance in the 4YO series. After the Zimbabwean-born conditioner hogged the Silver Bowl with the Bold Thruster, Top Knight and Siam Blue Vanda trifecta, he would have pulled off an unprecedented quintet had Aramaayo not upset the hegemony.
On Line (Ruan Maia) ran on for fourth place another head away while Real Success (Alysha Collett) and Vittoria Perfetta (Louis-Philippe Beuzelin) filled into fifth and sixth place respectively. The winning time was 1min 34.63secs for the 1600m on the Long Course.
"We got a bit squeezed in the straight. That made me lose a length," said A'Isisuhairi as he looked back on his ride.
"When I peeled him out, he gave me another gear. He's such a tough bugger.
"He really gave me everything. In the parade ring, I saw he looked really good."
That second Stewards' Cup hurrah also capped a great night at the office for A'Isisuhairi. He won the previous race aboard $390 longshot Lim's Samurai (see earlier report), prompting the likeable Kelantan-born jockey to reflect on his fairly successful journey at Kranji since returning from his early apprenticeship in New Zealand.
"I had a bad year in 2018 - it wasn't really a bad year as it's part of the ups-and-downs of a jockey, but I just continued with what I've been doing all these years," he said.
"Last year was better as (trainer) Shane Baertschiger supported me on his two-year-olds in those Restricted Maiden races and I also won two Group races with his champion horse, I'm Incredible.
"You have the confidence when you are still winning. Whether you were a champion jockey or champion apprentice, people forget that, but you just have to keep working hard."
Clements for one knew the work will still have to carry on towards the ultimate prize in four weeks' time, even if Friday's result would make him an overwhelming favourite to lay his hands on a first Group 1 Singapore Derby (1800m) on April 18.
"All five will be going to the Derby," he said.
"It was a great effort for all of them, especially for the first two. Top Knight was again an unlucky second, but it's fantastic for Siam Blue Vanda and his owner (Pupetch Racing Stable).
"Unfortunately for Daniel Moor, he couldn't take the ride (on Siam Blue Vanda), but Harry's done a good job.
"He was one of three left and I picked him even if I don't often use him. Harry is a very good jockey and has a proven good record in big races.
"As for the winner, the breed is the same as Countofmontecristo as his sire is also Echoes Of Heaven. They do seem to get more ground later on; as a four-year-old, they get the distance.
"He is a late-maturing New Zealand-bred and is very similar to Countofmontecristo. He was very strong tonight."
Siam Blue Vanda has now taken his smart record to seven wins and two thirds from 15 starts for stakes earnings that have just tipped over the half-million mark for Thai outfit Pupetch Racing Stable.