Rewind 11 months and few would have thought it possible, never mind likely. Yiu is an astute trainer, famous for his handling of the great Sacred Kingdom in particular, and a respected conditioner with a noted eye for a good young prospect. But his has never been more than a mid-rank stable, lacking as it does the overall firepower and depth in quality of a John Size, John Moore, Tony Cruz or Caspar Fownes.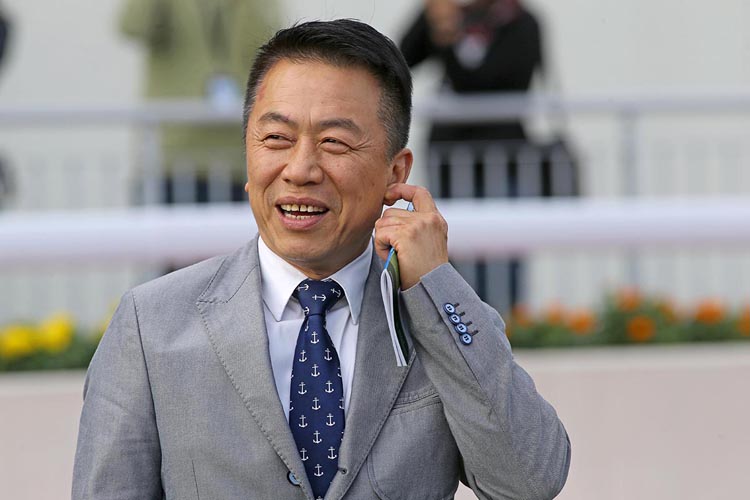 Yiu, 63, has 817 career wins as a trainer, at an average of 32 wins per season; before this term, his best tally was 49 in the 2010/11 campaign, and his worst a lowly 10 in 2005/06. He has had four top-five finishes in 25 years with a licence, his previous best being third in 1999, and last term he placed 15th in the table.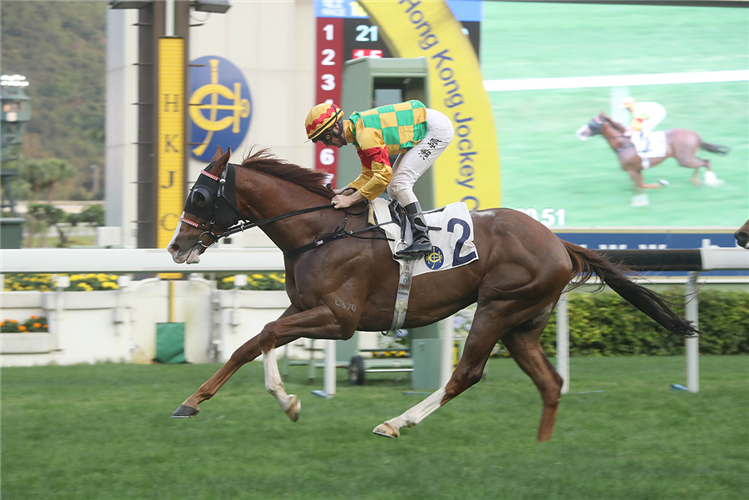 But, in this season that has straddled so much in the way of shock, surprise and turmoil, Yiu is close to pulling off what would register as one of the biggest eyebrow-raisers in Hong Kong racing's recent history.
"No!" he says, when asked if he had any inkling last September that he might be in this position. "I knew I'd have a very good season because I had young ones, and horses that had dropped to the right rating, and I had horses that didn't have any problems, so I thought I'd be able to keep them going and they'd run well.
"What I could not have expected was that I'd be in the first three at this stage."
Not just in the first three, but in fact leading; and by four wins, no less, thanks to a Sha Tin treble on Sunday (12 July), which held off a late Tony Cruz assault. Yiu goes to Happy Valley on Wednesday night with 67 wins on the board to Cruz and Francis Lui's 63.
Incredibly, Yiu has been in front for the majority of the season. At first it was a pleasant novelty; by the turn-of-the year debate rumbled about his chances of seeing it through; the man himself had hope, then faith, and now he is almost daring to flirt with confidence.
"I'm starting to see a bit of daylight now – I think I can be a little bit more optimistic," he said at the time of his weekend three-timer.
The title is not his yet, the final fixture will see his rivals unleash all that they have left. But Cruz will need every one of his four runners to win, and Yiu to draw a blank; Lui, with seven runners on the night and better second-place countback, would need at least a four-timer too, something he has achieved only twice before. If any one of Yiu's four entrants gains a win, the likelihood is that he would become the seventh person to take the title this century.
A season like no other
A number of factors coalesced this season to afford Yiu his unlikely shot at the crown. John Size's 78-win 2018/19 season, to reel off a fourth championship on the belt, left the 11-time champ vulnerable, with horses too high in the handicap, and when his young stock didn't come through, that was his chance gone; John Moore had similar issues after chasing Size and posting his personal best tally last term of 75 wins, and his looming retirement meant owners were not queueing to send horses his way; Cruz and Fownes did not have vintage stock, and the usual best of the rest, Danny Shum and Frankie Lor, never hit their straps.
Yiu and the other unforeseen package, Lui, an even more surprising contender in fact, found themselves in contention and they threw everything into the challenge. Both had stables with enough low-rated gallopers poised to ascend; each had a bright and ambitious assistant, with Pierre Ng in the Lui camp and Eric Yiu in his father's; and, in Yiu's favour, he had access, for the first time, to the Hong Kong Jockey Club's facility at Conghua – Lui did not.
Yiu has saddled 17 winners this term directly off a stay at Conghua.
"I really like the place, I like the whole idea and this season has proved it," Yiu said of the Guangdong Province complex. "A lot of my winners have raced out of Conghua and my staff there have done a really good job."
And he credits his son Eric, too, who studied in England and worked in Australia with trainers David Hayes, Peter Moody and Pat Carey. He believes his son is part of Hong Kong racing's bright future.
"The dynamic is good - dynamic is a good word to describe him – he's injected some new ideas regarding the management, and different ways of training, so he's been a great help. He's very focused on his job. Eventually, in a few years' time, he'll get a licence to train and he'll be competitive," he said.
A long road
Yiu traces right back to the first intake of young men who entered the Hong Kong Jockey Club's apprentice school back in 1972, alongside Cruz. They learned under the watch of a Yorkshire military man, Major Anthony Grimshaw, during 18 months at Beas River, the last six of which entailed jockey training.
But while classmate Cruz dazzled as a rider and rose to global Group 1 prominence, Yiu was a relative nonentity, notching 11 wins between 1974 and 1980; his best return was four wins from 49 rides in the 1978/79 season.
"I was the worst one," he admits. "I didn't get many rides the first season of my apprenticeship. Some of the boys already had a winner and I hadn't had a ride."
He was apprenticed to Jack Goswell, an aged Englishman of the old school.
"I wasn't allowed to carry a stick at first; when he thought my control was good enough, I was allowed to carry the stick, but I couldn't hit the horse," he recalls.
"In those days, a lot of the boys had long hair – I never had long hair, I wasn't allowed to have long hair. He'd say I'll give you a ride on Saturday, go out and get yourself a haircut!"
He remembers well those days in Happy Valley, living in a store room behind the grandstand clock; 20 boys – "it was a bit rough"; and the move to a bigger store room "behind the stable office on Shan Kwong Road".
His first winner came in the 1975/76 season, for George Sofronoff, on the nine-year-old Ababa.
Yiu spent summers in England with Gordon Smyth, who sent out Charlottown from his Lewes stables to win the 1966 Derby at Epsom. When Smyth moved to Hong Kong, Yiu quit the jockey grind and became his work rider, advancing to assistant trainer.
"I was a work rider for five years and then the Club gave me a licence as an assistant for another 10 years. After eight years, Gordon Smyth retired and the last two years I was assistant to Eddie Lo. We were in the same apprentice class.
"I got my licence to train in 1995, so it took me 15 years, but even when I was a jockey I said to myself 'I want to be a trainer one day'. That was my main goal and I worked hard to get there."
Sacred salvation
Yiu's old classmate Cruz would no doubt put forward the great Silent Witness as the greatest sprinter to have blazed the Hong Kong turf, but Yiu is of the opinion that Sacred Kingdom deserves mention upside the only horse to have a statue erected at Sha Tin.
"He was such an unbelievable horse. He's the only one, so far, that I would wake up every single morning and feel totally excited about. He's the only one!" Yiu once said.
"Silent Witness won 18 races, my horse won 17, and I feel Sacred Kingdom should have done better, he should have won more races. Silent Witness always had the same jockey, but my fella didn't, he had several riders and I think sometimes that made a difference."
The exceptional bay won a host of big races for Yiu, including the G1 Hong Kong Sprint back-to-back and the SIN G1 KrisFlyer Intrnational Sprint in Singapore; and three times he topped the world rankings for the sprint division. He is also one of the rare few to have dipped below 55 seconds down the 1000m straight at Sha Tin, his best being 54.7s.
The Australian-bred came along at the right time, too, debuting the season after Yiu's worst ever, which gave him his one "strike" for failing to meet the base win criteria. Sacred Kingdom rattled off five wins before finishing fourth at his final outing that term, in Group 3.
"The first five races, you seldom see a horse do it the way he did – it was just a game to him. It was easy, no competition, He did it all on natural ability. After that, it was a bit more competitive and he showed himself a little bit. He just played with them when he was winning," he says.
"He was a natural. You didn't need to train him that much. He was a real athlete, a once-in-a-lifetime horse to train."
Yiu himself purchased the gelding that would win 17 races and HK$45.8 million.
"It was love at first sight. He was a very strong horse, very athletic," he says.
"I went to the Inglis Easter Sale and it was too strong for me so I went to Melbourne and the plan was to stay there three days and two nights – the first morning, I got him, so I changed my flight and came back to Hong Kong.
"I looked at him the day before the sale, and then on the sale morning I asked them to bring him out for a second look. And I just knew, I must have him. He was by Encosta De Lago and in those days that sire was in demand, he was successful – he cost 200,000, which was quite expensive for me back then."
Sacred Kingdom is not the only star to have passed through his hands. He trained Electronic Unicorn but lost him to Size, who produced the miler to be a champion; Bullish Luck was another that moved on, to Cruz, and proved himself a G1 star; he trained Fairy King Prawn to win big races, including the G1 Hong Kong Sprint, but lost the horse to Ivan Allan.
But others besides Sacred Kingdom did not get away: Yiu has two major wins on the overseas stage lighting up his record; he sent Ultra Fantasy to Japan and won the G1 Sprinters Stakes in 2010; and in Dubai, Dynamic Blitz took the Al Shindagha Sprint and his bullet speedster, Amber Sky, another of his shrewd buys, scorched to a famous win in the G1 Al Quoz Sprint.
Yiu got his hands on a piece of silverware last Friday when he and his hard-working staff were presented with the Hong Kong Jockey Club's stable housekeeping award. That was nice and all, but it would be no consolation should he lose the big one right at the last.