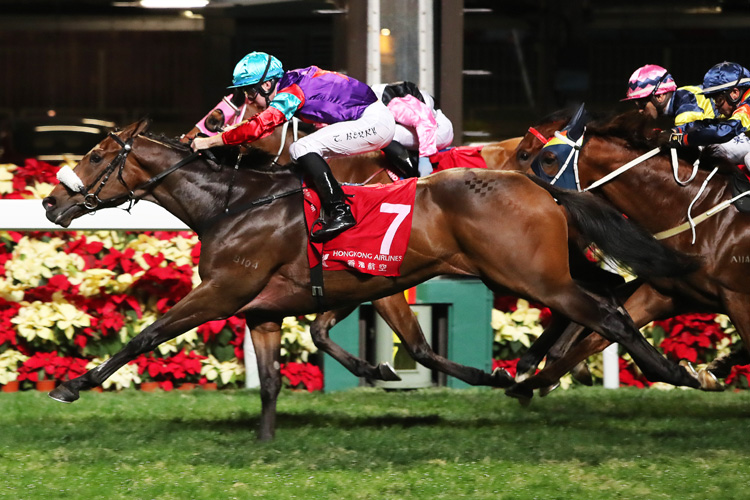 Millard has four wins in Sunday's HK$3.5 million race, firstly in 2009 with Iron Fist, before three in succession with Top Act (2015), Horse Of Fortune (2016) and Nassa (2017), and the handler remains buoyant of his gelding's chances of joining that list.
"My record has nothing to do with him but I do know the way that he's going, he's certainly on the up and I like the weight that he is carrying - he's coming into form at the right time," Millard said.
The South African-bred gelding has had foot and leg issues that have kept him to only three starts since a slashing third to Southern Legend in Singapore's 2019 SIN G1 Kranji Mile.
"It goes for any good horse, they always have their niggles - I don't see any top horse that's 100 percent because they all they try a bit harder," Millard said.
The seven-year-old bay was the winner of the 2018 Hong Kong Classic Cup (1800m) but since then has been unable to record a win, although he has posted a number of high quality performances at G1 and G2 level, including a game second to Beauty Generation in the 2019 G1 FWD Champions Mile.
The Philanthropist gelding is second-up for the term following a competitive first-up performance in the G2 Oriental Watch Sha Tin Trophy Handicap (1600m) where he finished eighth, beaten four and three-quarter lengths to stand out miler Golden Sixty.
"It was a progressive run, it was very nice, he's the best handicapped horse in the race and it was encouraging, so he's got a chance and there's a lot of horses in there that have been up for some time and he's coming into it nicely," Millard said.
Matthew Poon will take the reins and the pair will break from gate 12 among the field of 13 against the likes of Exultant (133lb), Southern Legend (129lb), Furore (122lb), Time Warp (121lb), Dances With Dragon (117lb) and Savvy Nine (113lb).
"The draw is not an issue because you have 1000 metres before you hit the turn, so he should be able to find his spot - it shouldn't be too much of a problem," Millard said.
The seven-year-old will carry 113lb as one of eight horses with that weight, at the bottom of the handicap, while Exultant will carry the grandstand as the top-rater with five G1s to his name.
"Matthew Poon rode the horse this morning (Friday, 30 October) and he was very happy with him, he had a nice feel on him but like everybody we will need a little bit of luck," Millard said.
Millard outlined December's LONGINES Hong Kong International Races as the probable target, and it would be a skilled training performance if the gelding was to give him that fifth win in the nine-furlong G3.
"The Hong Kong International Races are on the radar but we'll see how we go – I think 1800 metres is a good trip for him though," Millard said.
Sunday's 10-race fixture kicks off at 12.45pm with the Class 3 Iris Handicap (2000m).