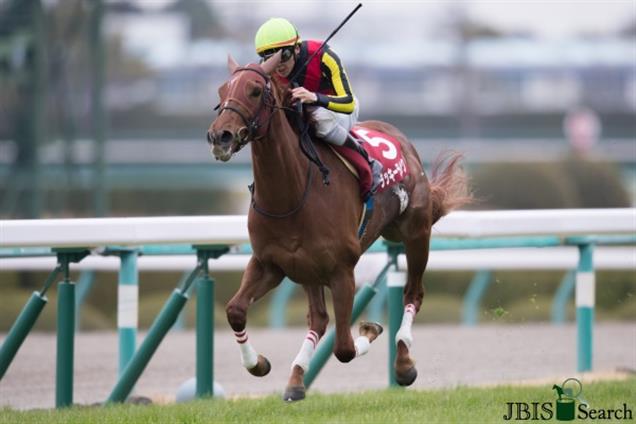 She is out to defend her crown this Sunday (15 November) with the hope of becoming the fourth back-to-back winner of Japan's Queen Elizabeth II Cup since Mejiro Dober first accomplished the feat in 1998 & 1999.
British-trained mare Snow Fairy became the third of the trio with two victories for trainer Ed Dunlop in 2010 and 2011, while Admire Groove succeeded before that in 2003 and 2004. Expected to be the race favuorite in Japan on Sunday, the Orfevre-sired Lucky Lilac looks right on target, with three of her four starts this year recording top-three finishes, including a win of the G1 Osaka Hai (2000m) at Hanshin Racecourse.
However, one big difference from her bid this year and the other repeat bids of the three two-time winners is the venue. Traditionally held at Kyoto Racecourse, the Queen Elizabeth II Cup will be held at Hanshin Racecourse, west of Osaka, while Kyoto is closed for renovations until 2023.
Though Lucky Lilac won the Osaka Hai at Hanshin, she finished sixth in the G1 Takarazuka Kinen on 28 June, also run over the Queen Elizabeth II Cup distance. With a shorter home straight and undulations that vary from Kyoto's, Hanshin is definitely a different racecourse.
Last year, Lucky Lilac clinched the race with a burst of late speed that took her over the last 600m in a blistering 32.8s, but the Hanshin 2200m is known to be more forgiving to a wider variety of racing styles, which may give a number of others the chance to turn the tables.
New partner Christophe Lemaire (last year Christophe Soumillon was up) is confident she has what it takes. After her final fast work on Wednesday (11 November), and a 1200m time of 1m 20.5s with no whip, Lemaire said, "It was my first time to ride her and her responses were good. Her breathing and footwork too, she had a perfect race last year, simply ideal. So, this is big chance and I'm confident we can win."
The same sentiment is heard from a number of the other 17 challengers, however, notably from the field's other two G1 winners – 2019 Yushun Himba (2400m) winner and last year's Queen Elizabeth II Cup third-place finisher Loves Only You and 2019 Victoria Mile (1600m) champ Normcore.
Then there is 2200m specialist Centelleo, fourth here last year and returning from a late-September win of the G2 All Comers (2200m) at Nakayama Racecourse and Salacia, who was sixth in the Queen Elizabeth II Cup last year, recently scored a G2 win at Tokyo last month in the Fuchu Himba Stakes (1800m).
This year sees a number of up-and-coming youngsters as well, nearly double the number of last year's participating three-year-olds, five, in total, including promising hopefuls Ria Amelia, G1 Shuka Sho (2000m) third-place finisher Soft Fruit, and Win Marilyn, as well as dark horse contenders Win Mighty and Miss New York.
Soft Fruit grabbed headlines after her fine workout on Tuesday (10 November). She is trained by the soon-to-be retired Kunihide Matsuda, who also fields Something Just, and is known for his unorthodox methods.
Matsuda, whose one-two average was 40 percent and up over the entire summer, gives his horses their final work a day earlier than most at the two JRA training centres.
Matsuda says, "To win a G1 you've got to do something the others can't. If you do your final fast work on Tuesday you've got to have know-how. And my stable has that, after-care is everything."
But the trainer on a truly heady roll this year is Yoshito Yahagi, also based, like Lucky Lilac's trainer Mikio Matsunaga and Matsuda, in the neighborhood at Ritto. He's going for his fifth G1 victory this year and fields Loves Only You and Satono Garnet in Sunday's big race.
The weather report calls for sunshine through race day, while the track will be fast and competition stiff at Hanshin Racecourse.