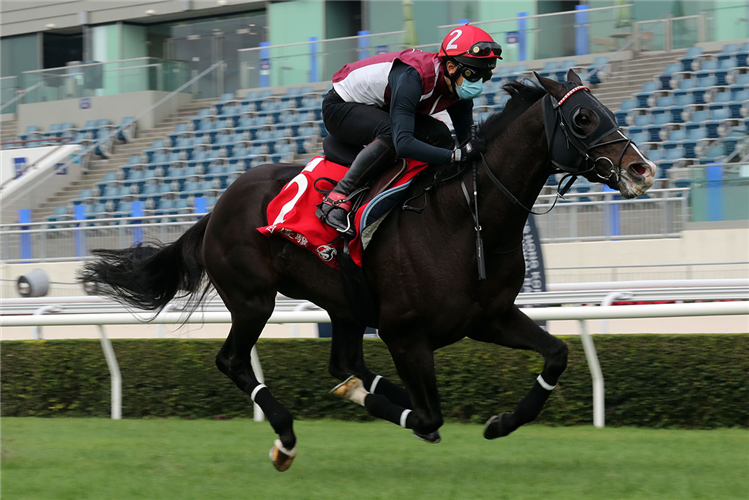 One of the truly global meetings on the racing calendar takes place at Sha Tin this Sunday with Hong Kong's International meeting bringing together a clash of global formlines in the four big Group Ones on the card.
Along with the best Hong Kong has to offer, horses from Japan, France, Ireland and Australia will clash, giving the Racing and Sports Pricing Model (and global handicappers) a terrific chance to test and learn something about formlines from around the world.
Click here for free form, ratings, speed maps and videos for Sha Tin this Sunday
There is undoubtedly a home-ground advantage at play, with the conditions fairly particular in Hong Kong. Some adapt and some certainly don't. The locals have been targetted at the meeting and are primed to peak, while horses from around the world typically arrive on the back of long campaigns aimed at other races, and this is all something to consider, but we don't want overcomplicate and get lost in a sea of noise.
As Einstein (an avid punter and fan of global racing no doubt) said, "everything must be made as simple as possible, but not one bit simpler". And so, the Racing and Sports Pricing Model sticks to what it knows best - form (measured via ratings), form cycles, and connections (jockeys and trainers).
One obvious point of difference between the Racing and Sports Pricing Model and betting markets in international racing in recent times has been around the Japanese runners. The Racing and Sports Pricing Model likes them a lot. It considers the racing in Japan superior to the racing in Hong Kong (perhaps anywhere) and this point of difference has proven a lucrative one at the HKIR in recent years.
In fact, over the past five years a punter would have been returned around $3 for every dollar she had on a Japanese runner at this meeting at SP, and that becomes ~$3.65 if she ignored the Sprint where the locals are more formidable.
We see that difference of opinion once again with early markets for the day's main race, the Hong Kong Cup, where the main local Furore has been priced up at around 5/2 in most early betting on the race.
The R&S Model isn't anywhere near that price, with Danon Premium, fresh off a game fourth in a world class Tenno Sho, seen as an objectively better horse and a far bigger threat to race favourite Magical who seems to be priced up about right.
Skaletti, who beat Magical home last time out behind Addeybb in Britain's end of year championship race - the aptly named Champion Stakes - must also have a good hope and isn't unfairly priced, but it's Danon Premium who demands to be backed.
The other big point of difference on the card follows the same line of thought. Hong Kong's star galloper Golden Sixty is perhaps the pin-up horse for the entire day, he trades odds-on around the globe and almost certainly will in local markets on the day, but for all that he has strung 10 wins together, and 13 of 14 overall, he is not better performed than last year's winner, Admire Mars, who was arguably better than ever when third in the Mile Championship last time behind Grand Alegria and Indy Champ. With horses of the ilk of Salios in behind it was no surprise to see the race return a fairly warm speed figure.
It's a piece of form that stands out here. Golden Sixty has been ridden to beat what is in front of him of course, and hasn't had the need or opportunity to run so fast as Admire Mars. His late splits hint at him being capable of more when the scenario calls for it, and he must hold a great chance of winning again on his home deck in the race that his whole season revolves around, but Admire Mars is the bet. In the eyes of Model and of the author.
Again the odds-on local (in places) looks a bit too well found in the Vase where Mogul has the talent to match Exultant, but there is no depth to the race and little depth to the betting. Better than 2/1 Mogul would deserve a second glance .
The Sprint sees Everest winner Classique Legend a dominant favourite on his Hong Kong debut.
This is a very thin looking edition of the race, with Hot King Prawn heading up the local defence off a plain time in the lead up, and Classique Legend would win it doing cartwheels if at his Everest-winning level but there must be a massive niggle about him being at his top on Sunday.
He was trained to peak and ran to a massive peak in the Everest. 12 months worth of building culminated in a brilliant performance but now he comes out of his zone, his flow. Pitched into the concrete jungle with all the associated rigmarole that comes with that he loses his jockey for one that strikes at 6% from 2550 rides at the course, and (while the Model doesn't see or care about this and probably rightly so) his recent trial and the comments that followed... sheesh!
The Model, unsurprisingly, fancies that the Japanese pair are a bit too big here, but not so much to be advising bets - particularly given that they can be a bit hit-and miss. Danon Smash has the slightly higher peaks of the two, but there isn't a great deal between them (3/3 H2H) and he was safely held at bay in the race last year when sent out a 30-1 chance.