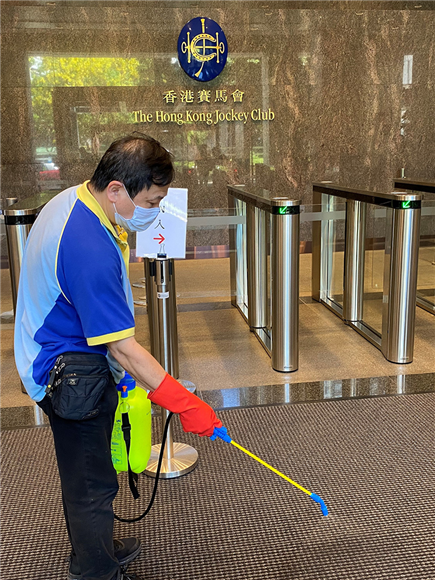 The "HR Best Practice – Training & Development" award recognises the Club's commitment to the growth and development of its employees; while the "COVID-19 Special Award - Corporate" honour recognises the Club's special initiatives to fight the COVID-19 pandemic together with its employees and stakeholders.
The Club's Executive Director, People and Organisational Development, Dr Lake Wang thanked the organiser and said that the Club attaches great importance to people development. "Over the past year, the Hong Kong Jockey Club has made significant achievements and these are the results of our employees' strong capability. With the rapidly changing environment and new challenges ahead, continuously investing in our employees' capability development and growth is critical. We will maintain our focus to build organisational strength and support our people to deliver higher performance."
The Club has established The Hong Kong Jockey Club College for employees of all levels, from management to front-line staff, enabling them to develop their skills and gain valuable experience as they advance their careers. The one-year "Leadership in Action Programme", in partnership with the Harvard Business School, is a high-impact programme that helps executives build strategic mindsets and equips them with leadership capabilities. In addition, the Club maintains and facilitates continuous learning during COVID-19 through offering virtual and online courses to broader staff.
The Club's top honour in the "COVID-19 Special Award - Corporate" category recognises the noteworthy arrangements it has implemented amid the pandemic. The Club has demonstrated its commitment to protecting its employees, members and customers with stringent precautionary measures while delivering agile business continuity. Its business decisions are made with two guiding principles, namely that no activity should create any public health risk and that no activity should put the health and safety of its employees, members and customers at risk.
The heightened precautionary measures the Club has adopted to protect its employees include flexible work practices and operations; staggered working hours; transportation allowances; shuttle bus services; sustained mask supplies; timely updates to facilitate two-way communication; income subsidies and special allowances for eligible employees; and support for quarantine accommodation.
Organised by Classified Post, the inaugural HR Appreciation Awards aim to drive better industry practices, enable the exchange of ideas and information, as well as setting the bar for excellence in the human resources industry. They are designed to recognise companies which have done extraordinary work in demonstrating HR best practice in three key areas: Compensation & Benefits, Training & Development, and as a Business Partner. The judging panel includes veterans from human resources and corporate management. Judged by their creativity and innovation; sustainability; contribution to business performance; and benefits to stakeholders, only a few companies with the highest score in each category are selected as the Grand Winner.
The Hong Kong Jockey Club
Founded in 1884, The Hong Kong Jockey Club is a world-class racing club that acts continuously for the betterment of our society. The Club has a unique integrated business model, comprising racing and racecourse entertainment, a membership club, responsible sports wagering and lottery, and charities and community contribution. Through this model, the Club generates economic and social value for the community and supports the Government in combatting illegal gambling. In 2019/20, the Club contributed HK$19.9 billion in duty and profits tax and HK$0.8 billion to the Lotteries Fund. Approved charity donations were HK$4.5 billion. The Club is Hong Kong's largest single taxpayer and one of the city's major employers. Its Charities Trust is also one of the world's top ten charity donors. The Club is always "riding high together for a better future" with the people of Hong Kong. Please visit www.hkjc.com